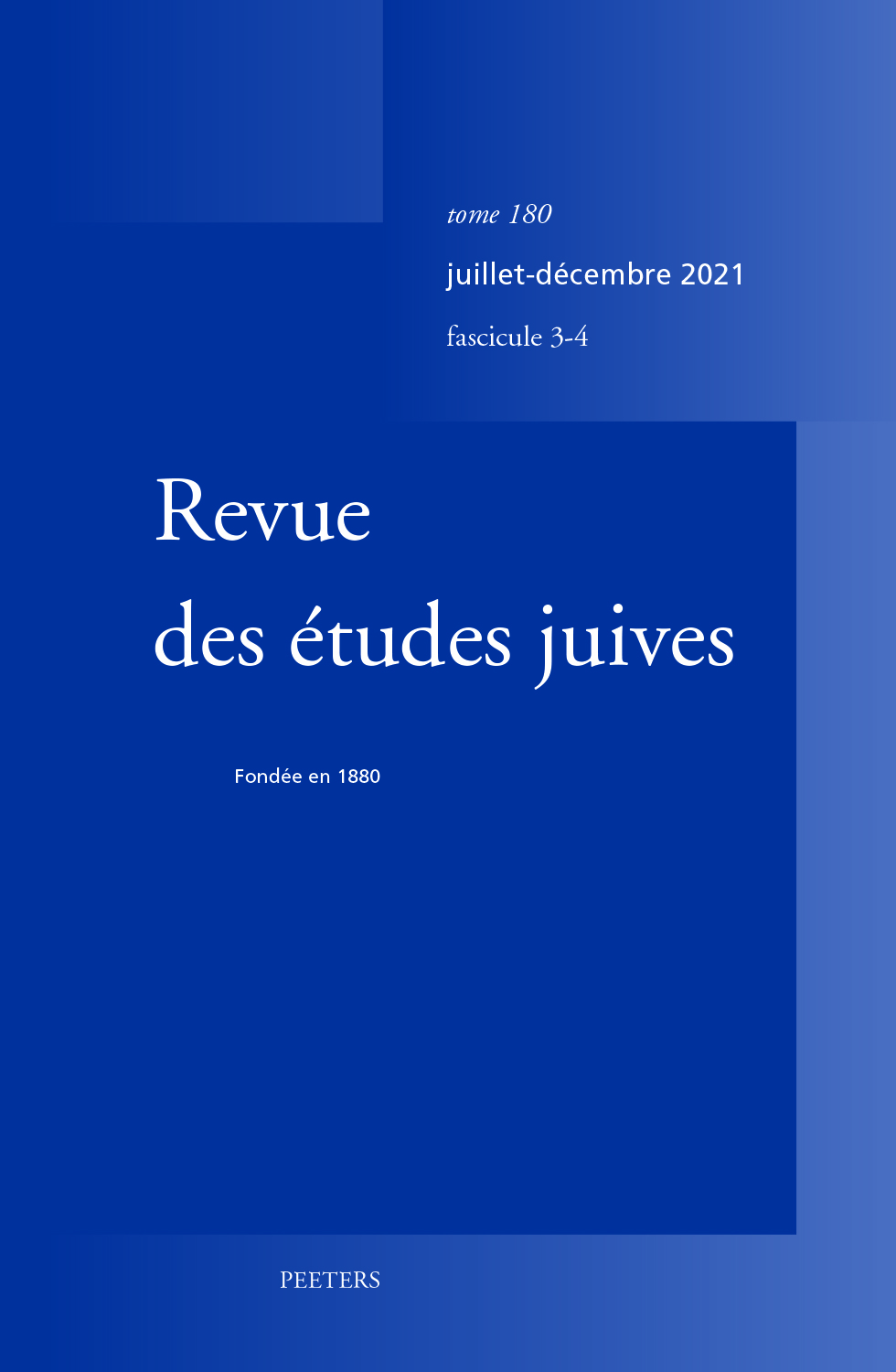 Document Details :

Title: Rabbi David De Silva
Subtitle: Jerusalem Physician of the Eighteenth Century
Author(s): AMAR, Zohar
Journal: Revue des Études Juives
Volume: 165 Issue: 3-4 Date: jullet-décembre 2006
Pages: 457-483
DOI: 10.2143/REJ.165.3.2018360

Abstract :
Cet article présente la figure de R. David de Silva (le RaDaS), médecin réputé, né à Jérusalem, dont la famille était originaire d'Europe. Au cours de son existence, il fit deux voyages en Occident qui lui permirent de compléter sa formation. De ce point de vue, il peut être considéré comme le premier médecin du pays d'Israël qui ait étudié la médecine «moderne» en Europe. Une fois rentré à Jérusalem, il exerça son art à titre privé, pour des patients de toutes religions, et en tira sa subsistance. R. de Silva est l'auteur d'un important traité médical, connu sous le titre de Peri Ḥadash, dont il n'existe que des versions manuscrites. Il s'agit d'une sorte de journal où sont consignées ses observations sur les coutumes européennes et les remarques qu'il tire de leur comparaison avec celles des habitants de Jérusalem. Il mentionne, à l'occasion, certains traitements administrés par lui à des patients vivant en Israël ou ailleurs. L'ensemble offre un aperçu original sur l'existence d'un médecin dans la Jérusalem du XVIIIe siècle et un témoignage précieux sur la réalité quotidienne de sa communauté juive. De Silva représente une période de transition entre la fin de la médecine héritée de Galien et de la tradition arabe, jusqu'alors dominante, et les signes avant-coureurs d'une médecine moderne européenne. Il est à ce titre particulièrement intéressant pour l'histoire de la médecine.


---

This article presents the character of R. David de Silva (the RaDaS) an expert physician and native born Jerusalemite whose family origins are from Europe. Over the course of his life he made two trips to the West where he also received training as a certified physician. In that respect R. David de Silva may be considered the first physician of the land of Israel who studied 'modern' medicine in Europe. Upon his return to Jerusalem, he practiced medicine as a private physician for his livelihood and made his services available to members of all religions. R. de Silva wrote a comprehensive medical essay known as Peri Ḥadash which until now has appeared in manuscript form only. This work represents a kind of journal in which he writes of the customs he witnessed and impressions gained while traveling in Europe, with a comparison to what was happening in Jerusalem. Beyond that, he cites examples of treatment that he gave to patients in Israel and abroad, which offers the reader an unusual glimpse into the life of a Jerusalem physician, on the one hand, and a faithful reflection of the daily life and realia of the Jewish community in Jerusalem of the eighteenth century or thereabouts. De Silva represents the period of transition between the end of the dominance of traditional Galenic-Arabic medicine and the first harbingers of modern European medicine and as such is an important resource for research into the history of medicine.


Download article