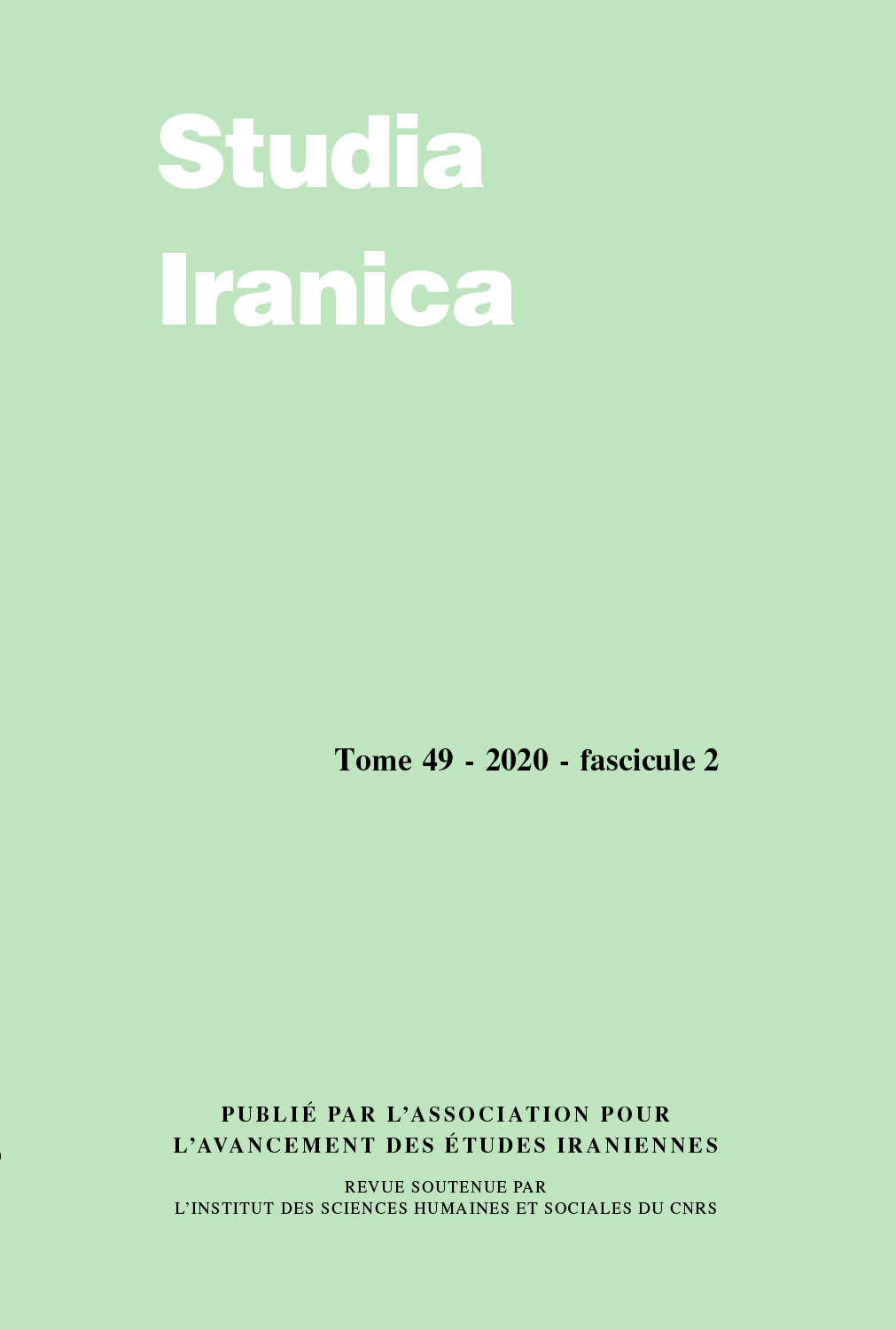 Document Details :

Title: Die Stellung der Sprache der Pahlavi-Übersetzung des Avesta innerhalb des Mittelpersischen
Author(s): CANTERA GLERA, N.A.
Journal: Studia Iranica
Volume: 28 Issue: 2 Date: 1999
Pages: 173-204
DOI: 10.2143/SI.28.2.2003905

Abstract :
The Phlavi translation of the Avesta was probably written at some uncertain time before its defenitive redaction in the 6th century. If this were true, the Pahlavi translation would be the oldest work of the Pahlavi literature. In this paper the author tries to check if tis fact is reflected in the language of the translation. He arrives to the conclusion that the language of this translation represents a stage which is to be compared with that of the Manichaean and Inscriptional Middle Persian and of the Pahlavi Psalter. This stage is also older than the Book-Pahlavi, and the author names it «Old pahlavi». Its main characteristics are: 1. the conservation of almost all persons of the subjunctive, whereas in Book-Pahlavi only the 3rd sg. and pl. remain; 2. the preservation of the distinction between the direct case and the oblique case of the 1st p. sg-pronoun, the nouns of relationship and in the plural of all nouns.


---

La traduction pehlevi de l'Avesta a été écrite probablement avant sa dernière rédaction au sixième siècle. Elle serait ainsi plus ancienne que toutes les autres oeuvres de la littérature pehlevie. Le but de ce travail est donc d'établir si ce fait se reflète dans la langue de traduction. L'auteur est arrivé à la conclusion que la langue de la traduction pehlevie représente en effet un état comparable à celui du MP manichéen et des inscriptions et à celui du Psautier pehlevi, et qu'il est plus ancien que le pehlevi des livres. Cet état de langue est appelé par l'auteur «pehlevi ancien». Ses principaux caractéristiques sont: 1. la conservation de presque toutes les formes du subjonctif, tandis que le pehlevi des livres ne conserve que la 3.p.sg. et pl.; 2. la préservation de l'opposition entre le cas direct et l'oblique du pronom de la 1.p.sg., dans les noms de parenté et au pluriel en général.


Download article