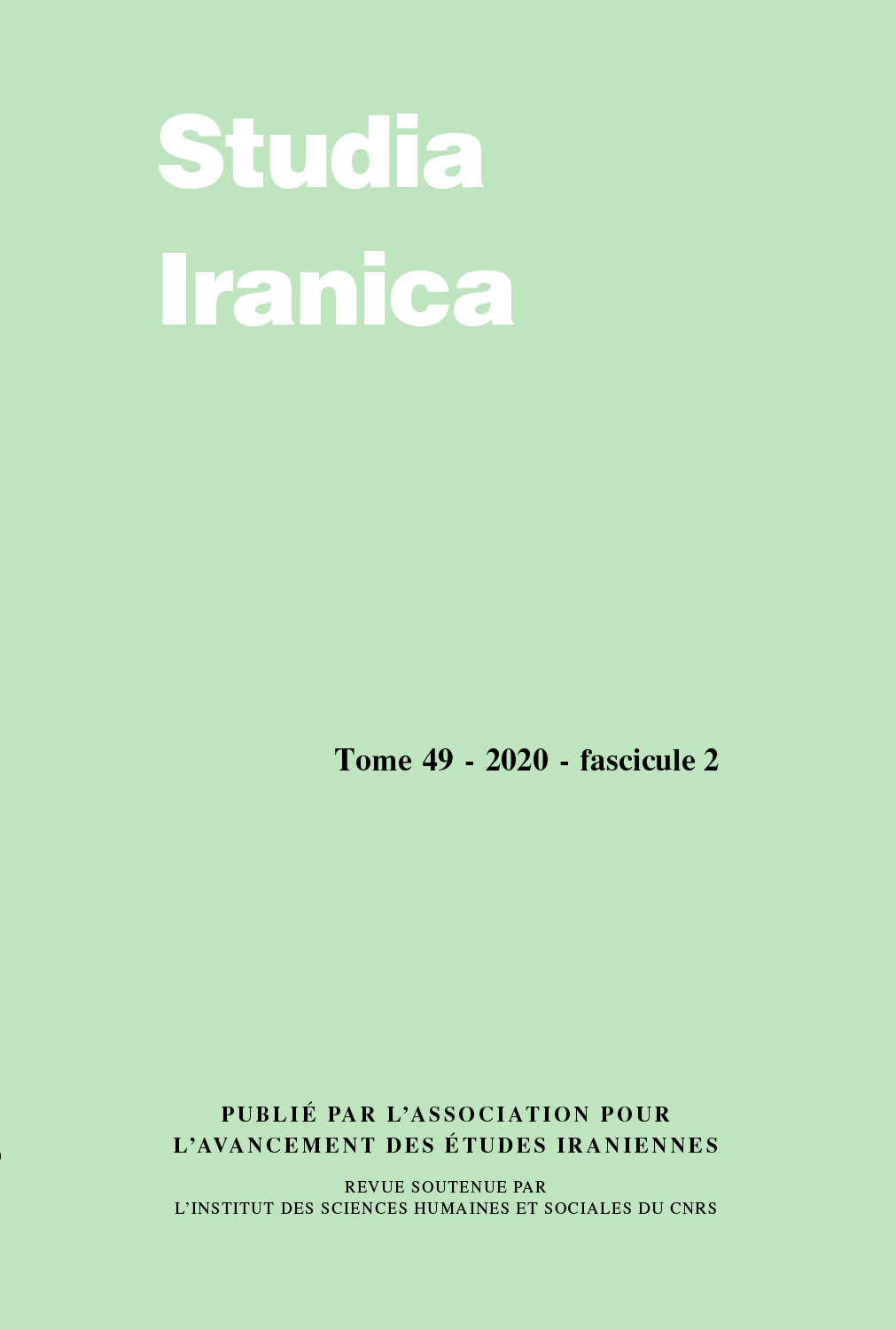 Document Details :

Title: Frustula Susiana
Author(s): SCHMITT, R.
Journal: Studia Iranica
Volume: 28 Issue: 2 Date: 1999
Pages: 163-171
DOI: 10.2143/SI.28.2.2003904

Abstract :
In this paper there are discussed several textual problems of Old Persian inscriptions from Susa. For DSa 5 the proposal is made to restore a-[n-i-y-h-y-a : vi-i-s]-h-y-a and to read /taya aniyahyā visahyā frašam ϑadayāti/ «what may appear excellent to anyone else». In line 50 of fragment No. 10 of the inscription DSf recording the building of the Palace -u-t- is to be read, which in view of the extent of the lines and its position is interpreted as part of /utā/. Fragment No. 13 of the same inscription exhibits in line 41 a longer text, which becomes complete only as [a-b-r-i-y : t-y : i-d-a : a-k]-r-i-y and is differing from both DSf and its parallel DSz. Thus it must have been part of an other version of the Old Persian text of the Foundation Charter, which should be labelled «DSac».


---

Dans cet article, quelques problèmes textuels des inscriptions vieux-perses provenant de Suse sont discutés. À propos de DSa 5 on propose de restituer a-[n-i-y-h-y-a : vi-i-s]-h-y-a et de lire /taya aniyahyā frašam ϑadayāti/ «ce qui paraîtra excellent à tout autre». À la ligne 50 du fragment no. 10 de la Charte de fondation du Palais DSf on lit -u-t- et l'interprète, en tenant compte de l'étendue de la ligne et de la position, comme partie de /utā/. Le fragment no. 13 de cette inscription montre, à la ligne 41, un texte plus large, qui ne peut être complété que par [a-b-r-i-y : t-y : i-d-a : a-k]-r-i-y et qui diffère de DSf ainsi que du texte parallèle DSz, faisant partie, apparemment, d'une autre rédaction de la Charte de fondation du Palais, pour laquelle on propose le sigle «DSac».


Download article