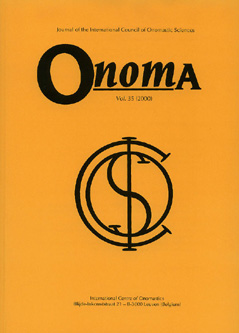 Document Details :

Title: The Study of Names in Literature in the United States
Subtitle: An Analysis and a Suggestion
Author(s): ASHLEY, Leonard R.N.
Journal: Onoma
Volume: 38 Date: 2003
Pages: 279-304
DOI: 10.2143/ONO.38.0.2002561

Abstract :
The Study of Names in Literature in the United States: An Analysis and a Suggestion
The study of names in literature has often been extensive in the U.S. and Canada but has often been relegated to second-class status in the field of onomastics. Some scholars heve expressed the attitude that literary onomastics lacks the rigor of other onomastic studies and is often limited to tracing the meaning the names in literary texts, without further analysis. Yet studying how writers use names in literature can tell us much about the process of literary creation and add richness to our understanding of human culture. Unfortunately, more recent studies have often deallt with minor works rather than works of enduring value and the approaches have been superficial. To alleviate this situation, a proposal is made for a new society devoted exclusively to literary studies.


---

Onomastique littéraire aux États-Unis: analyse et perspectives
Aux États-Unis et au Canada, les noms propres dans la littérature ont été largement étudiés, même si l'onomastique littéraire est souvent apparue comme une catégorie de second ordre. Pour certains chercheurs, la rigueur qui caractérise les autres recherches onomastiques semble faire défaut et elle paraît se restreindre à la seule interprétations des noms des textes littéraires sans pousser l'analyse plus loin. Pourtant, étudier l'usage que font les écrivains des noms dans la littérature peut nous renseigner sur le processus de la création littéraire et enrichir notre compréhension de la culture humaine. Malheureusement, les études les plus récentes se sont limitées à des œuvres mineures et leur approche s'est révélée plutôt superficielle. Pour rehausser le niveau de la recherche, l'auteur propose la fondation d'une nouvelle société exclusivement consacrée à l'étude des noms littéraires.


---

Literarische Onomastik in den USA: Analyse und Perspektiven
In den USA und in Kanada gibt es eine große Zahl an Studien zu literarischen Namen, die oft aber als onomastische Forschung zweiter Klasse degradiert worden sind. Einige Wissenshaftler haben die Meinung vertreten, dass der literarischen Onomastik die Strenge der anderen Bereiche der Namenforschung fehle und dass sie oft darauf beschränkt sei nur der Bedeutung literarischer Namen nachzuspüren, ohne weitere Analyse anzuschließen. Dennoch können uns Studien zur Frage, wie die Autoren Namen in der Literatur verwenden, sehr viel vom Prozess literarischer Kreativität zeigen und unser Verständnis der menschlichen Kultur vertiefen. Unglücklicherweise haben sich aber neuere Studien oft eher mit unbedeutenderen Werken befasst als mit literarischen Werken von bleibendem Wert und darüber hinaus erwiesen sich diese methodischen Analysen meistens als obrflächlich. Um die Lage zu verbessern, wird die Gründung einer neuen Gesellschaft die sich ausschließlich der Erforschung der literarischen Namen widmet, vorgeschlagen.


Download article