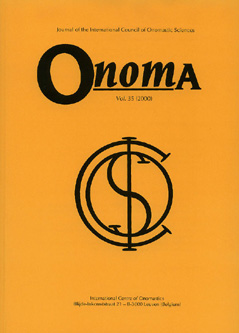 Document Details :

Title: Popularity as Taste
Subtitle: An Application to the Naming Process
Author(s): LIEBERSON, Stanley , LYNN, Freda B.
Journal: Onoma
Volume: 38 Date: 2003
Pages: 235-276
DOI: 10.2143/ONO.38.0.2002560

Abstract :
Popularity as Taste: An Application to the Naming Process
Since at least the nineteenth century, a number of nations have experienced a stunning decline in the concentration of naming choices. Whereas a substantial portion of the newborns were given one of a small number of names, now the most popular names are given to a far smaller number of children. If anything, the decline is accelerating throughout this period and so far exhibits no evidence of halting. We consider possible causes such as increasing turnover in names during this period; migration to urban areas; increasing ethnic and racial diversity; greater diffusion of naming information due to the internet and computerization. These are found to be wanting. In turn we describe a Collective Theory of Popularity as a taste itself and provide evidence that supports this perspective. In particular, we show that the decline in concentration fits very nicely with the theory. Also, the names given to sisters provide independent and non-circular evidence that parents' choices are affected by their location on the continuum from popular to unpopular.


---

De la genèse du bon goût: le processus d'attribution des noms
Depuis la fin du XIXe siècle au moins, plusieurs nations ont pu constater un déclin drastique du spectre des choix de noms. Alors qu'autrefois la majorité des nouveaux-nés recevait un nom choisi dans une palette réduite, les noms les plus populaires sont maintenant donnés à un nombre d'enfants beaucoup plus restreint. Le déclin s'accélère au cours de cette période et ne présente aucun signe de ralentissement. Nous pensons y déceler diverses des zones urbaines, l'augmentation de la diversité ethnique et raciale, une plus grande diffusion des connaissances onomastiques due à la généralisation d'Internet et de l'Informatique. L'étude en reste encore à faire. Nous préférons décrire ici une théorie collective de la popularité engendrant une nouvelle conception du bon goût et nus proposons d'en fournir un argumentaire. Nous montrons notamment une adéquation parfaite entre le déclin du spectre des noms et cette théorie. En outre, les noms donnés à des sœurs prouvent de façon concluante que les choix parentaux se situent toujours sur un point déterminé du spectre allant du populaire à l'impopulaire.


---

Geschmacksbildung am Beispiel der Vornamengebung
Mindestens seit dem späten 19. Jahrhundert ist in mehreren Ländern eine verblüffende Abnahme der Dichte vergebener Namen zu beobachten. Während früher einer großen Zahl Neugeborener ein Name aus einer kleinen Zahl von Namen gegebe wurde, werden jetzt die populärsten Namen einer weit kleineren Zahl von Kindern gegeben. Eher nimmt dieser Trend innerhalb des bezeichneten Zeitraumszu und es gibt bislang kine Hinweise auf einen Stillstand. Wir erwägen dafür mögliche Ursachen wie z.B. Zunahme des Namenwechsels, Migration in die Städte, wachsende ethnische und rassenbezogene Verschiedenheit sowie ein großere Verbreitung von Informationen über Namengebung durch Internet und Computer. Diese Ursachen haben sich als nicht hinreichend erwiesen. Im Gegenzug beschreiben wir eine Kollektivtheorie der Popularität als ein Geschmack an sich und begünden dieze Perspektive. Im Besonderen zeigen wir, dass der Rückgang der Dichte seht gut mit der Theorie zu vereinbaren ist. Ebenso belegen die Namen von Schwestern unabhängig und nicht-zirkulär, dass die Namenwahl der Eltern beeinflusst wird durch die Position der Namen auf einem Kontinuum von 'populär' bis 'unpopulär'.


Download article