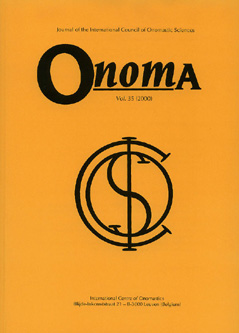 Document Details :

Title: Common American Given Names of the Twentieth Century
Subtitle: A Preliminary Analysis by Decades
Author(s): EVANS, Cleveland Kent
Journal: Onoma
Volume: 38 Date: 2003
Pages: 217-234
DOI: 10.2143/ONO.38.0.2002559

Abstract :
Common American Given Names of the Twentieth Century: A Preliminary Analysis by Decades
Data recently obtained from the United States Social Security Administration provide lists of the most popular names given infants during each decade of the twentieth century. There are some limitations of the date, especially shifts in the age of individuals when their names were first entered into the data set. An analysis of the lists shows that the proportion of children given the most common names peaked in teh middle of the century and fell dramatically during the 1990s. A comparison with college graduate lists from 1925 shows the influence of social class on naming. Examination of the individual names on the lists shows the impact of assimilation of Roman Catholic names into the American Mainstream, and the career of the name Deborah exemplifies the possible effects of fashionable soud and popular culture on name popularity.


---

Les prénoms américains communs au XXe siècle: une analyse décenalle préliminaire
Les données récemment obtenues des services de la Sécurité Sociale des États-Unis fournissent des listes des prénoms les plus populaires durant chaque décennie du XXe siècle. Ces données présentent quelques limitations, notamment les changements dans l'âge des individus quand leurs noms avaient d'abord été entrés dans la série. Une analyse des listes montre que la proportion des prénoms les plus communs des enfants culmine au milieu du siècle puis chute dramatiquement dans les années 90. La comparaison des listes des diplômés de l'enseignement supérieur en 1925 montre l'@influence des classes sociales dans la nomination. L'examen des prénoms sur les listes montre l'assimilisation des prénoms catholiques dans la culture populaire sur la popularité d'un prénom.


---

Allgemein gebräuchliche amerikanische Vornamen im 20. Jahrhundert: eine Vorstudie nach Jahrzehnten gegeliedert
Aktuelle Daten der Sozial versicherungsanstalt der Vereinigten Staaten liefern Listen der in jedem Jahrzehnt des 20. Jahrhunderts beliebsten Vornamen. Es gibt dabei aber auch Beschränkungen, die besonders Verschiebungen beim Alter der Individuen betreffen, als ihre Namen zuerst in den Datensat eingetragen wurden. Eine Analyse der Listen zeigt, dass der Anteil der Kinder mit den gebräuchlichsten Namen in der Mitte des Jahrhunderts seinen Höhepunkt hatte und während der 1990er Jahre dramatisch zurückging. Ein Vergleich mit einer Liste von College-Absolventen des Jahres 1925 zeigt den Einfluss der sozialen Schicht auf die Namengebung. Die Untersuchung einzelner Namen in den Listen zeigt, wie sich die römisch-katholischen Namen an den amerikanischen Mainstream anpassten, und der Aufstieg des Namens Deborah verdeutlicht die möglichen Auswirkungen eines schönen Klangbildes und der Populärkultur auf die Beliebtheeit eines Namens.


Download article