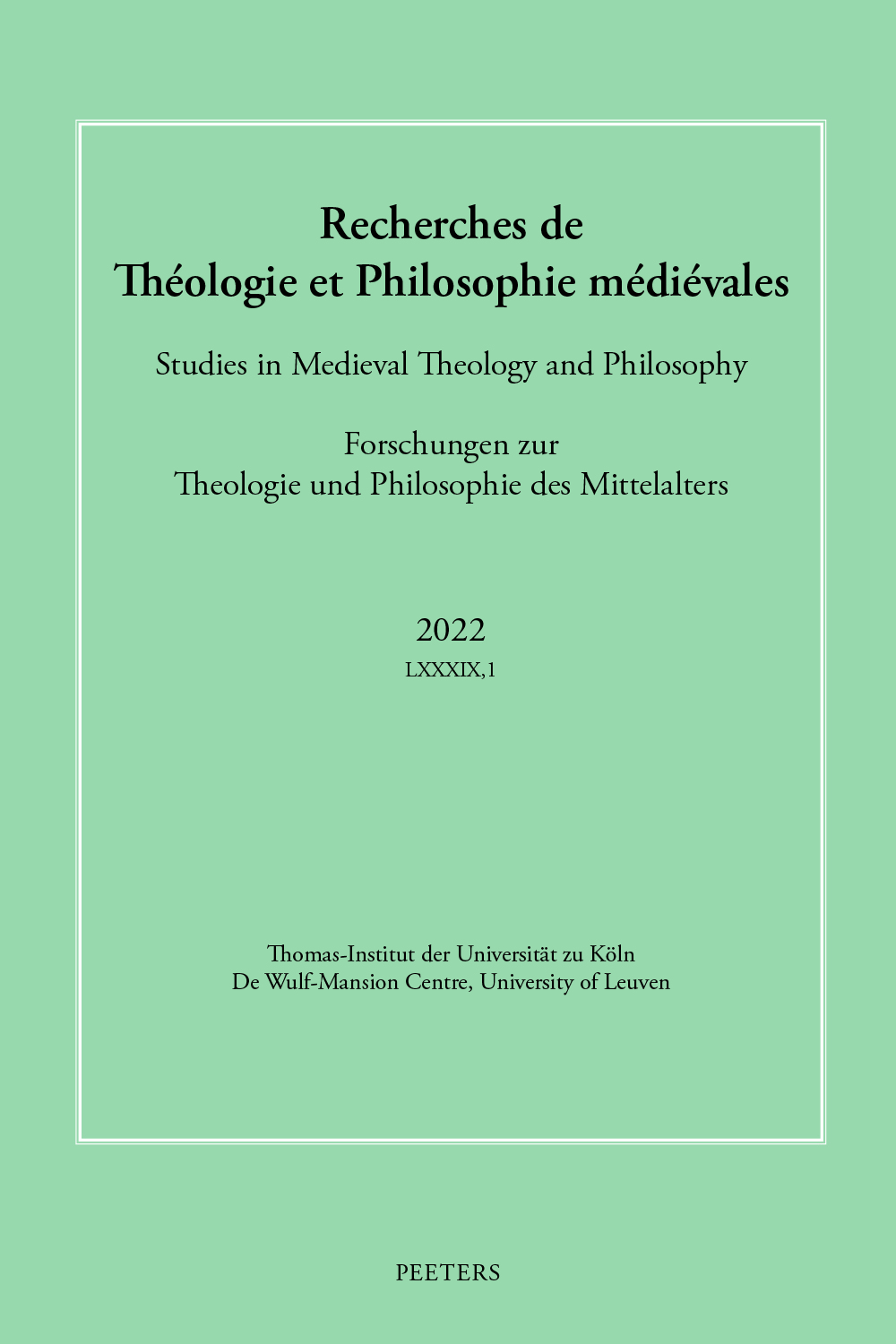 Document Details :

Title: Avicenne et sa «paraphrase-commentaire» du livre Lambda («Kitāb al-inṣāf»)
Author(s): JANSSENS, J.
Journal: Recherches de Théologie et Philosophie Médiévales
Volume: 70 Issue: 2 Date: 2003
Pages: 401-416
DOI: 10.2143/RTPM.70.2.503659

Abstract :
Une grande partie du livre Kitāb al-inṣāf d'Avicenne ne nous est pas parvenue. Toutefois, le «paraphrase-commentaire » ayant trait à la Métaphysique d'Aristote, livre Lambda, chapitres 6-10 a été conservé dans deux manuscrits. En 1948 Badawi avait fourni une édition du texte arabe, qui, malgré ses mérites, est ouverte à des corrections importantes, comme le démontrent quelques exemples. En outre, une attention particulière est payée au problème de l'identification de la traduction utilisée par Avicenne. Un examen, bien que non exhaustif, de différents cas donne à penser qu'il s'agit d'une version (légèrement) révisée de la traduction d'Usāth. Mais il est à noter qu'Avicenne n'hésite pas de modifier de temps à temps la terminologie en fonction de sa propre pensée. Enfin, des éléments novateurs se font jour, dont au moins deux s'expliquent par les particularités de la traduction arabe. Au niveau doctrinal, trois éléments de telle sorte ressortissent : 1. le rejet d'inclure l'argument du Premier moteur immobile comme preuve de Dieu dans un contexte métaphysique ; 2. la qualification de la dépendance de l'univers envers le Premier Principe en termes de « don d'être » (émanation), non de mouvement ; enfin, 3. l'affirmation que l'auto-connaissance du Premier Principe inclut la connaissance de toutes les choses.

A large part of Avicenna's Kitāb al-inṣāf has been lost. However, the section containing a « paraphrasis-commentary » of Aristotle's Metaphysics, book Lambda, chapters 6-10, has reached us in two manuscripts. Badawi, in 1948, has offered a printed edition that notwithstanding its merits is open to serious improvement as shown by several examples. Furthermore, the problem of which of the old Arabic translation Avicenna has used is dealt with in detail. The examined cases, although limited in number, point to a (slightly) revised version of Ustāth's translation. But it has to be noted that Avicenna now and then changes the terminology consciously in view of his own ideas. Finally, some innovative elements come to the fore, two of which, at least, are due to particularities of the Arabic translation. From the doctrinal point of view, three ideas do strike: 1. the fact that the proof of the Unmoved Mover is unacceptable in a metaphysical context; 2. the qualification of the dependence of the Universe on the First Principle as a "Gift of Being" (emanation), not as a motion; 3. the inclusion of the knowledge of all things in God's self-knowledge.



Download article