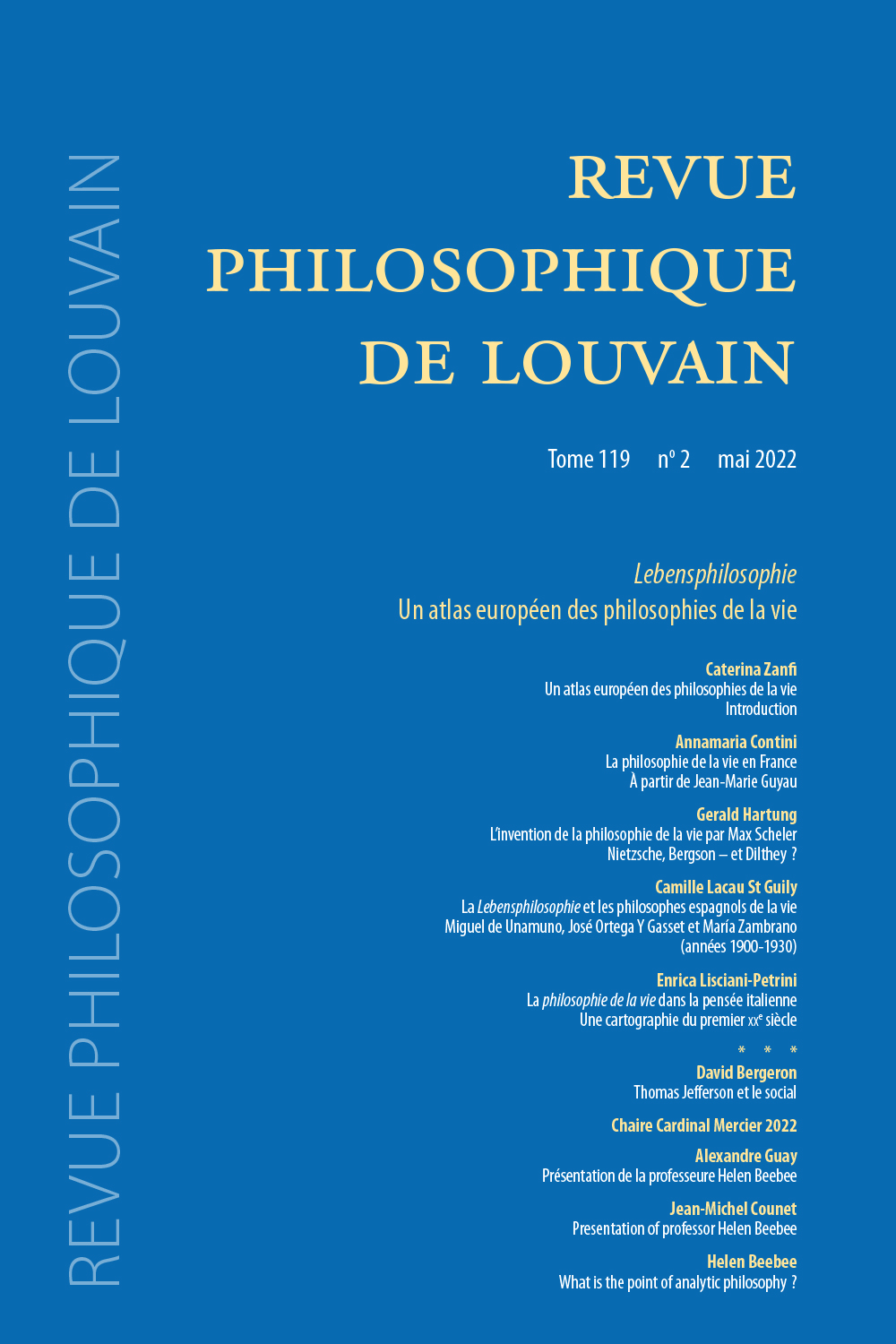 Document Details :

Title: Connaissance anthropologique et intérêt
Author(s): DUPUIS, Michel
Journal: Revue Philosophique de Louvain
Volume: 118 Issue: 4 Date: novembre 2020-2021
Pages: 493-511
DOI: 10.2143/RPL.118.4.3290138

Abstract :
Comme toute forme de savoir, la connaissance anthropologique est profondément intéressée: Habermas et Blumenberg l'indiquent à leur manière propre. Deux scènes empruntées aux travaux de Stein et de Binswanger, et qui concernent la «mise en forme de sa vie» par l'existant illustrent assez bien l'intérêt anthropologique: selon un point de vue à la fois herméneutique et pragmatique, il s'agit toujours de la formation et de la réalisation d'un soi humain en son autonomie et sa dignité, dans la constitution d'une authentique histoire personnelle irréductible aux événements et aux processus qui pourtant la conditionnent en sa contingence. Ces deux scènes d'anthropologie phénoménologique trouvent une signification véritablement éthique sous la perspective des «thèses» formulées par Frankl. En fin de compte, le phénomène humain se révèle autre qu'un phénomène habituel: il se donne comme irréductiblement singulier, «profond», personnel et intotalisable; il est digne d'un intérêt spécifique qui ne soit pas spéciste.


---

Anthropological knowledge, like all forms of knowledge, has deep-seated interests of its own: Habermas and Blumenberg point this out each in their own way. Two scenes borrowed from the works of Stein and Binswanger concerning the existing being's «forming his life» illustrate the anthropological interest rather well: both from a hermeneutical and from a pragmatic point of view it is always a question of the formation and the realisation of a human self in its autonomy and dignity, in the constitution of an authentic personal history not reducible to the events and processes that condition its contingency. These two scenes from phenomenological anthropology contain a truly ethical meaning in the perspective of the «theses» formulated by Frankl. In the final analysis the human phenomenon shows itself to be other than a habitual phenomenon: it presents itself as irreducibly singular, «profound», personal and untotalisable; it is worthy of a specific interest that is not speciesist.


Download article