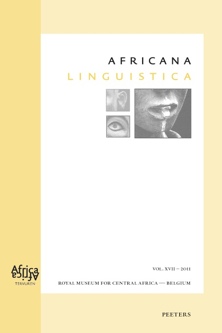 Document Details :

Title: Les constructions réfléchies avec suffixe applicatif en kirundi
Subtitle: Une description sémantico-pragmatique
Author(s): TUYUBAHE, Pascal
Journal: Africana Linguistica
Volume: 27 Date: 2021
Pages: 165-187
DOI: 10.2143/AL.27.0.3290075

Abstract :
En kirundi, le suffixe applicatif -ir et le préfixe réfléchi í- sont des morphèmes qui peuvent apparaître tous les deux dans un même verbe. L'article montre que les constructions avec le préfixe réfléchi et le suffixe applicatif en kirundi sont généralement ambiguës: selon le contexte, elles indiquent soit que le référent du sujet est bénéficiaire (ou maléficiaire) de sa propre action soit qu'il adopte un comportement différent des autres personnes impliquées dans une même situation. Au niveau pragmatique, cette double lecture montre que la combinaison des affixes í- et -ir dans une phrase atteste différentes valeurs contrastives: il y a un focus contrastif sur le sujet seul ou le sujet est un topique contrastif et il y a un focus contrastif sur l'événement. Cette ambiguïté est seulement possible quand l'applicatif introduit le réfléchi. Cet article propose la description de ces différentes valeurs possibles en partant des contextes de phrases contenant les deux morphèmes.


---

In Kirundi, the applicative suffix -ir and the reflexive prefix i- are morphemes which can both appear in the same verb. The article shows that constructions with the reflexive prefix and the applicative suffix in Kirundi are generally ambiguous: depending on context, they either indicate that the subject referent is the beneficiary (or maleficiary) of its own action, or that it behaves differently than the other persons involved in a given situation. On the pragmatic level, this dual reading shows that the combination of the affixes i- and -ir in a phrase attests different contrastive values: there is a contrastive focus on the subject alone, or the subject is a contrastive topic and there is a contrastive focus on the event. This ambiguity is only possible when the applicative introduces the reflexive. Using the contexts of phrases containing the two morphemes, this article offers a description of these different possible values.


Download article