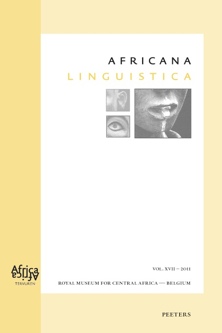 Document Details :

Title: Labial-Velar Stops outside the Macro-Sudan Belt
Subtitle: New Evidence from Lwel (West-Coastal Bantu, B862)
Author(s): MASELLI, Lorenzo , PACCHIAROTTI, Sara , BOSTOEN, Koen
Journal: Africana Linguistica
Volume: 27 Date: 2021
Pages: 141-164
DOI: 10.2143/AL.27.0.3290074

Abstract :
The Congo Basin rainforest is among the least well-documented linguistic regions of the world. This means that our current knowledge of Central African languages is biased by important research gaps. This is particularly true of phonetics, as sound-specific explorations and data collection in the area remain a marginal activity within language documentation. This paper offers new phonetic evidence for the presence of labial-velar stops in Lwel (West‑Coastal Bantu, B862), a language spoken along the Kasai River in the Kwilu Province of the Democratic Republic of the Congo. The presence of labial-velar stops in Lwel calls into question their definition as a distinctive areal feature of the so-called Macro-Sudan Belt in northern Sub-Saharan Africa. What is more, Lwel displays a rather unusual voicing pattern, apparently at odds with the long-established notion that voiced labial-velars are cross-linguistically favored over their voiceless counterparts. We tentatively propose that substrate influence from no longer extant pre‑Bantu forest languages may have contributed to shaping the unusual phonology of Lwel and several other languages spoken in the West-Coastal Bantu homeland area.


---

La forêt tropicale du bassin du Congo fait partie des régions linguistiques les moins documentées du monde. Cela signifie que notre connaissance actuelle des langues d'Afrique centrale est biaisée par d'importantes lacunes dans la recherche. Cela est particulièrement vrai de la phonétique, car les investigations spécifiques sur les sons et la prise de données dans le domaine restent une activité marginale dans la documentation des langues. Cet article offre de nouvelles preuves phonétiques de la présence d'occlusives labio-vélaires en lwel (bantu de la côte occidentale, B862), une langue parlée le long de la rivière Kasaï dans la province du Kwilu en République démocratique du Congo. La présence d'occlusives labio-vélaires en lwel remet en question leur définition en tant que caractéristique spatiale distinctive de la soi-disant ceinture macro-soudanaise au nord de l'Afrique subsaharienne. Qui plus est, le lwel affiche un modèle de voisement plutôt inhabituel, apparemment en contradiction avec la notion établie de longue date selon laquelle les labio-vélaires voisées sont linguistiquement favorisées par rapport à leurs homologues sourdes. Nous proposons provisoirement que l'influence du substrat des langues forestières pré-bantu désormais disparues peut avoir contribué à façonner la phonologie inhabituelle du lwel et de plusieurs autres langues parlées dans l'aire du bantu de la côte occidentale.


Download article