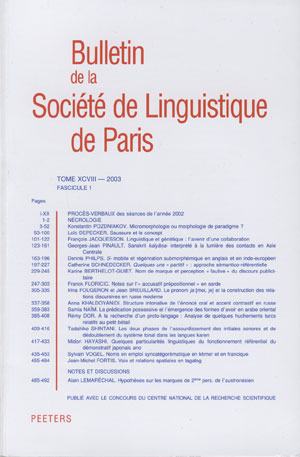 Document Details :

Title: Universaux du langage ou universaux linguistiques
Subtitle: Le bilan de 60 ans de débat
Author(s): BUROV, Ivaylo
Journal: Bulletin de la Société de Linguistique de Paris
Volume: 115 Issue: 1 Date: 2020
Pages: 1-59
DOI: 10.2143/BSL.115.1.3289155

Abstract :
L'idée que toutes les langues sont construites sur les mêmes principes généraux et ont une base commune est très ancienne et remonte à la tradition des grammaires philosophiques ou générales, formulant des principes censés être valables pour toutes les langues, et s'inspirant largement des grammaires spéculatives médiévales (XIIe-XIIIe siècles). C'est ce même courant de pensée qui aboutira lentement à travers les siècles à l'hypothèse universaliste de la Grammaire générative. Or, la conception chomskyenne de la Grammaire universelle ne se cristallise que dans la seconde moitié des années 1960 comme une réaction contre l'approche typologique des universaux du langage, défendue par les participants au colloque de Dobbs Ferry (1961). En effet, le débat actuel autour de la question des universaux, dans toute son ampleur et avec tous ses enjeux épistémologiques, tire son essor essentiellement de ce colloque interdisciplinaire ayant rassemblé linguistes, anthropologues et psychologues, ainsi que des progrès de la typologie linguistique non holistique à partir des travaux de Joseph Greenberg. Le présent article fait un aperçu historique des idées et des philosophies qui ont préparé les deux approches diamétralement opposées, tout en essayant de montrer la supériorité de l'approche typologique et de faire le point sur l'état actuel des recherches sur les universaux.


---

The idea that all languages are constructed on the same general principles and share a common base is very old and goes back to the tradition of philosophical or general grammars formulating principles assumed to be valid for all languages and finding inspiration in medieval speculative grammars (XIIth-XIIIth century). It is exactly this line of thought which leads slowly through the centuries to the universalist hypothesis of Generative grammar. However, the Chomskyan concept of Universal grammar emerges only in the second half of the 1960s as a reaction against the typological approach to the universals of language defended by the participants in the Dobbs Ferry Conference (1961). In fact, the present debate on the question of universals, to its full extent and with all its epistemological implications, takes off largely from this interdisciplinary conference which gathered together linguists, anthropologists and psychologists, as well as from the development of non-holistic language typology in the works of Joseph Greenberg. The present paper makes a historical survey of the ideas and philosophies which prepared the two diametrically opposed approaches, while attempting at the same time to prove the superiority of the typological approach and to provide a summary of the present state of research on universals.


Download article