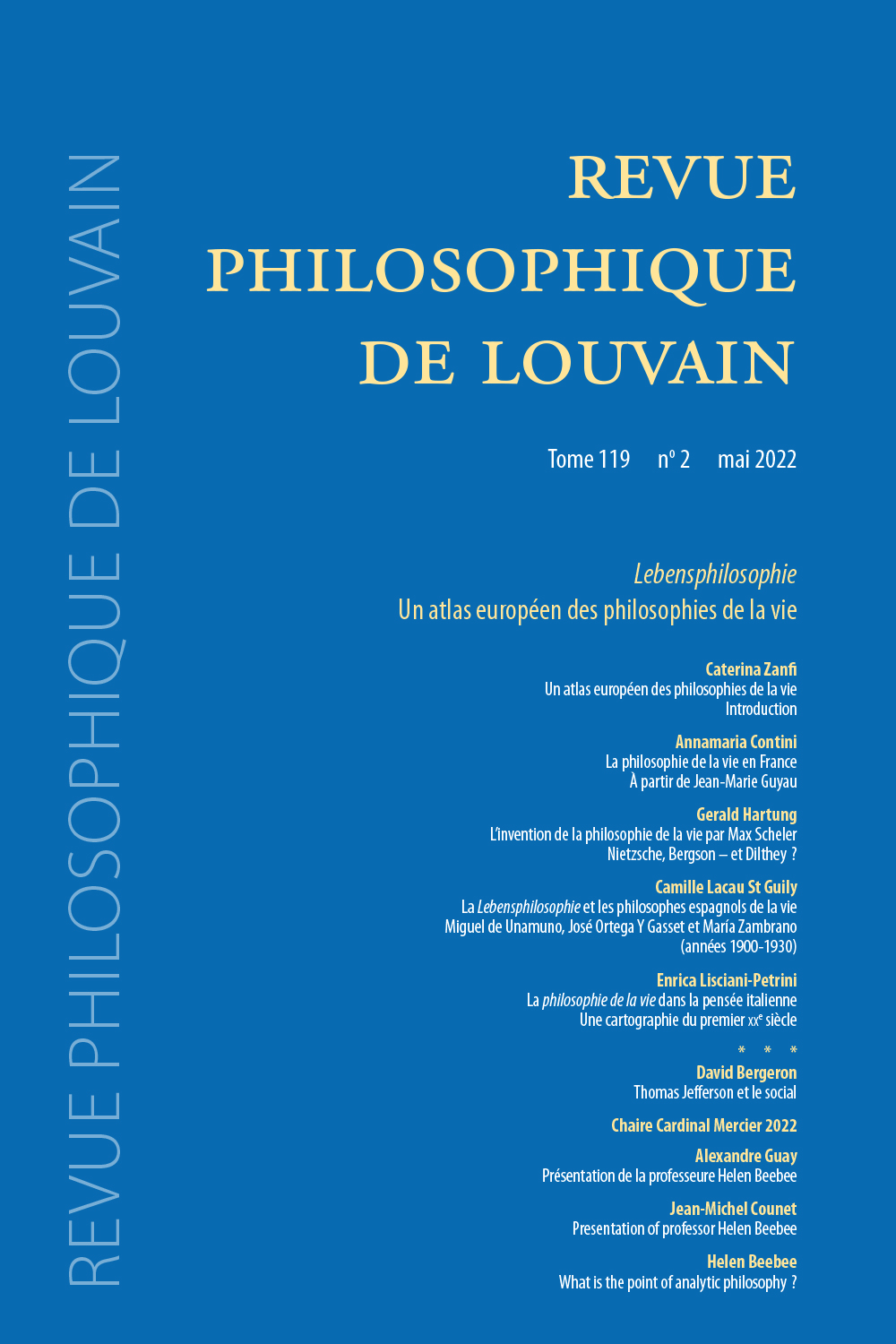 Document Details :

Title: Patočka and the Critique of Husserlian Time Consciousness
Author(s): BARCARO, Marco
Journal: Revue Philosophique de Louvain
Volume: 118 Issue: 1 Date: février 2020-2021
Pages: 65-86
DOI: 10.2143/RPL.118.1.3288899

Abstract :
La question de la temporalité est l'un des aspects les moins étudiés de la pensée de Patočka et elle est très peu discutée dans les débats internationaux concernant ses travaux. Cependant, elle revêt une importance décisive, car elle prépare son projet de phénoménologie asubjective. Cet article se concentre sur le cheminement qui mène à cette conception: il identifie les éléments théoriques et les conséquences asubjectives de l'analyse que le phénoménologue tchèque propose des Leçons pour une phénoménologie de la conscience intime du temps (1893-1917) de Husserl. Le temps n'est plus considéré comme l'unité du flux subjectif constitué par la rétention, mais il est compris comme l'ajointement primordial du champ d'apparaître dans sa structure «déjà» unifiée d'espace-temps-qualités. Le fondement de la structure du temps ne peut donc plus être le présent vivant du sujet et son champ de présence. L'aboutissement de ce parcours critique, qui n'est pas analysé ici, nous confirme que la temporalité fait référence aux lois de l'apparaître et reste un enjeu central, car elle agit sur notre compréhension du monde et sur la relation sujet-monde dans l'histoire.


---

Temporality is one of the least studied aspects of Patočka's thought and rarely occurs in international discussions of his works. Nonetheless it is of key importance, as it paves the way for his asubjective phenomenology. This article concentrates on the path that led to this concept: it identifies the theoretical aspects and the asubjective consequences of the Czech phenomenologist's analysis of Husserl's On the Phenomenology of the Consciousness of Internal Time (1893–1917). Time is no longer viewed as the unity of the subjective flux constituted by retention, but is understood as the primordial coincidence of the field of appearing in its «already» unified structure of space-time-qualities. The foundation of the structure of time can therefore no longer be the subject's living present and his field of presence. The outcome of this critical itinerary, which is not analysed here, confirms for us that temporality refers to the laws of appearing and remains a central issue, as it acts on our understanding of the world and on the relationship subject-world in history.


Download article