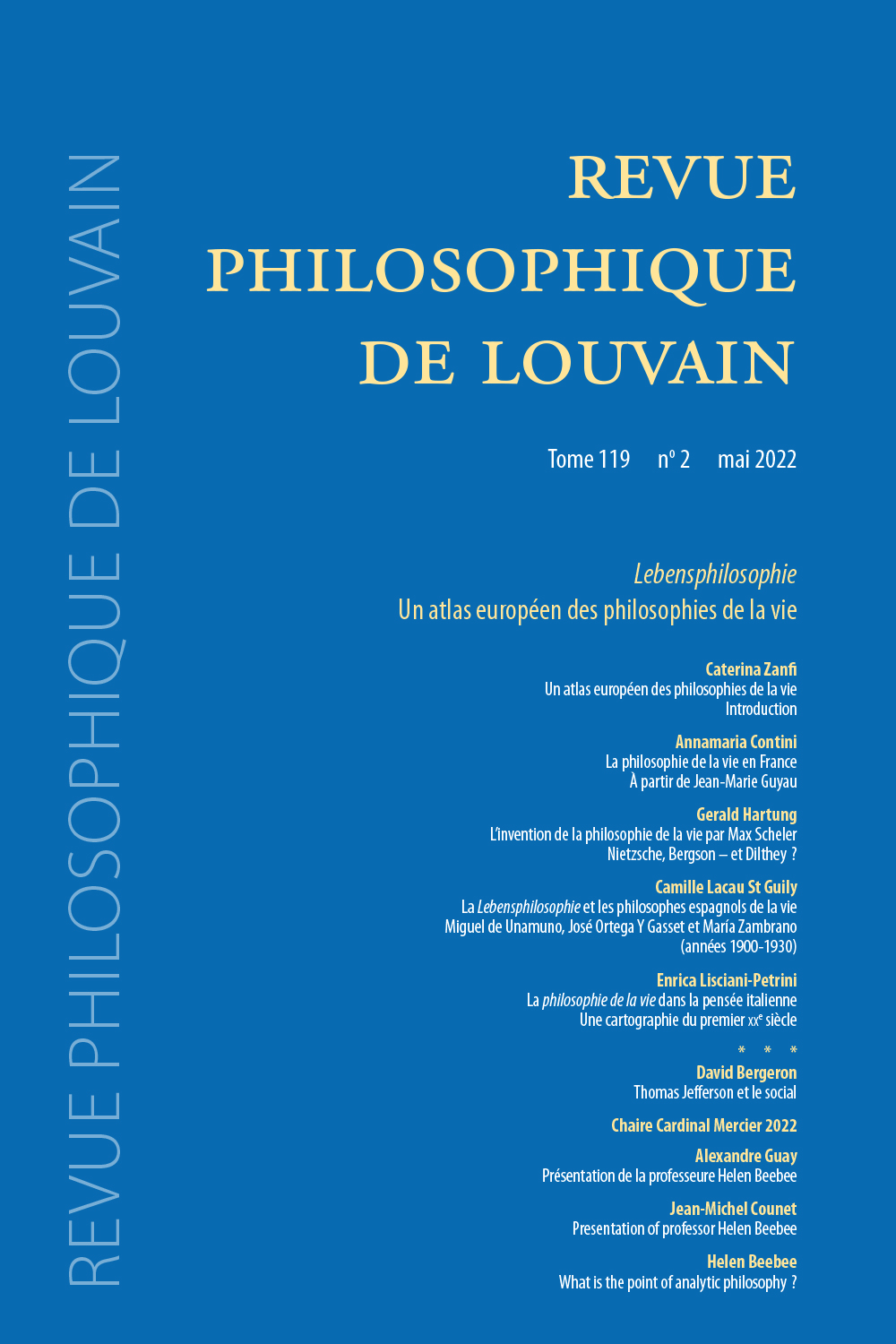 Document Details :

Title: Coréférentialité, sens frégéen et reconstruction doctrinale
Subtitle: Le cas de la syllogistique d'Aristote
Author(s): MARION, Mathieu
Journal: Revue Philosophique de Louvain
Volume: 118 Issue: 1 Date: février 2020-2021
Pages: 1-30
DOI: 10.2143/RPL.118.1.3288897

Abstract :
Selon un dilemme formulé par A. MacIntyre nous serions obligés en histoire de la philosophie de privilégier une plus grande fidélité au texte au détriment de la pertinence contemporaine de notre interprétation ou, à l'inverse, de privilégier la pertinence au détriment de la fidélité. La coférentialité entre les termes de l'historienne et ceux du philosophe qu'elle étudie a été proposée comme condition nécessaire pour l'histoire de la philosophie. Dans ce texte, je défends la thèse que ce n'est cependant pas une condition suffisante pour éviter les interprétations qui ne font pas assez de cas de la fidélité. Il faut faire appel à un ingrédient supplémentaire, le sens frégéen comme procédure, en l'occurrence la reconstruction des «complexes de questions et réponses» de R.G. Collingwood. Ces thèses sont illustrées par les faiblesses de la reconstruction de la syllogistique d'Aristote par J. Łukasiewicz, qui est contrastée avec une reconstruction (du dictum de omni et de l'ecthèse) dont il est montré qu'elle est à la fois plus fidèle et plus pertinente, ce qui conduit au rejet du dilemme de MacIntyre.


---

According to a dilemma put forth by A. MacIntyre, we are forced in the history of philosophy either to provide an interpretation which is more faithful to text at the expense of its relevance to today's concerns or to provide a more relevant one at the expense of fidelity. Coreferentiality between terms used by the historian and those used by the philosopher she studies is often presented as a necessary condition in the history of philosophy. In this paper, I argue that it is not sufficient to avoid defective interpretations that do not give enough consideration to fidelity, and argue that one needs a further ingredient, Fregean sense understood as a procedure, R.G. Collingwood's reconstruction of 'complexes of questions and answers' being proposed as this ingredient. These claims are illustrated by the weaknesses of J. Łukasiewicz's reconstruction of Aristotle's syllogistic, which is then compared with a reconstruction (of the dictum de omni and ecthesis) arguably more faithful to the text, while being at the same time more relevant. This leads to the rejection of MacIntyre's dilemma.


Download article