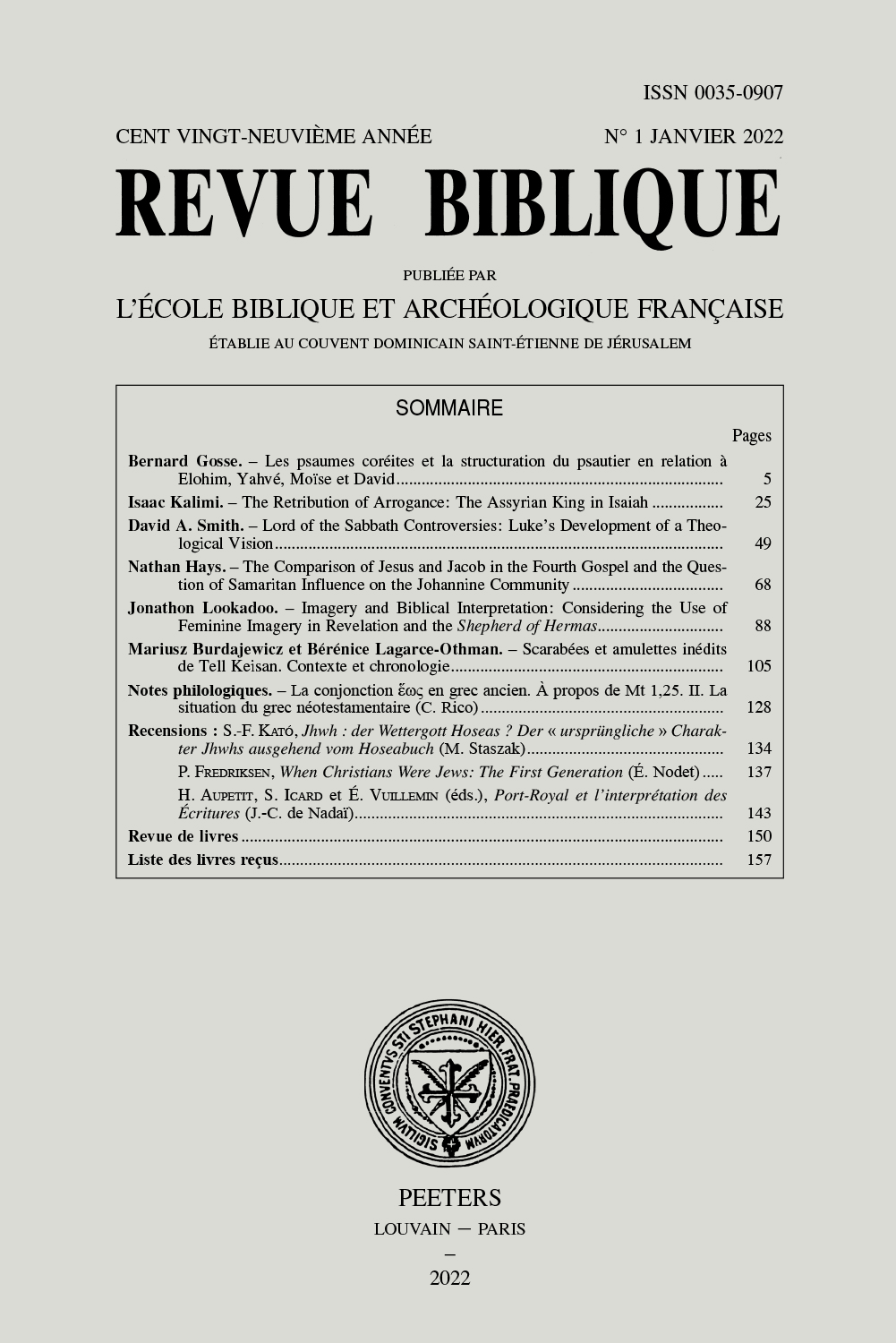 Document Details :

Title: A Response to Justin Taylor's Hypothesis about the Development of Mark 9:11-13 and Matt 17:10-13
Author(s): FLOWERS, Michael V.
Journal: Revue Biblique
Volume: 126 Issue: 4 Date: 2019
Pages: 565-578
DOI: 10.2143/RBI.126.4.3287012

Abstract :
Justin Taylor has argued that in its pre-Markan form the pericope in Mark 9:11-13 (// Matt 17:10-13 // Justin, Dial. 49.15-17) envisaged Jesus as Elijah. When Mark utilized this tradition he did not alter this portrayal of Jesus. Matthew, however, envisaged John the Baptist as Elijah and altered the pericope accordingly. Justin's version of the pericope indicates that he was still privy to the pre-Markan version. Later copyists of Matthew and Mark further adjusted the pericope in these two Gospels, transferring elements from one to the other. Against Taylor, I argue that the pericope, as Mark originally recorded it and as it read in its pre-Markan form, presented John as Elijah. Matthew utilized only Mark's Gospel and Justin utilized Matthew's, not a pre-Markan tradition.


---

Justin Taylor a fait valoir que, dans sa version pré-marcienne, la péricope de Mc 9,11-13 (// Mt 17,10-13 // Justin, Dial. 49.15-17) envisageait Jésus comme étant Élie. Lorsque Marc a utilisé cette tradition, il n'a pas modifié ce portrait de Jésus. Matthieu, cependant, a envisagé Jean le Baptiste comme étant Élie et a modifié la péricope en conséquence. La version de Justin de la péricope indique qu'il était toujours au courant de la version pré-marcienne. Plus tard, des copistes de Matthieu et de Marc réorganisèrent la péricope de ces deux évangiles, transférant des éléments de l'un à l'autre. Contre Taylor, je soutiens que la péricope, telle que Marc l'avait initialement composée et telle qu'elle se lisait dans sa version pré-marcienne, a présenté Jean comme étant Élie. Matthieu n'a utilisé que l'Évangile de Marc et Justin a utilisé l'Évangile de Matthieu, et non une tradition pré-marcienne.


Download article