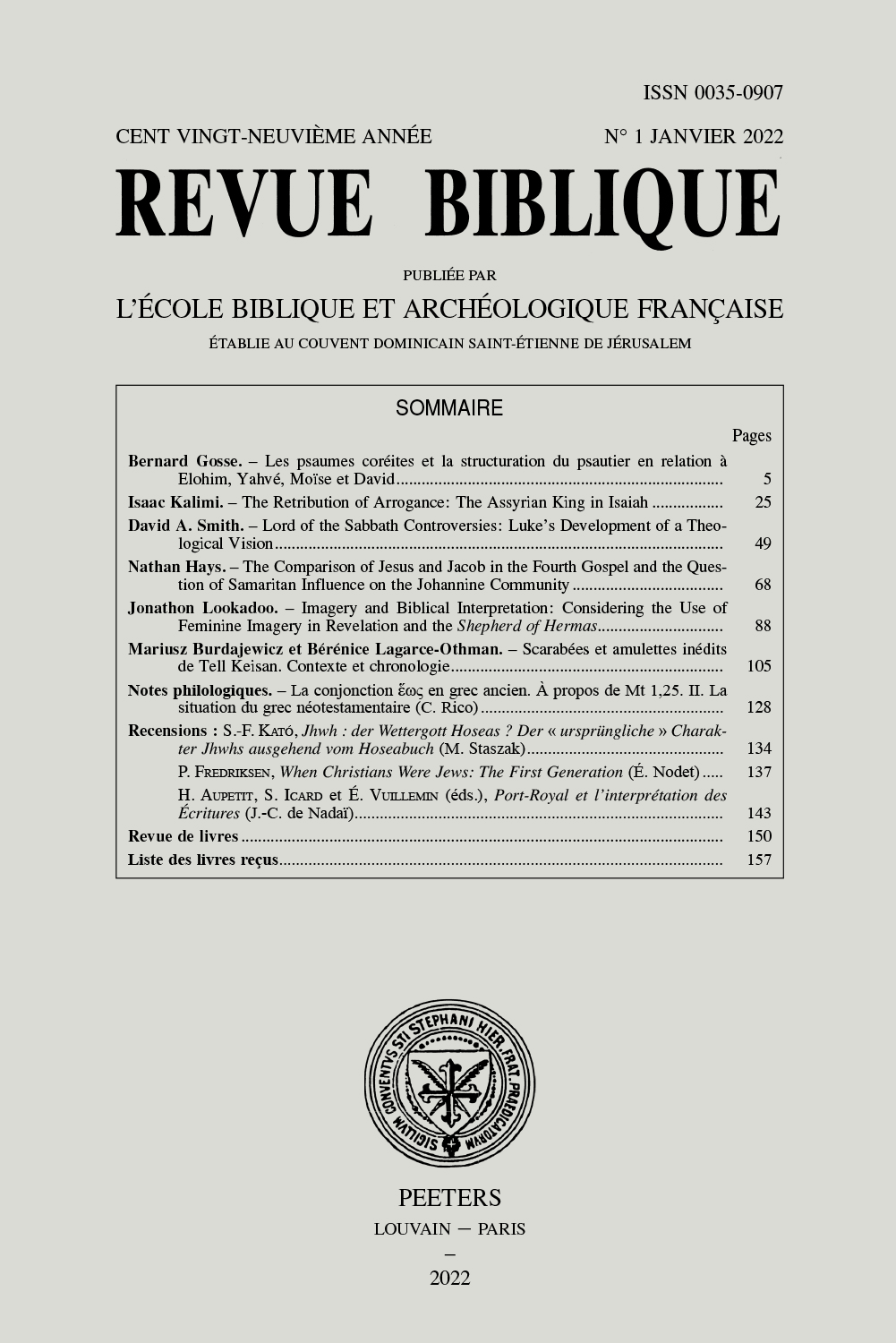 Document Details :

Title: Re-examining the Torah in the Book of Isaiah
Author(s): KWON, JiSeong James
Journal: Revue Biblique
Volume: 126 Issue: 4 Date: 2019
Pages: 547-564
DOI: 10.2143/RBI.126.4.3287011

Abstract :
Scholars have argued that the author of the book of Isaiah intentionally employs the Mosaic Torah (the Pentateuch) and in some parts exegetes it in his own contexts. For instance, it has been maintained that authors of Isaiah (Isa 1:10-17, 2:2-4, and 56:1-8) either support specific texts of the Mosaic Torah or repudiate them. However, when considering intertextual links between Isaiah and the rest of the Hebrew Bible, several limits and problems arise. In this paper, I examine specific Isaianic texts related to the Mosaic Torah and maintains that each passage of Isaiah understands instructions and laws in its diverse theological concerns and interests and that it probably does not intend to refer to any parts of the Pentateuch.


---

Des exégètes ont affirmé que l'auteur du livre d'Isaïe employait intentionnellement la Tora mosaïque (le Pentateuque) et à quelques endroits l'interprète dans ses propres contextes. Par exemple, il a été dit que les auteurs d'Isaïe (Is 1,10-17; 2,2-4 et 56,1-8) approuvent des textes particuliers de la Tora mosaïque ou les désavouent. Néanmoins, il existe plusieurs limites et problèmes lorsqu'il s'agit des liens intertextuels entre Isaïe et le reste de la Bible hébraïque. Dans cet article, j'examine des textes isaïens spécifiques en lien avec la Tora mosaïque et montre que chaque passage d'Isaïe comprend les instructions et les lois dans leurs préoccupations et intérêts théologiques divers et qu'il n'y a probablement pas l'intention de se référer à des parties du Pentateuque.


Download article