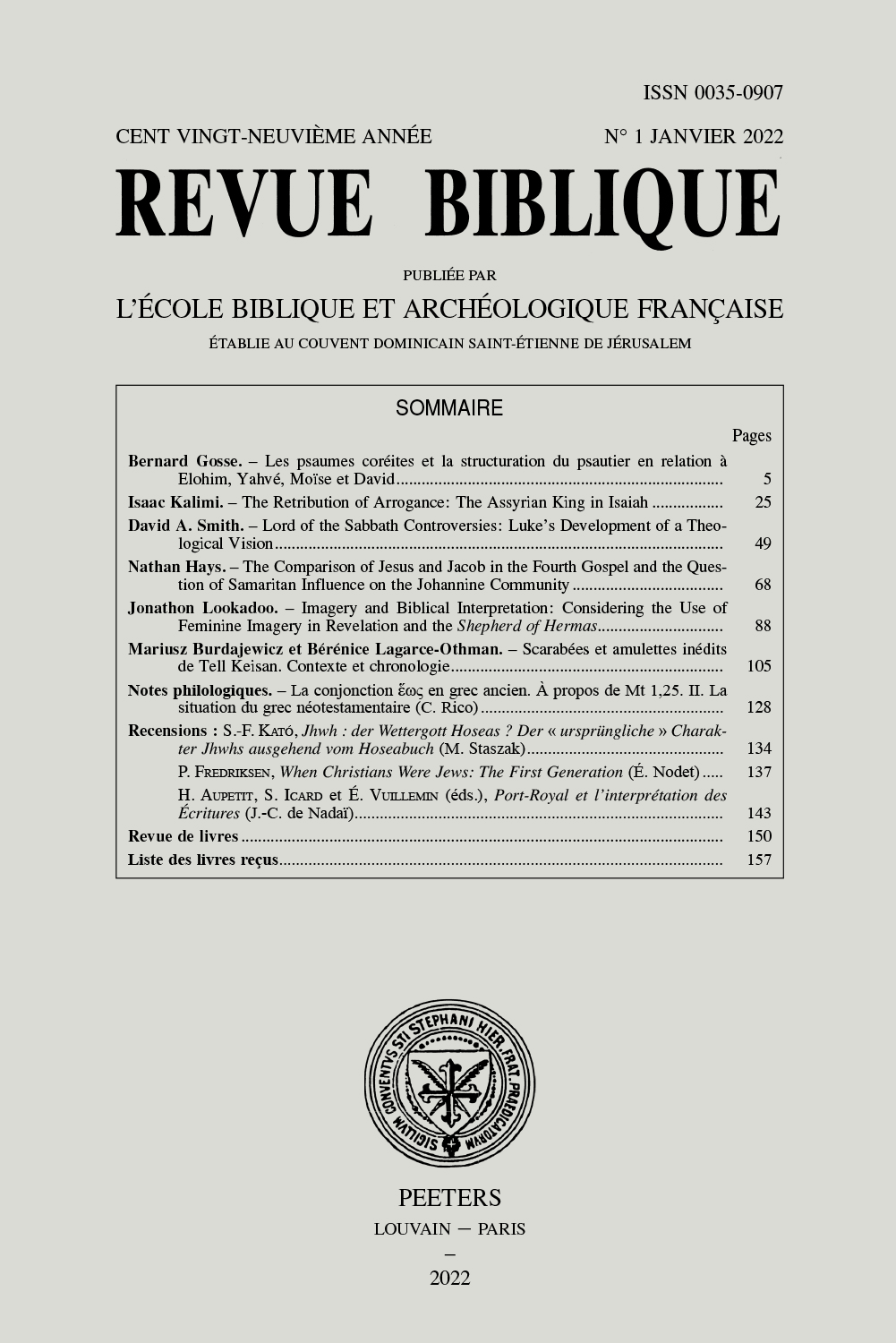 Document Details :

Title: Idumea and the Idumeans in Josephus' Retelling of the Bible
Author(s): MARCIAK, Michał
Journal: Revue Biblique
Volume: 126 Issue: 2 Date: 2019
Pages: 235-253
DOI: 10.2143/RBI.126.2.3286410

Abstract :
The aim of this paper is to analyze Josephus' geographical use of the terms Idumea (Ἰδουμαία) and Idumeans (Ἰδουμαῖοι) in Antiquitates Iudaicae books I-XI. To Josephus, the Idumeans were the descendants of Esau; more precisely, he saw them as the descendants of Esau's firstborn son, Eliphas. The main term Josephus uses to denote the homeland of the Idumeans is Ἰδουμαία (and not Ἐδώμ). According to Josephus, Idumea is a large geographical area, and its core includes the Biblical allotments of the tribes of Judah (from south of Jerusalem to Beer-Sheva, reaching the Dead Sea in the east) and Simeon (from Beer-Sheva to the frontier of Egypt).


---

L'objet de cet article est d'analyser l'emploi géographique par Flavius Josèphe des termes Idumée (Ἰδουμαία) et Iduméens (Ἰδουμαῖοι) dans les livres I-XI des Antiquités Juives. Pour Josèphe, les Iduméens étaient les descendants d'Ésaü; plus précisément, il les voyait comme les descendants du fils aîné d'Ésaü, Éliphaz. Le terme principal que Josèphe utilise pour désigner la patrie des Iduméens est Ἰδουμαία (et non Ἐδώμ). Selon Josèphe, l'Idumée est une vaste région géographique dont le centre correspond aux lots attribués, lors du partage de la Terre sainte, aux tribus de Juda (du sud de Jérusalem à Beer-Sheva, jusqu'à la mer Morte à l'est) et de Siméon (de Beer-Sheva à la frontière de l'Égypte).


Download article