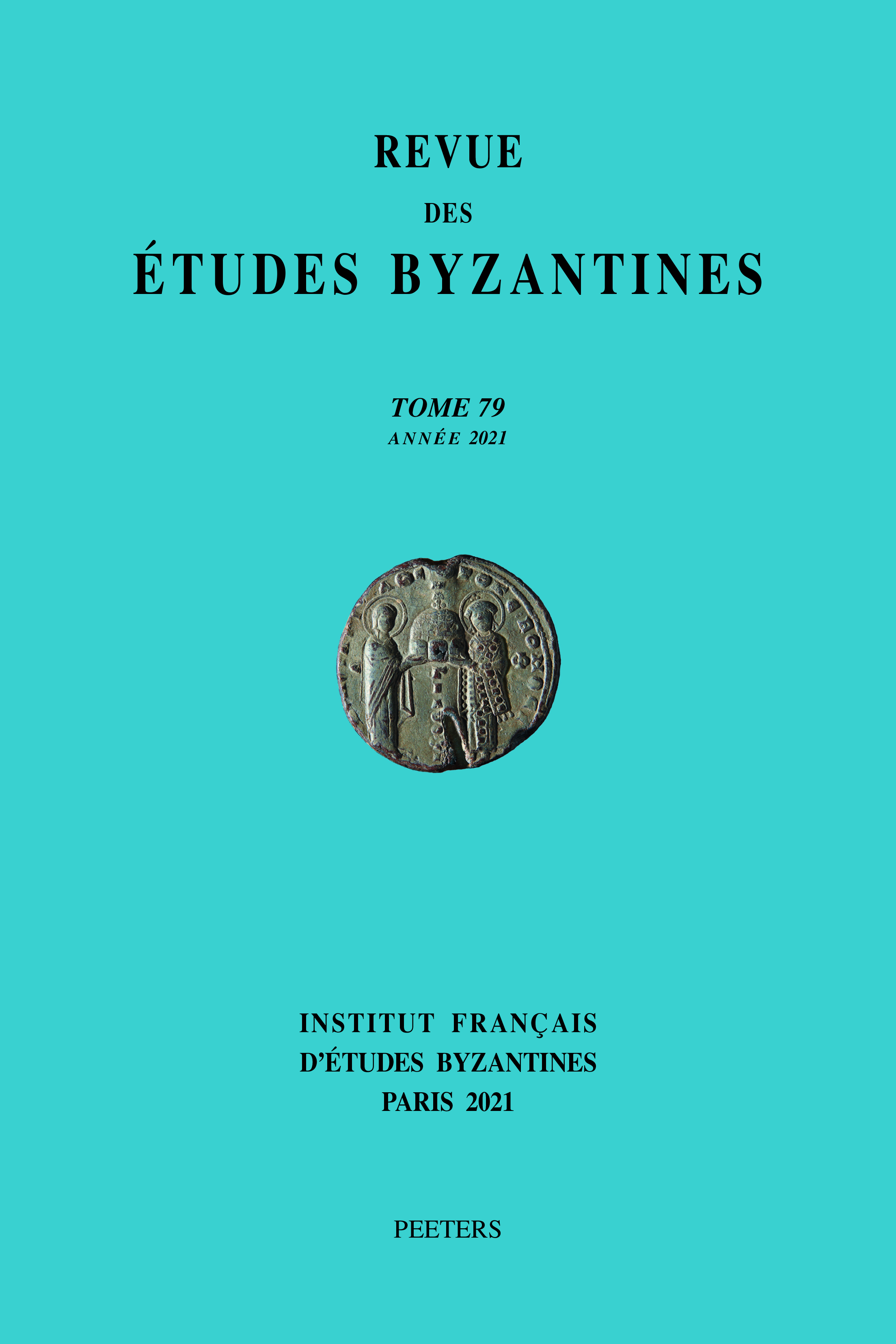 Document Details :

Title: Du Prodrome de Pétra à la Sainte-Trinité de Chalki
Subtitle: Jean le Jeûneur, Georges Doukas Nestongos et l'histoire du Prodrome après 1453
Author(s): CASSIN, Matthieu , CRONIER, Marie
Journal: Revue des Études Byzantines
Volume: 76 Date: 2018
Pages: 5-71
DOI: 10.2143/REB.76.0.3285516

Abstract :
Deux manuscrits du monastère de la Sainte-Trinité de Chalki (Istanbul, Patriarchikè bibl., Hagia Trias 34 et 53) sont dus en tout ou partie à un même copiste, Dorothée. Ils ont été réalisés à la fin du 15e siècle pour le monastère du Prodrome de Pétra à Constantinople. Le Trin. 53 contient une notice de synaxaire inédite sur Jean le Jeûneur, fondateur du monastère, ici éditée, traduite et analysée. Le Trin. 34 contient des canons pour Jean le Prodrome, dus à Georges Doukas Nestongos, auteur qui n'était pas connu jusqu'à présent; on propose une analyse de ces canons, ainsi que de deux canons inédits pour Jean le Jeûneur dus à Isidore Ier Boucheiras et à un moine Cyrille. Les deux manuscrits éclairent également l'histoire du monastère du Prodrome de Pétra entre 1453 et le 16e siècle: refondé peu après la Chute comme monastère de femmes, il s'inscrit dans la continuité de l'institution précédente et semble très lié au patriarcat. Enfin, on propose une étude de la circulation de plusieurs autres manuscrits du Prodrome qui sont ensuite parvenus, par des chemins divers, à la Sainte-Trinité de Chalki.


---

Two manuscripts coming from the monastery of the Holy Trinity of Chalki (Istanbul, Patriarchike bibl., Hagia Trias 34 and 53) are due in whole or in part to the same copyist, Dorothy. They were produced at the end of the 15th century for the monastery of the Prodrome of Petra in Constantinople. Trin. 53 contains an unpublished Synaxary notice on John the Faster, founder of the monastery, here edited, translated and analysed. The Trin. 34 contains canons for John the Prodrome, by Georges Doukas Nestongos, an author who was not known until now. We propose an analysis of these canons, as well as of two unpublished canons for John the Faster by Isidore I Boucheiras and a monk Cyril. The two manuscripts also shed light on the history of the monastery of the Prodrome of Petra between 1453 and the 16th century: re-founded shortly after the Fall as a women's monastery, it is a continuation of the previous institution and seems to be closely linked to the patriarchate. Finally, we propose a study on the circulation of several other manuscripts of the Prodrome which then reached the Holy Trinity of Chalki in various ways.


Download article