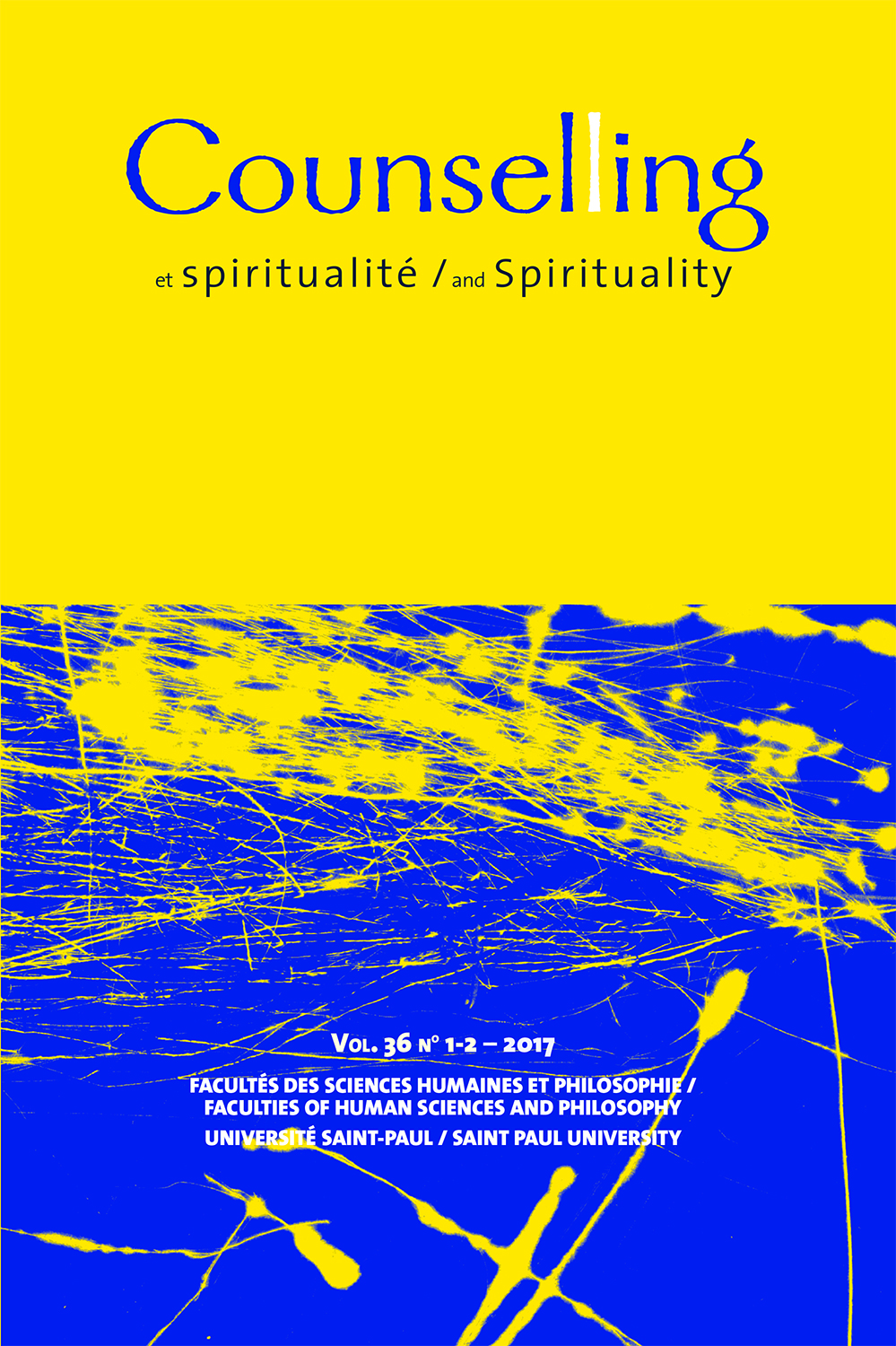 Document Details :

Title: Seeing the Sacred
Subtitle: Fostering Spiritual Vision in Counselling
Author(s): WONG, Serena , PARGAMENT, Kenneth
Journal: Counseling et spiritualité / Counselling and Spirituality
Volume: 36 Issue: 1-2 Date: 2017
Pages: 51-69
DOI: 10.2143/CS.36.1.3285226

Abstract :
Spirituality can be understood as a way of envisioning the deeper dimension of life. We offer a metaphor for spirituality as a way of seeing. Seen through a sacred lens, people may sanctify certain aspects of their lives. The psychospiritual process of sanctification is described as viewing these aspects as manifestations of the divine or imbued with sacred qualities of transcendence, boundlessness, ultimacy, and deep interconnectedness. Individuals are able to perceive the sacred not only in God, but also in loving relationships, nature, work, the body, sexuality, personal strivings, and life as a whole. We present empirical findings that demonstrate the robust linkages between sanctification and human flourishing. The capacity to see life through a sacred lens is a vital ingredient for health and wellbeing. We also discuss practical implications of this perspective, outlining three ways in which spiritual vision can be fostered in counselling.


---

La spiritualité peut être comprise comme une manière d'envisager la dimension plus profonde de la vie. Nous offrons une métaphore de la spiritualité comme une façon de voir. À travers une lentille sacrée, les gens peuvent sanctifier certains aspects de leur vie. Le processus psychospirituel de la sanctification est une manière de regarder ces aspects comme des manifestations du divin ou celles qui sont porteuses de qualités sacrées de la transcendance, de l'infini, de l'ultime et de la connectivité profonde. Les individus sont capables de percevoir le sacré non seulement en Dieu, mais aussi dans les relations aimantes avec la nature, le travail, le corps, la sexualité, les aspirations personnelles et la vie dans son ensemble. Nous présentons des résultats empiriques qui démontrent les liens robustes entre la sanctification et l'épanouissement humain. La capacité de voir la vie à travers une lentille sacrée est un ingrédient vital pour la santé et le bien-être. Nous discutons également des implications pratiques de cette perspective, en soulignant trois façons dont la vision spirituelle peut être favorisée en counseling.


Download article