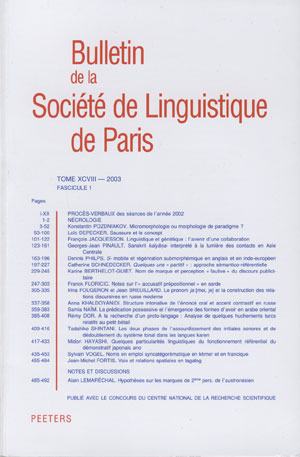 Document Details :

Title: Le rôle des «petits mots» et leur histoire singulière
Subtitle: Pour une nouvelle typologie
Author(s): JACQUESSON, François
Journal: Bulletin de la Société de Linguistique de Paris
Volume: 112 Issue: 1 Date: 2017
Pages: 25-50
DOI: 10.2143/BSL.112.1.3271877

Abstract :
Les mots les plus courants d'une langue, dans beaucoup de langues où l'enquête est plus facile, sont aussi les mots les plus courts; et ce sont aussi les mots grammaticaux, les «mots outils». Nous allons le montrer sur plusieurs langues distinctes historiquement et typologiquement. La tradition grammaticale, qui a observé ce phénomène du coin de l'œil, n'a pas su l'intégrer à ses perspectives ordinaires. Or, ces mots qui sont à la fois les plus fréquents, les plus courts et les plus grammaticaux, rien n'indique qu'ils soient ordinairement le résultat historique de mots plus longs et plus sémantisés comme les noms ou les verbes; le cas se produit, c'est vrai, mais c'est loin d'être la norme: dans les langues que nous pouvons suivre sur une longue histoire, les mots les plus courts aujourd'hui étaient déjà les plus courts autrefois. Nous examinons pour finir d'une part les conséquences de ce constat pour nos représentations de l'histoire des langues et du langage, et d'autre part les contours méthodologiques de ce type d'enquête.


---

In many languages, the most frequent words are also the shortest ones and, when we observe frequency results in several unrelated languages, also the most grammatical ones: no nouns, no verbs, but 'particles'. In languages that happen to have a long observable history, we realize that, contrary to what is usually believed, these short words are not the historical result of longer words, nouns or verbs, but much more frequently they were short words from the outset. This observation has interesting consequences for our understanding of language development and history. Finally, we will discuss under which conditions this new trend of typological investigations is possible, and why.


---

Dieser Aufsatz widmet sich den 'kleinen Wörtern' in einigen ausgewählten Sprachen. Ausgehend von der Auswertung mehrerer umfangreicher Textkorpora zeigt sich, dass die häufigsten Wörter nicht nur die Kürzesten sind, sondern dass es sich außerdem um Funktionswörter handelt, also um die zentralen Elemente der Sprache; Substantive und Verben finden sich nur vereinzelt oder gar nicht zu finden. Diese Beobachtung wird in einem historischen und typologischen Rahmen eingeordnet. So zeigt sich unter anderem, dass, entgegen gängiger Erwartung, die überwiegende Mehrheit der 'kleinen Wörter' nicht etwa aus längeren hervorgegangen und auch nicht Ergebnis einer Desemantisierung und Grammatikalisierung von Inhaltswörtern sind. Ihre Entwicklung folgt also anderen Mustern als die der Substantive und Verben. Hieraus ergeben sich abschließend Überlegungen zur Methodologie der Untersuchung dieses Aspekts der Sprachgeschichte.


Download article