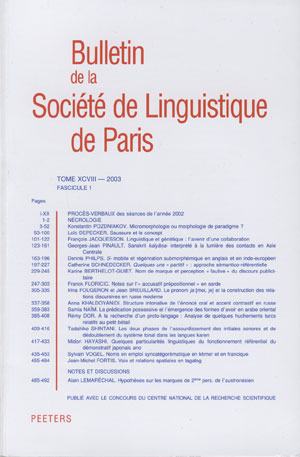 Document Details :

Title: La formation d'un savoir linguistique en Nouvelle-Espagne au XVIe siècle
Author(s): ROULET, Eric
Journal: Bulletin de la Société de Linguistique de Paris
Volume: 112 Issue: 1 Date: 2017
Pages: 1-23
DOI: 10.2143/BSL.112.1.3271876

Abstract :
Les religieux ont porté très tôt une grande attention aux langues indiennes de Nouvelle-Espagne. Au XVIe siècle, ils composent de nombreux dictionnaires et des grammaires. Mais leur souci n'est pas uniquement de se doter d'outils pour communiquer avec les Indiens et leur enseigner dans leur langue la doctrine chrétienne, ils entendent aussi mieux comprendre le monde indigène par l'étude de la langue. D'ailleurs parallèlement à l'écriture de ces ouvrages, ils recueillent des Indiens de nombreux récits et des chants qui sont des pièces ethnographiques de première importance. Ils font ainsi sortir ces langues d'un rapport utilitaire pour en faire des objets d'étude et des clefs du monde précolombien qui meurt avec les derniers Indiens survivants à la Conquête.


---

Members of a religious order have very early paid great attention to the Indian languages spoken in New Spain. In the XVIth century, they make up numerous dictionaries and grammars. But their concern was not only to be equipped with tools to communicate with the Indians and to teach them in their language the Christian doctrine, they also intended to understand better the native world by the study of the language. Moreover, in addition to writing these works, they took from the Indians numerous narratives and songs which are an ethnographical material of prime importance. They thus took these languages out of a utilitarian report to make them objects of study and keys of the pre-Colombian world which was dying with the last Indians surviving to the Conquest.


---

Los religiosos llevaron muy temprano una gran atención para las lenguas indias de los pueblos de la Nueva España. En el siglo XVI, escribieron numerosos diccionarios y gramáticas. Pero su preocupación no es únicamente dotarse de instrumentos para comunicar con los indios y enseñarles en su lengua la doctrina cristiana, esperan comprender tan mejor el mundo indígena por el estudio de la lengua. Por otra parte facilitar la escritura de estas obras, recogieron numerosos leyendas y cantos que son piezas etnográficas de primera importancia. Hicieron así sacar estas lenguas de un uso utilitario para hacerlo objetos de estudio y llaves del mundo precolombino muriendo con los últimos indios supervivientes a la Conquista.


Download article