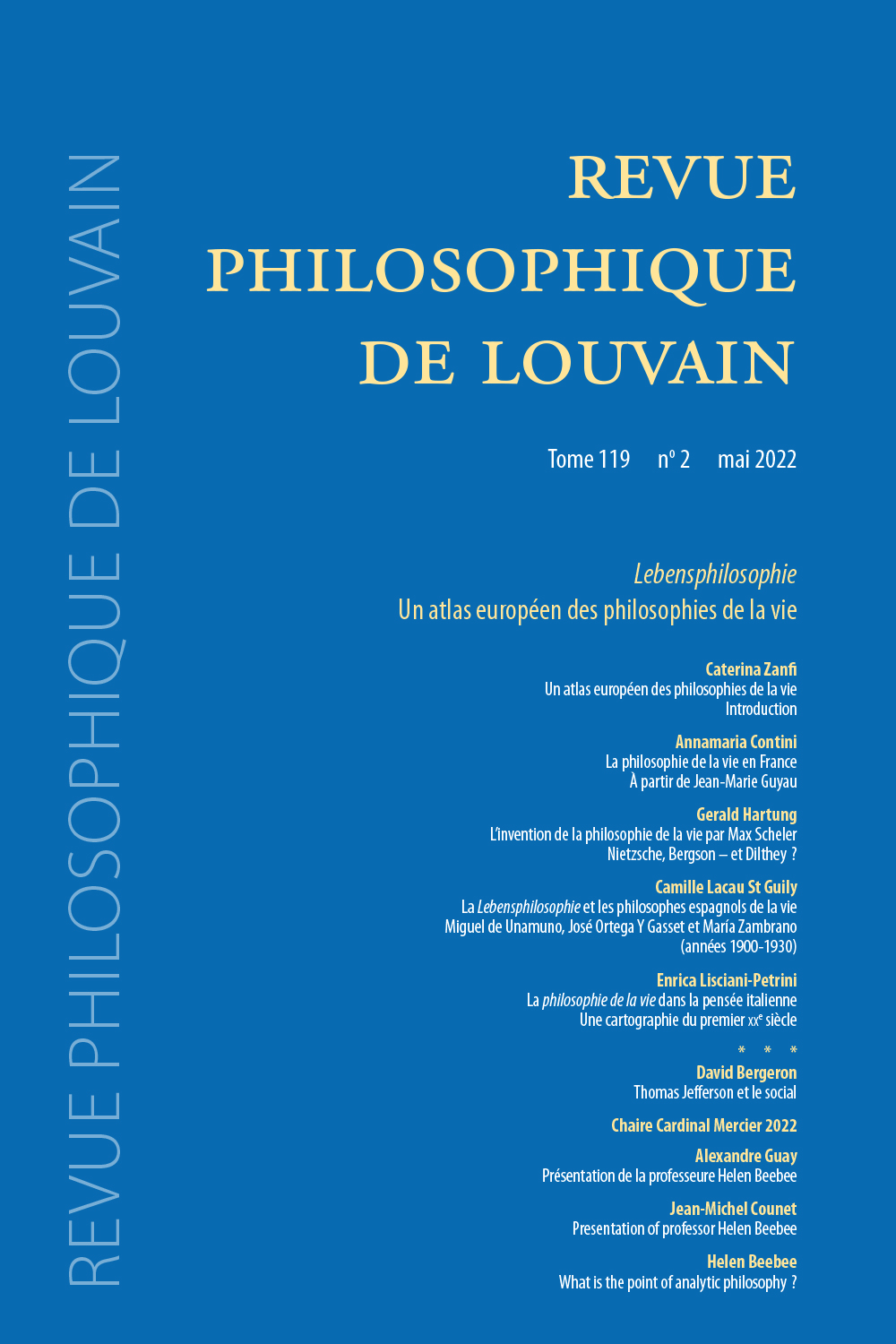 Document Details :

Title: L'éclaircie et le fond
Subtitle: La confrontation héraclitéenne entre Fink et Heidegger (remarques pour une cosmologie phénoménologique)
Author(s): SPAAK, Claude Vishnu
Journal: Revue Philosophique de Louvain
Volume: 114 Issue: 4 Date: novembre 2016
Pages: 683-723
DOI: 10.2143/RPL.114.4.3209410

Abstract :
L'objet principal de cette étude est d'examiner les enjeux philosophiques de la confrontation entre Fink et Heidegger en 1967 sur Héraclite. Le désaccord se noue autour de la question du monde, centrale pour Fink au sein de sa perspective cosmologique dont il est l'inventeur. Dans un premier temps nous expliquons comment le jeune Fink en vient progressivement, au terme d'un dialogue complexe avec Husserl, à son tournant cosmologique. Dans un second temps, nous montrons pourquoi Heidegger n'a pour sa part jamais été convaincu par la voie cosmologique. Dans le troisième temps de ce travail nous en venons à la controverse proprement dite, entre Heidegger et Fink, au sujet d'Héraclite, et nous tâchons d'établir que leurs désaccords illustrent ou révèlent une opposition plus profonde sur le sens de l'ontologie phénoménologique elle-même, et permettent par voie de conséquence de confirmer la grande originalité de la pensée de Fink, qui constitue sans ambiguïté possible une voie autonome dans cette tradition, irréductible à quelque version épigonale que ce soit de l'un ou de l'autre de ses deux maîtres en philosophie que furent Husserl et Heidegger.


---

The main purpose of this article is to examine the philosophical issues arising from the confrontation between Fink and Heidegger concerning Heraclitus in 1967. The disagreement arises from the question of the world, which is central for Fink within his cosmological perspective of which he is the inventor. In the first section we explain how the young Fink, after a complex dialogue with Husserl, progressively came to his cosmological turn. In the second section we show why Heidegger, for his part, was never convinced by the cosmological approach. In the third section of this article we come to the actual controversy between Heidegger and Fink about Heraclitus, and we attempt to establish that their disagreements illustrate or reveal a more profound opposition on the meaning of phenomenological ontology itself, and hence make it possible to confirm the great originality of Fink's thought, which very clearly constitutes an autonomous path in this tradition, irreducible to any imitative version whatever of his two masters in philosophy, namely Husserl and Heidegger.


Download article