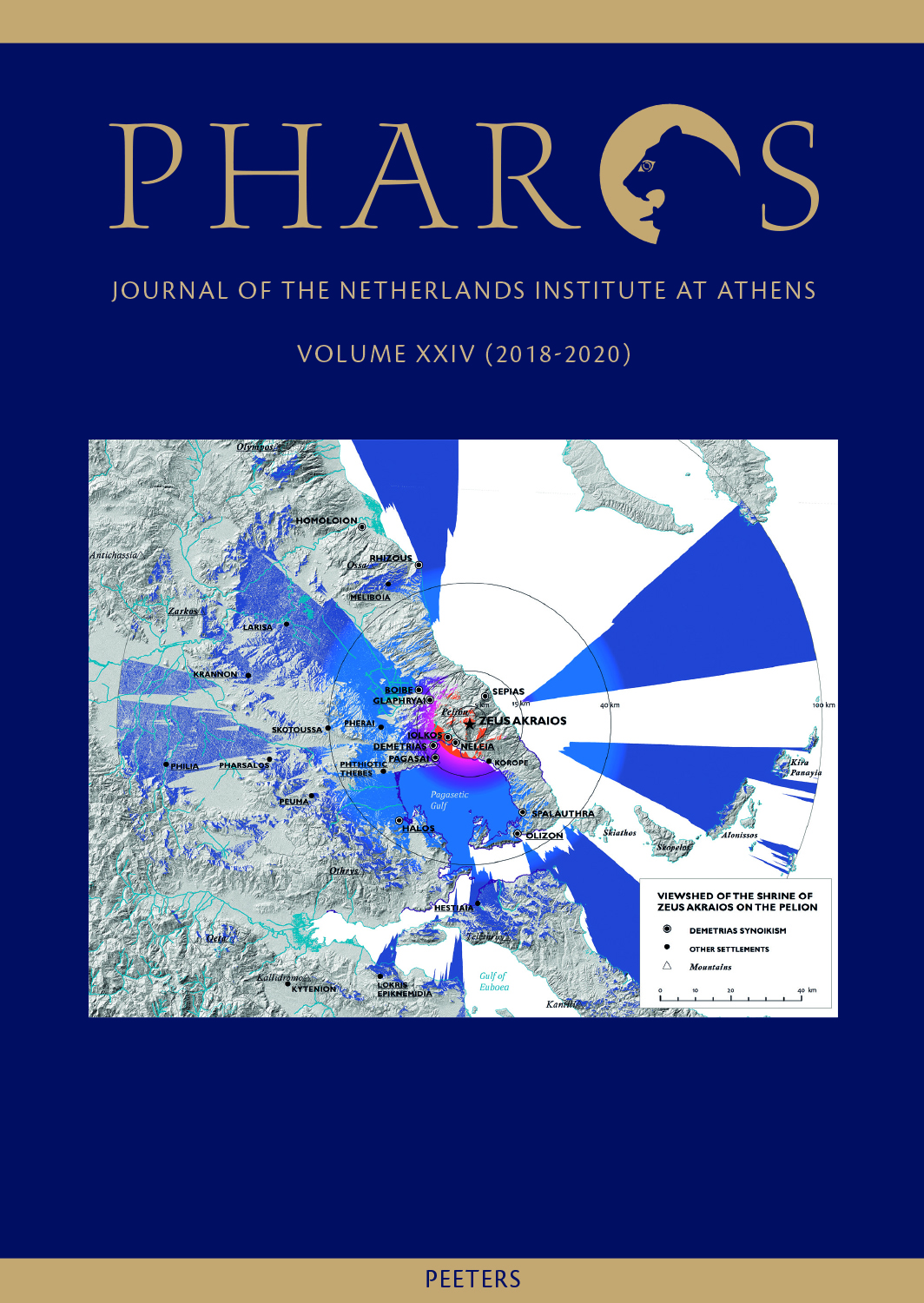 Document Details :

Title: Halos: Preliminary Report of the 2013-2014 Trial Trenches at Magoula Plataniotiki
Author(s): STISSI, Vladimir , HEYMANS, Elon , DIJKSTRA, Tamara , REINDERS, Reinder , AGNOOSIOTIS, Dimitris , EFSTATIOU, Despina , KAMPHORST, Sjoukje , MAMALOUDI, Ioanna , RONDIRI, Vaso , VAN ROOKHUIZEN, Janric , STAMELOU, Evangeliou
Journal: Pharos
Volume: 21 Issue: 2 Date: 2015
Pages: 85-116
DOI: 10.2143/PHA.21.2.3206296

Abstract :
This article offers a preliminary overview of the results of the excavations of four test trenches at Magoula Plataniotiki, near the Hellenistic city of Halos, by the universities of Groningen and Amsterdam and the 13th Ephorate of Prehistoric and Classical Antiquities. The 2013-2014 report is introduced by a summary of previous fieldwork in the area, including a coring campaign in 1977-1978 which allowed a reconstruction of its historical geomorphology. After an overview of the new finds, which cover several occupation phases from the late 5th till the mid 3rd centuries BCE, and comprise remains of habitations and a more monumental structure, the historical implications of the excavation results are also discussed. In view of the size and dense occupation of the site, which have been confirmed by aerial photography and geophysical research, Magoula Plataniotiki seems to be the major centre of the polis of Halos in the Classical period, and possibly some time before that. Although definite proof is lacking, this makes Magoula Plataniotiki the best candidate to be the city of Halos mentioned by Herodotos in the context of Xerxes' invasion of Greece and destroyed by Philip II's general Parmenion in 346 BCE. As the latest habitation phase ended abruptly in the mid 3rd century BCE, it is as yet unclear, however, how this site relates to the larger city further inland, the likely polis centre from c. 302 to c. 265 BCE. Further study of the finds and additional field work are planned to clarify this and to answer other remaining questions.


Download article