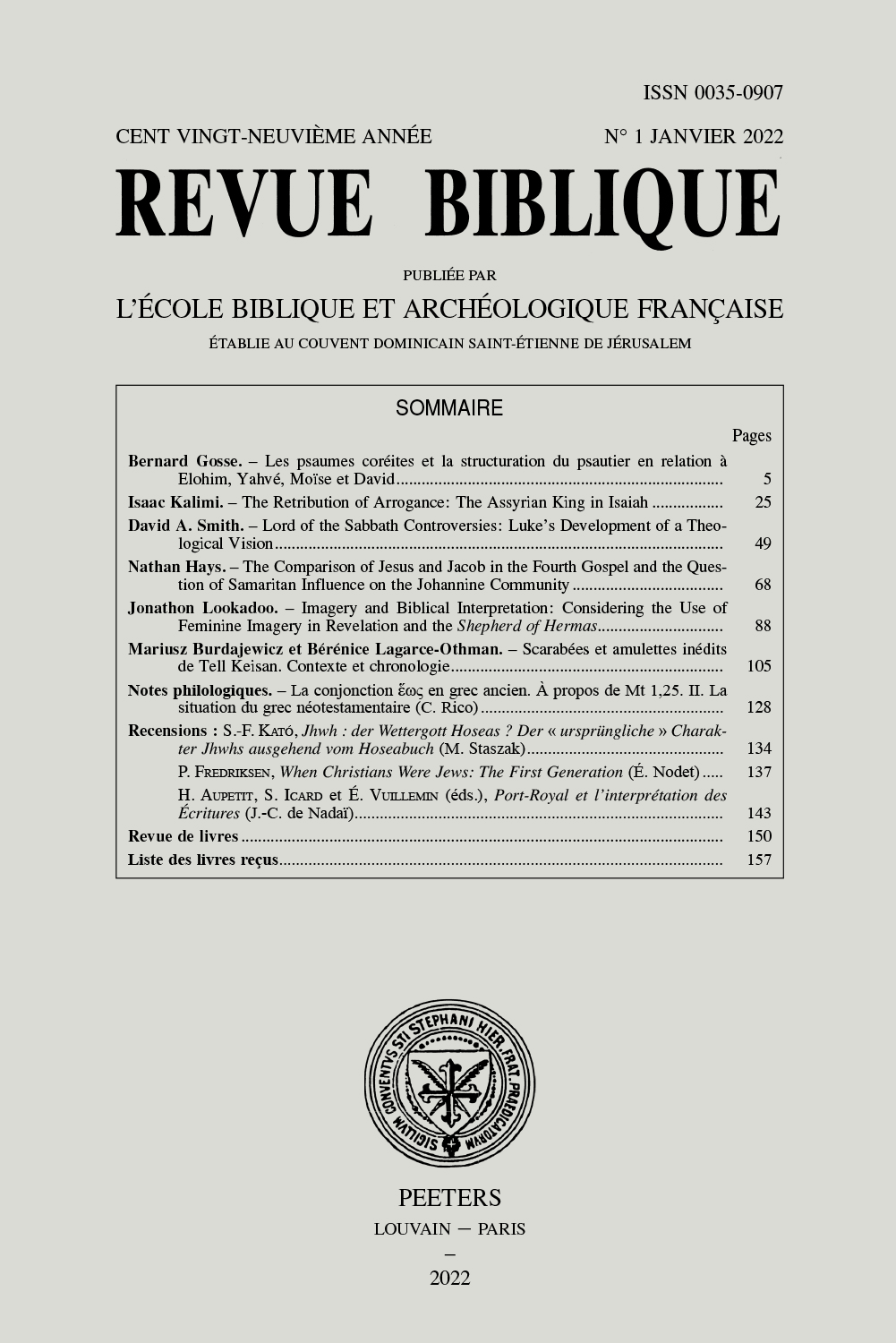 Document Details :

Title: Conversions de Paul
Subtitle: Chronologie
Author(s): NODET, Étienne
Journal: Revue Biblique
Volume: 121 Issue: 4 Date: 2014
Pages: 539-573
DOI: 10.2143/RBI.121.4.3152106

Abstract :
L'interprétation courante de Ga 1-2 est que la rencontre de Paul avec les «colonnes» de Jérusalem – identifiée avec le «concile» de Ac 15 – a eu lieu dix-sept ans après sa conversion, ce qui conduit à une chronologie difficile à interpréter: conversion vers 33, ce qui est bien tôt, et «concile» vers 51, ce qui est bien tard, puisqu'on a perdu de vue Pierre depuis la mort d'Hérode Agrippa, en 44. Cependant, la prise en compte du texte attesté par Marcion, antérieur à tous les manuscrits, permet une chronologie plus réaliste, mieux insérée dans l'histoire romaine. Elle montre une évolution de Paul, qui a commencé par être un zélote farouche, avant comme après la révélation de Damas, avec les chistiani. De plus, le «concile» de Ac fut nettement antérieur à la rencontre de Ga.


---

Paul's story in Gal 1-2 is usually understood to mean that his meeting with the apostles in Jerusalem – referred to in Acts 15, too – took place seventeen years after his conversion. This entails an awkward chronology: conversion around 33, which sounds quite early, and meeting not before 51, which looks quite late, for Peter has disappeared from the narrative of Acts since Herod Agrippa's death, in 44. But if we take advantage of Marcion's text, earlier than any other witness, we can build a more realistic chronology, more connected to Roman history. It allows a glance at the transformations of Paul's mindset since his first steps as a zealot, before and after the Damascus event, in connection with the christiani. Moreover, the Jerusalem meeting of Acts should be dated significantly before the one of Gal.


Download article