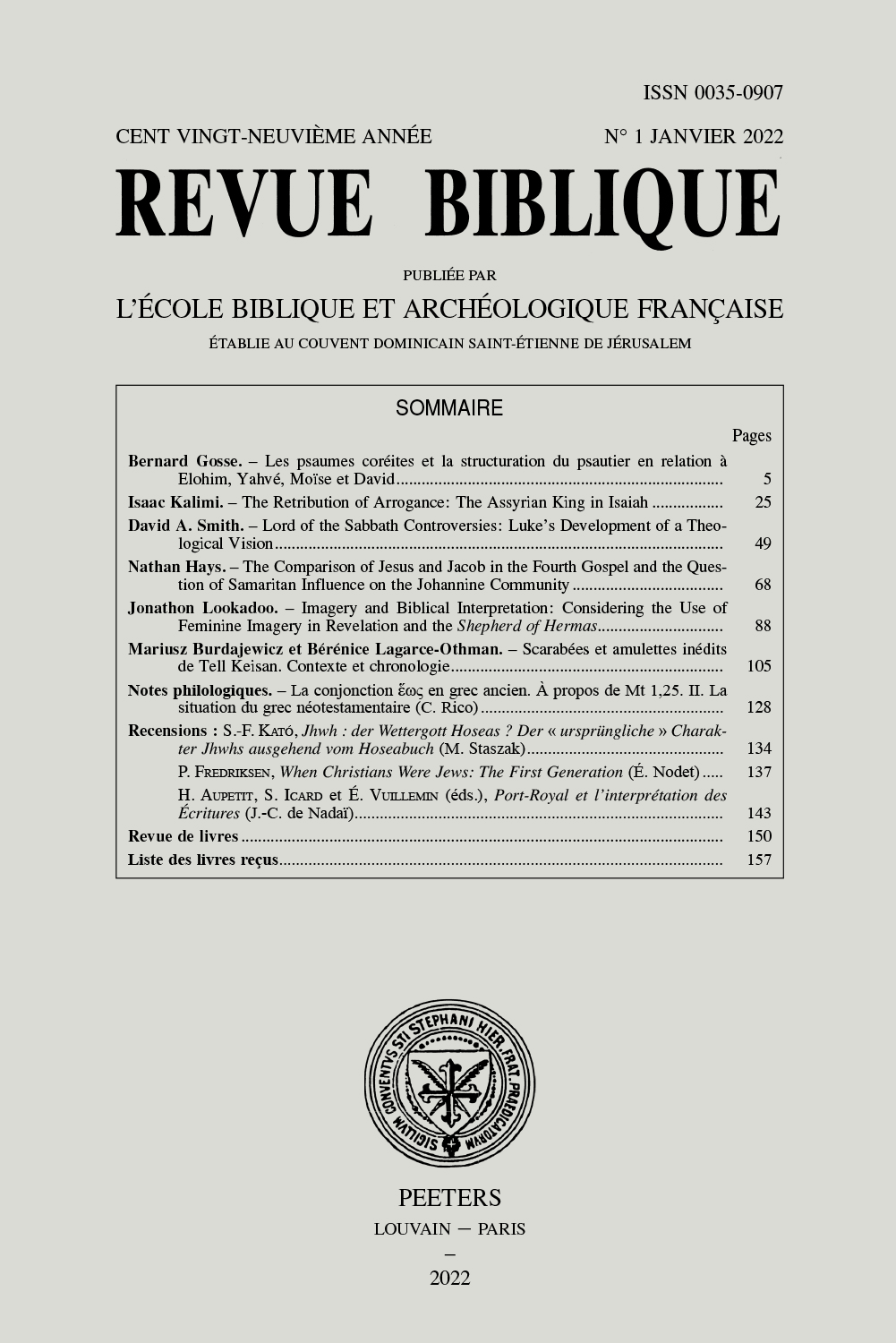 Document Details :

Title: Chronological and Spatial Changes in the Rural Settlement Sector of Ancient Israel during the Iron Age
Subtitle: An Overview
Author(s): FAUST, Avraham
Journal: Revue Biblique
Volume: 122 Issue: 2 Date: 2015
Pages: 247-267
DOI: 10.2143/RBI.122.2.3149575

Abstract :
The rural settlement sector of Iron Age Israel did not attract much scholarly attention, and although various discussions were published over the years, those tended to be specific and did not present overall developments and trends. It is therefore the aim of this article to present, for the first time, an overview on this neglected settlement sector during the Iron Age. The article will review the evidence, mainly on the basis of excavations, and will reconstruct the developments and changes this sector experienced at the time. The data will enable us to discuss questions related to social structure on the one hand, and to assess the influence of the various historical events and processes on rural settlement patterns on the other hand. These processes include the Iron Age I settlement phenomenon, the emergence of various polities in the Iron IIA, as well as the incorporation of the region within the Assyrian, and later Babylonian, empires.


---

La question de la présence rurale d'Israël à l'Âge du Fer n'a pas beaucoup attiré l'attention des chercheurs, et bien que diverses analyses aient été publiées au fil des ans, celles-ci inclinaient à être trop spécifiques et ne présentaient pas globalement les développements et les tendances. C'est donc le but de cet article de présenter, pour la première fois, une vue d'ensemble de cette question négligée de la présence rurale d'Israël à l'Âge du Fer. L'article passe en revue les éléments de preuve, principalement sur la base de fouilles archéologiques, et reconstitue les évolutions et les changements que cette présence a connus au fil du temps. Les données vont nous permettre d'examiner des questions liées à la structure sociale d'une part, et d'évaluer l'influence des divers événements et processus historiques sur les modèles d'établissement rural d'autre part. Ces analyses incluent le phénomène d'implantation rurale à l'Âge du Fer I, l'émergence de différents systèmes politiques à l'Âge du Fer IIA, ainsi que l'incorporation de la région au sein des empires assyrien, et, plus tard, babylonien.


Download article