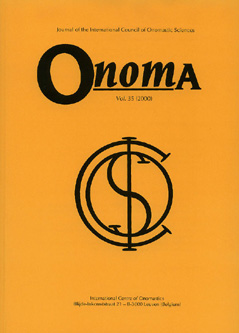 Document Details :

Title: La loi française sur la transmission du nom de famille
Author(s): BILLY, Pierre-Henri
Journal: Onoma
Volume: 47 Date: 2012
Pages: 181-201
DOI: 10.2143/ONO.47.0.3085145

Abstract :
La transmission du nom de famille en France a reposé, pendant des siècles, sur une coutume: l'enfant porte le nom du père, légitime ou naturel, voire de la mère naturelle. Cette coutume a perduré jusqu'à la loi du 4 mars 2002 relative au nom de famille, qui a autorisé les parents à donner à l'enfant le nom du père, de la mère, ou des deux. Très complexe dans ses dispositions et sa mise en œuvre, cette loi a été modifiée par plusieurs textes législatifs ou ministériels. Telle quelle, la loi est appliquée par une minorité de parents, et pose de nombreux problèmes, notamment juridiques, psychologiques, généalogiques et onomastiques.


---

The transmission of family names in France rests for centuries on a custom: the child bears the name of the father, legitimate or natural, or even of the natural mother. This custom lasted until the Act of March 4, 2002 concerning the family name, which allowed parents to give the child the name of the father, mother, or both. Very complex in its dispositions and its implementation, this Act has been amended by several Parliament Acts and ministerial orders. As it stands, the Act is applied by a minority of parents, and poses many problems, including legal, psychological, genealogical and onomastic.


---

Die Übertragung des Familiennamens beruhte in Frankreich seit Jahrhunderten auf einem Gewohnheitsrecht: das Kind, ehelich oder nicht, trägt den Namen des Vaters, oder auch der unehelichen Mutter. Diese Gewohnheit galt bis zum Gesetz über Familiennamen vom 4. März 2002, das den Eltern erlaubte, dem Kind entweder den Namen des Vaters, der Mutter, oder den beider Elternteile zu geben. Überaus komplex in seiner Anlage wie in seiner Umsetzung, wurde dieses Gesetz durch mehrere Zusätze und ministerielle Verordnungen modifiziert. In dieser Form wird das Gesetz nur von wenigen Eltern angewandt und beinhaltet zahlreiche juristische, psychologische, genealogische und onomastische Probleme.


Download article