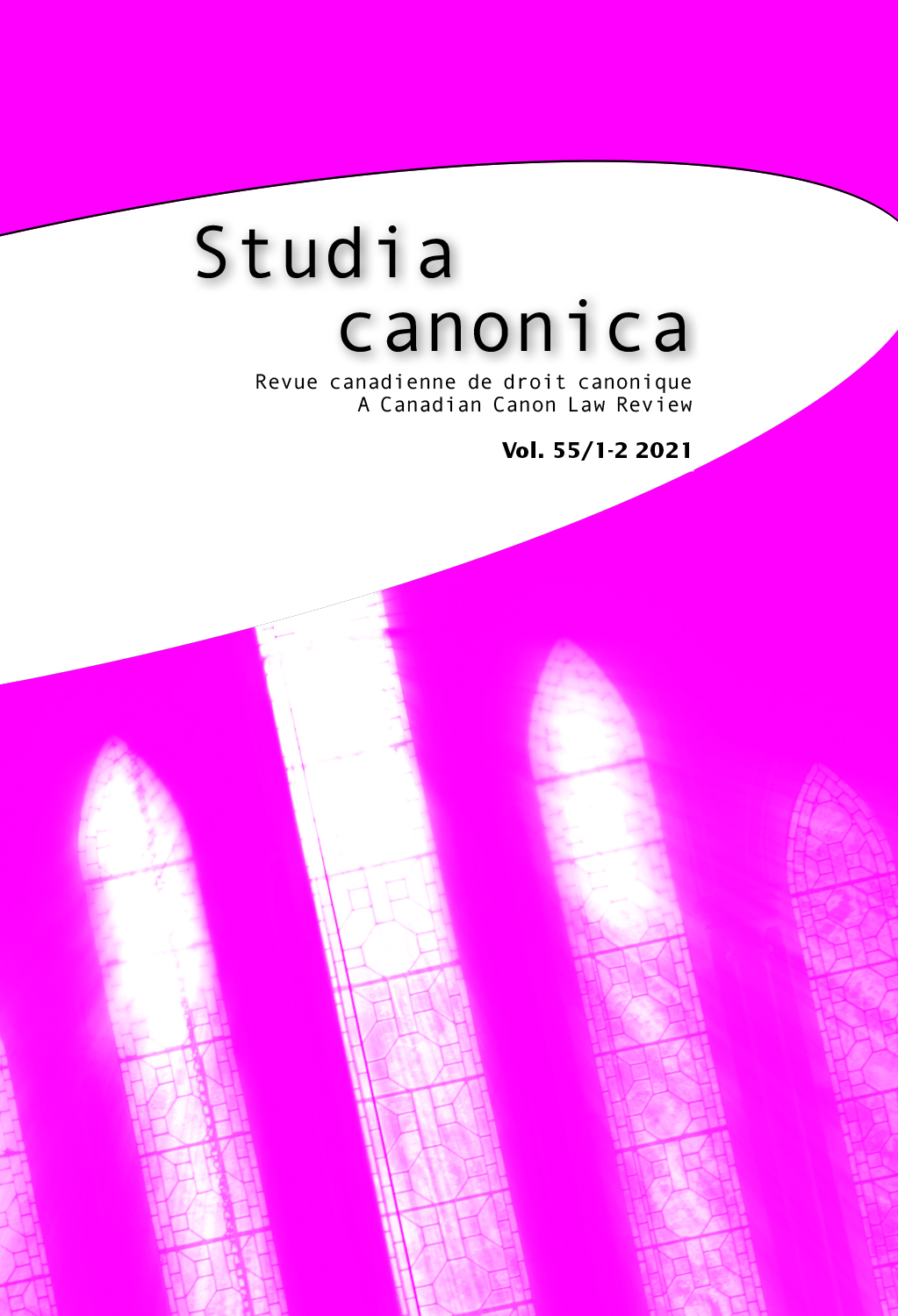 Document Details :

Title: A Legislative History of Eastern Canons 584-594 on Evangelization
Author(s): ABBASS, Jobe
Journal: Studia Canonica
Volume: 49 Issue: 1-2 Date: 2015
Pages: 59-87
DOI: 10.2143/STC.49.1.3082839

Abstract :
In this article of the Festschrift to honour Father Roland Jacques, O.M.I., the author writes a legislative history of Eastern canons 584-594 on evangelization not only to highlight Father Jacques' keen appreciation for the Eastern Catholic Churches and his known dedication to the missions but, also, to offer a first study of the iter of these canons from their initial presentation until promulgation. Based upon the proceedings of PCCICOR reported in Nuntia, part 1 of the article describes the various stages of the codification process that resulted in the promulgation of Eastern canon 584-594. Part 2 traces the iter of each of CCEO canons 584-594 as they were first proposed and subsequently refined within PCCICOR.


---

Dans sa contribution au volume de Mélanges présentés en hommage au Père Roland Jacques, o.m.i., l'auteur retrace l'histoire législative des canons 584-594 du Code des canons des Églises orientales, lesquels portent sur l'évangélisation. Il se propose ainsi non seulement de faire ressortir le vif intérêt que le Père Jacques porte aux Églises catholiques orientales et son dévouement reconnu envers les missions, mais aussi de nous offrir une première étude du cheminement de ces canons, depuis leur première présentation jusqu'à leur promulgation définitive. En s'appuyant sur les travaux de la PCCICOR tels que rapportés dans Nuntia, l'A., dans la première partie de son article, décrit les diverses étapes du processus de codification qui ont mené à la promulgation des canons 584-594 du CCEO. La deuxième partie de l'article retrace le cheminement (iter) des canons en question, tels qu'ils ont d'abord été proposés et subséquemment peaufinés par la PCCICOR.


Download article