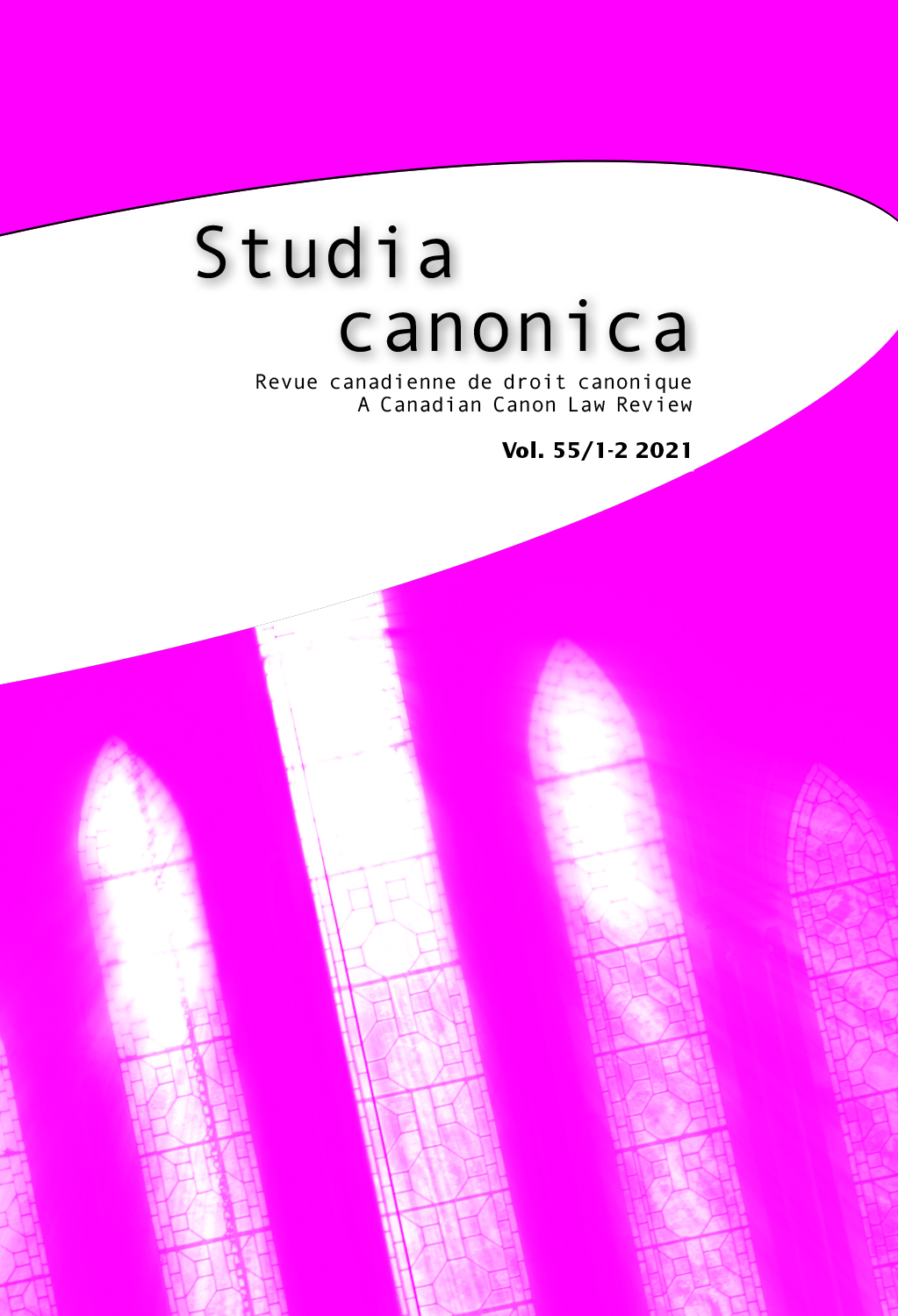 Document Details :

Title: Les propositions finales du synode des évêques sur la nouvelle évangélisation
Subtitle: Questions canoniques et voies d'avenir
Author(s): ASSELIN, Anne
Journal: Studia Canonica
Volume: 49 Issue: 1-2 Date: 2015
Pages: 29-58
DOI: 10.2143/STC.49.1.3082838

Abstract :
La nouvelle évangélisation est un sujet sur lequel beaucoup a été dit et écrit. Au moment de cette conférence, le Synode 2012 des évêques sur la nouvelle évangélisation avait encore à être traduit en une exhortation post-synodale, mais les propositions synodales finales avaient fourni des éléments pour y penser. Certains avaient exprimé leur déception à partir de leurs propositions et leur sentiment quant aux propositions qui devraient être à la hauteur des attentes de l'Église en donnant un «coup de pouce» dont l'Église a désespérément besoin. Cependant, ce qui est certain, c'est que le droit canonique n'a pas été mentionné dans le document. L'omission était-elle un oubli ou intentionnelle? Les canonistes pourront-ils voir une invitation à découvrir comment le droit canonique peut être au service des efforts de la nouvelle évangélisation? En tout égard, les propositions sont dignes de notre considération et c'est donc ce que propose l'article. Après un bref regard sur les raisons qui ont conduit au choix du thème du Synode et le travail préliminaire dans le processus synodal, l'A. se tourne vers les propositions finales du Synode, qui ont été réparties dans le document en quatre sections principales: (1) La nouvelle évangélisation (2) le ministère aujourd'hui, (3) les réponses pastorales et (4) les acteurs de la nouvelle évangélisation. Il y avait 58 propositions finales au total. A. sélectionne quelques-unes contenant des éléments à explorer par les canonistes comme une voie à suivre.


---

New evangelization is a topic on which much has been said and much has been written. At the time of this conference, the 2012 Synod of Bishops on new evangelization had yet to be translated into a post-synodal exhortation, but the synodal final propositions had provided food for thought. Some had expressed disappointment in the propositions and the feeling was that they might have fallen short of providing the Church with the 'shot in the arm' that it so desperately needs. What is certain, however, is that there is no mention of canon law in the document. Was the omission an oversight or was it intentional? Could canonists see in this an invitation to discover how canon law can be of service to the efforts of new evangelization? In any regard, the propositions are worthy of our consideration and so this is what the article proposes. After a brief look at the reasons that led to the choice of theme for the Synod and the preliminary work in the synodal process, A. turns to the final propositions of the Synod, which were divided in the document into four main sections: (1) New Evangelization, (2) Ministry Today, (3) Pastoral Responses, and (4) Agents of the New Evangelization. There were 58 final propositions in total. A. selects a few which contain something that canonists could explore as a way forward.


Download article