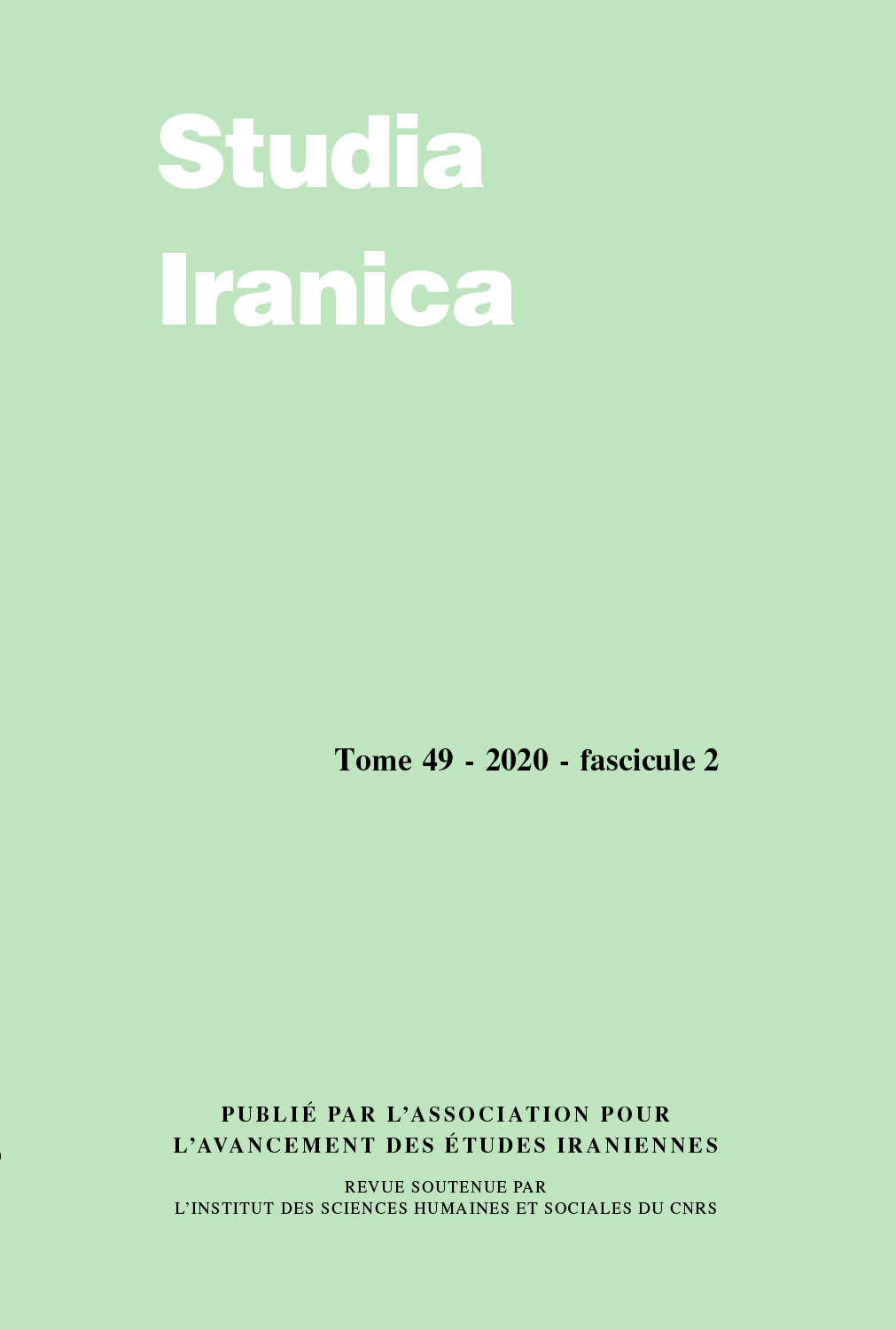 Document Details :

Title: Old Persian duvītāparanam and Gāthic daibitā(nā)
Author(s): AHMADI, Amir
Journal: Studia Iranica
Volume: 43 Issue: 1 Date: 2014
Pages: 41-82
DOI: 10.2143/SI.43.1.3038744

Abstract :
Against the previous analyses of the form and sense of the terms, this article shows that OP duvītāparanam and Gāthic daibitā(nā) are not adverbs of time but mean 'in two' or 'two at a time'. I consider not only the Old Persian and Gāthic expressions but also cognate Vedic and Middle Iranian ones. OP duvītāparanam is found in Darius' Bīsotūn Inscription. A close analysis of the passage and other evidence shows that there were in fact two Achaemenid sovereign houses prior to the Persian Empire — or, at least, that this is still the most plausible historical hypothesis. It puts to rest recent speculations on the matter and cautions against attempts to make up for lack of historical evidence by undue (e.g. anachronistic) speculation. The coupling adverb daibitānā 'together' pairs, seemingly in an idiomatic fashion, the daēvas and the 'men' in a ritual context. This constellation may be viewed as a basis for the hypothesis of an Iranian masculine esoteric cult.


---

À l'encontre des analyses antérieures de la forme et du sens de ces termes, l'article montre que vieux-perse duvītāparanam et gāthique daibitā(nā) ne sont pas des adverbes de temps mais ont le sens de 'à deux' ou 'deux à la fois', affirmation soutenue ici par les données tirées du védique et du moyen-perse. VP duvītāparanam est attesté dans l'inscription de Bīsotūn du roi Darius. Une analyse détaillée du passage concerné et d'autres éléments montre qu'en réalité deux maisons régnantes achéménides ont précédé l'Empire perse – ou, du moins, que c'est cette hypothèse historique qui apparaît toujours comme la plus plausible. Elle met un terme aux récentes spéculations sur le sujet et appelle à la prudence face à de tentatives de spéculation exagérée (c.-à-d. anachronique) pour combler un manque de preuves historiques. L'adverbe daibitānā 'ensemble' associe, apparemment de façon idiomatique, les daēva et les 'hommes' dans un contexte rituel. Ce groupement peut être considéré comme une base pour l'hypothèse de l'existence d'un culte masculin iranien ésotérique.


Download article