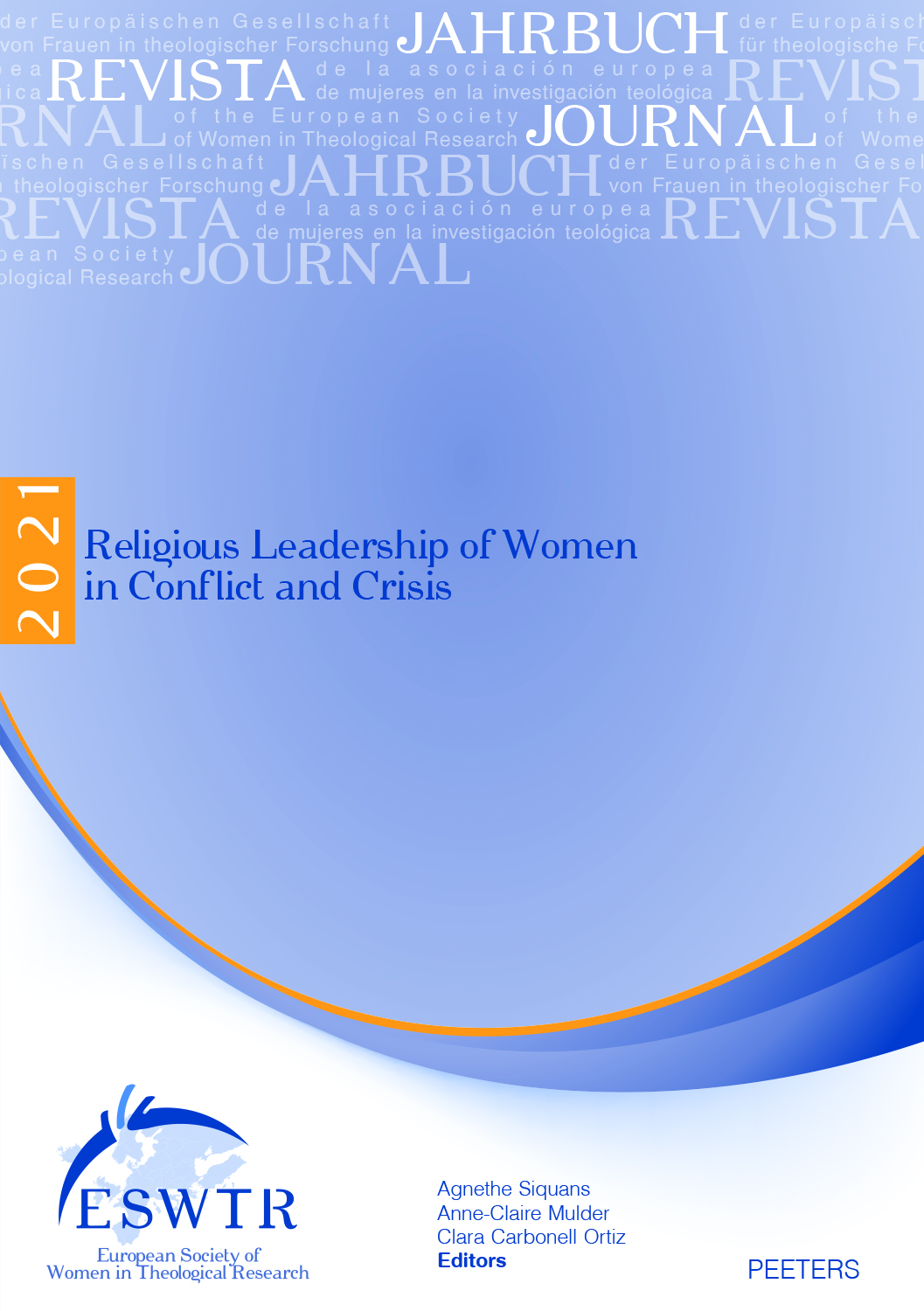 Document Details :

Title: The Queer Body of the Risen One
Author(s): TOMASSONE, Letizia
Journal: Journal of the European Society of Women in Theological Research
Volume: 21 Date: 2013
Pages: 13-28
DOI: 10.2143/ESWTR.21.0.3017273

Abstract :
Which are the interstices in which the effort to restore space and legitimacy to LGBTQ love in the religious traditions of Islam and Christianity can be located? Feminist theologies affirm that women's life experiences are a major source of comprehension of the Divine. Thus, the center of significance of our common ground shifts from supposedly normative models to our differences, from dogma to life. The experience of LGBTQ people is an experience of the in-between, of margins and gaps. This article shows how, according to some progressive Muslim scholars, it is possible to find resources for freedom and authenticity in the sacred sources of Islam. Women, too, have to be integrated amongst the authorities who interpret the Qur'an and formulate the Shari'ah, transforming religion and society toward greater justice. When lesbians too are viewed as subjects of Khalifa (agency) in religion, the center located in heterosexual norms is decentered and eventually disintegrated. Similarly in the ecumenical dialogue among Christian Churches it has been possible to see diversity at work creating a new world in which differences and gaps really matter. I argue in this paper that the gaps or interstices we inhabit are the blessings of our lives. But the interstices are injuries too, and denounce a world without justice, recalling the desire for a world without concealment and lies. The 'in-between' is also a dialogue that can be established between queer Islamic and Christian theologies, where 'queer' is taken to mean the experience of people who do not fit and do not feel comfortable with the heterosexual norm. Queer experience questions all religions. We need such uncomfortable and unconventional experiences to be able to see religions with a new eye.


---

Welche sind die Zwischenräume, in denen die Bemühungen lokalisiert werden können, der Liebe zwischen LGBTQ-Menschen in den religiösen Traditionen des Islam und Christentums einen Ort und Legitimation zuzuerkennen? Feministische Theologien bekräftigen, dass die Erfahrungen von Frauen eine wichtige Quelle für das Verständnis des Göttlichen sind. Daher verschiebt sich das gemeinsame Bedeutungszentrum von angeblich normativen Modellen zu den Unterschieden zwischen uns, vom Dogma zum Leben. Die Erfahrung von LGBTQ-Menschen ist die Erfahrung des Dazwischen, der Ränder und Zwischenräume. Dieser Artikel zeigt, wie es nach einigen progressiven muslimischen Wissenschaftler/innen möglich ist, Ressourcen für Freiheit und Authentizität in den heiligen Quellen des Islam zu finden. Frauen müssen ebenfalls unter die Autoritäten integriert werden, die den Qu'ran interpretieren und Schari'ah formulieren, damit Religion und Gesellschaft gerechter werden. Wenn auch Lesben als Subjekte von Khalifa (agency) in der Religion gesehen werden, wird das Zentrum, das bisher in heterosexuellen Normen lag, dezentriert und schließlich aufgelöst. Ähnlich war es im ökumenischen Dialog zwischen christlichen Kirchen möglich, die Wirkung von Diversität in der Erschaffung einer neuen Welt, in der Unterschiede und Zwischenräume wirklich etwas bedeuten, zu sehen. Mein Argument in diesem Beitrag ist, dass die Zwischenräume, die wir bewohnen, der Segen unseres Lebens sind. Aber Zwischenräume sind auch Verletzungen und sie denunzieren eine Welt ohne Gerechtigkeit und erinnern an den Wunsch nach einer Welt ohne Verstecke und Lügen. Das Dazwischen ist auch ein Dialog zwischen queeren islamischen und christlichen Theologien, bei dem 'queer' die Erfahrung von Menschen bezeichnet, die nicht in die heterosexuelle Norm passen und sich dort nicht wohlfühlen. Queere Erfahrung stellt alle Religionen in Frage. Wir brauchen solche unbequemen und unkonventionellen Erfahrungen, um Religionen mit neuen Augen sehen zu können.


---

¿Cuáles son las rendijas a través de las que se puede recuperar el espacio y la legitimidad del amor LGBTQ en tradiciones religiosas tales como el islam y el cristianismo? Las teologías feministas afirman que las experiencias de vida de las mujeres son una fuente importante de comprensión de lo divino. Por lo tanto, nuestra experiencia común se centra en el pasar de los modelos normativos a reconocer nuestras diferencias, en el pasar de los dogmas de la vida. La experiencia de las personas LGBT es una experiencia de lo intermedio, de los márgenes y de las brechas. En este artículo se muestra cómo, según algunas pensadoras musulmanas progresistas, es posible encontrar los recursos para la libertad y la autenticidad de las fuentes sagradas del Islam. Las mujeres también tienen que ser integradas entre las autoridades que interpretan el Corán y formulan la Sahri'ah, transformando, así, la religión y la sociedad hacia una mayor justicia. Cuando las lesbianas también son vistas como Khalifa (agentes) en la religión, el centro ubicado en las normas heterosexuales se descentra y eventualmente se desintegra. Del mismo modo que en el diálogo ecuménico entre las Iglesias cristianas se ha podido ver la diversidad creando un nuevo mundo en el que las diferencias y las brechas son realmente importantes. Sostengo en este articulo que las brechas o rendijas en las que habitamos son las bendiciones para nuestras vidas. Pero estas rendijas son también heridas lesiones y denuncian un mundo sin justicia y nos recuerda el deseo de un mundo sin tapujos ni mentiras. El 'entre' es también un diálogo que puede establecerse entre teologías islámicas y cristianas homosexuales, donde se toma 'queer' en el sentido de la experiencia de las personas que no encajan y no se sienten cómodos en la norma heterosexual. La experiencia 'queer' cuestiona todas las religiones. Necesitamos esas experiencias incómodas y poco convencional para poder ver las religiones con ojos nuevos.


Download article