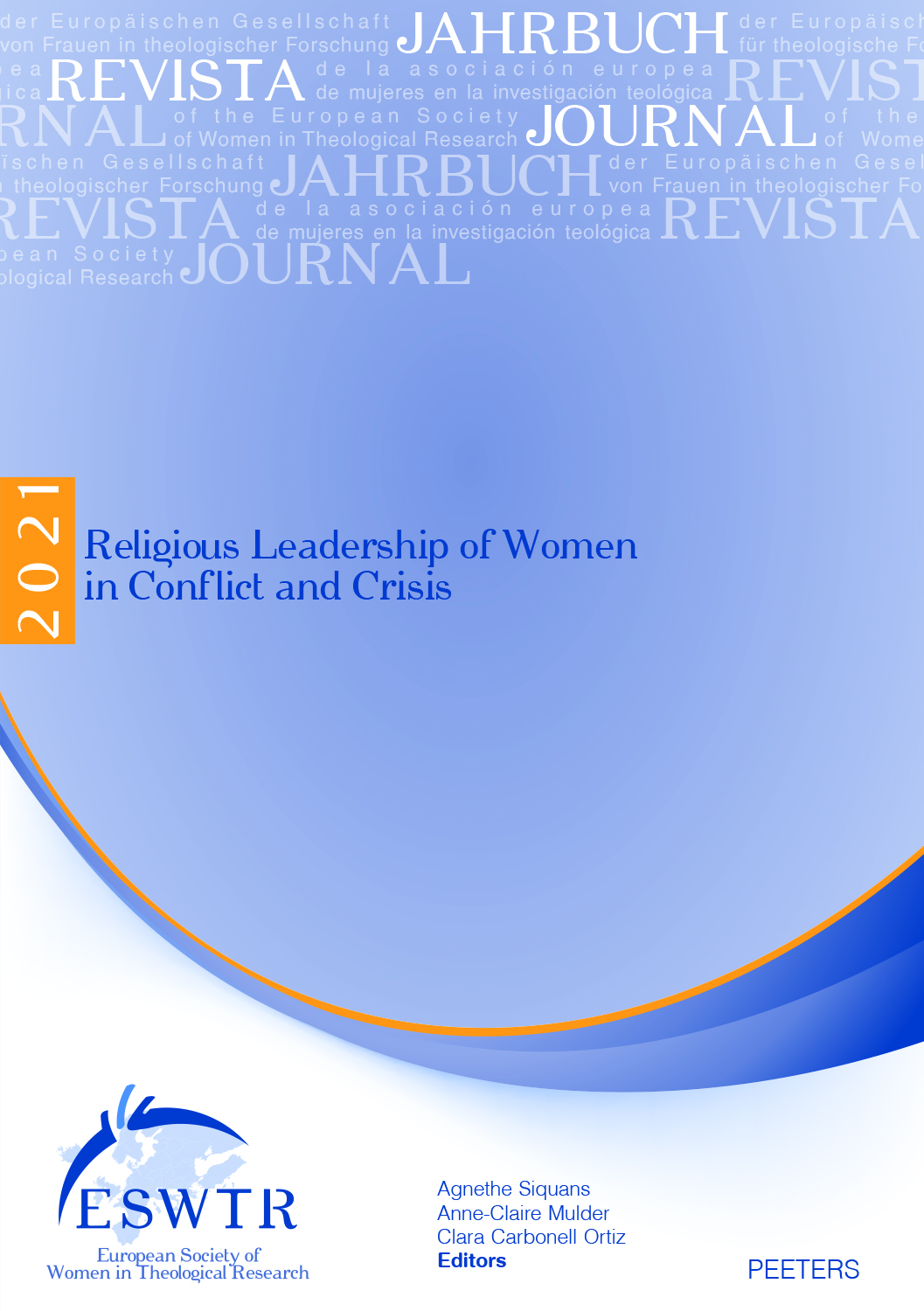 Document Details :

Title: In-Be-Tween
Author(s): MULDER, Anne-Claire , GUĐMARSDÓTTIR, Sigríður , KARLSDÓTTIR, Erla
Journal: Journal of the European Society of Women in Theological Research
Volume: 21 Date: 2013
Pages: 7-12
DOI: 10.2143/ESWTR.21.0.3017272

Abstract :
How does one describe the in-between, which by definition resists, dissolves and mixes definitions? Anne-Claire Mulder, Sigridur Guđmarsdóttir and Erla Karlsdóttir each offer a small philosophical reflection on the in-between, on what it means to be in, embodied, entoured by such boundaries. The three musings dissolve the word in-between into three fragments, each of which offers different aspects of the in-between. The In, Be, and Tween have the subtitles Ethics, Ontology and Environment to depict the three different crossroads into which these ventures into the in-between lead. Mulder writes about the ethical task of generating the passion of wonder for each other, Guðmarsdóttir explores Luce Irigaray's thought on the mystical abyss and its ontological connection to sexual difference, and Karlsdóttir argues for a fruitful environmental negotiation in the in-between space of material feminism and Irigarayan embodiment.


---

Wie beschreibt man das Dazwischen, das per definitionem Definitionen widersteht, sie auflöst und vermischt? Anne-Claire Mulder, Sigridur Guđmarsdóttir und Erla Karlsdóttir bieten hier eine kleine philosophische Reflektion über das Dazwischen, darüber, was es bedeutet, sich in Zwischenräumen zu befinden, als Körper, umschrieben von solchen Grenzen. Ihre Überlegungen lösen das Wort 'in-between' (Dazwischen) in drei Fragmente auf, von denen jedes andere Aspekte des Dazwischen darstellt. Das 'in', 'be' (sein) und 'tween' (zwischen) tragen die Untertitel Ethik, Ontologie und Umwelt, die die drei durchkreuzten Wege bezeichnen, in die das Wagnis des Dazwischen führen. Mulder schreibt über die ethische Aufgabe, die Leidenschaft des Wunders über einander zu schaffen, Guđmarsdóttir erkundet Luce Irigarays Denken über den mystischen Abgrund und seine ontologischen Verbindungen zur sexuellen Differenz, und aus einer umweltethischen Perspektive argumentiert Karlsdóttir, dass es im Dazwischen möglich sei, materiellen Feminismus und Irigaray'sche Körperlichkeit fruchtbar zu verhandeln.


---

¿Cómo puede uno describir el 'entre' cuya definición se resiste, se disuelve y es una mezcla de definiciones? Anne-Claire Mulder, Sigridur Guđmarsdóttir y Erla Karlsdóttir, cada una ofrece una pequeña reflexión filosófica sobre 'entre' sobre lo que significa 'estar entre', encarnado, en medio de las fronteras. Las tres reflexiones disuelven la palabra 'entre' en tres fragmentos cada uno de los cuales ofrece diferentes aspectos del mismo. El 'entre'; que como indica el título se subdivide en: In, Be y tween; en cada fragmento tiene subtítulos diferentes, correspondiente a tres enfoques: el ético, el ontologico y el medioambiental; para mostrar como se entrecruzan estas aventuras a las que nos conduce el 'entre'. Mulder nos explica la tarea de la ética como generadora de admiración por los otros, Guđmarsdóttir explora el pensamiento de Luce Irigaray y su concepción de 'abismo místico' y la conexión de este con una ontología de la diferencia sexual y Karlsdóttir ,tomando como referencia también a Luce Irigaray, apuesta por un medioambiente que se fecunda en la intersección entre el feminismo materialista y la encarnación irigarayana.


Download article