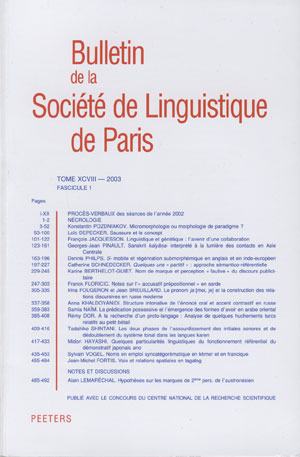 Document Details :

Title: L'adjectif russe везучий
Subtitle: Un exemple des relations lexicales slavo-indo-iraniennes
Author(s): OGUIBENINE, Boris
Journal: Bulletin de la Société de Linguistique de Paris
Volume: 107 Issue: 1 Date: 2012
Pages: 447-454
DOI: 10.2143/BSL.107.1.2959710

Abstract :
La notule se propose d'examiner l'adjectif russe везучий 'qui a de la chance, qui est favorisé par le sort' sémantiquement isolé parmi les adjectifs formés au moyen des suffixes -уч- (-юч-) qui remontent aux adjectifs en -ущ-/-ющ- (anciens participes). L'hypothèse présentée consiste à admettre que la signification de cet adjectif s'explique par l'influence d'une langue iranienne, probablement la langue des Scythes. La source lexicale de sa signification est possiblement l'adjectif superlatif avestique vāzižta comparable à l'adjectif védique váhiṣṭha < i.-e. *ṷeĝh- 'porter, transporter, véhiculer', dont les traces sont connues en ossète.


---

This note is devoted to the Russian adjective везучий 'lucky, favored by fortune', which stands semantically apart from other adjectives made with the suffix -уч- (-юч-) that go back to the adjectives (old participles) in -ущ-/-ющ-. The defended hypothesis is that the meaning of this adjective may be explained by the influence of an Iranian language, supposedly the language of the Scythes, who were in close contact with the Slavic peoples. The formal and semantic source of the peculiar meaning of this adjective is most probably Avestan superlative adjective vāzižta comparable to its Vedic counterpart váhiṣṭha < IE *ṷeĝh- 'to carry, transport (in a vehicle)' whose traces are known in Ossetic.


Download article