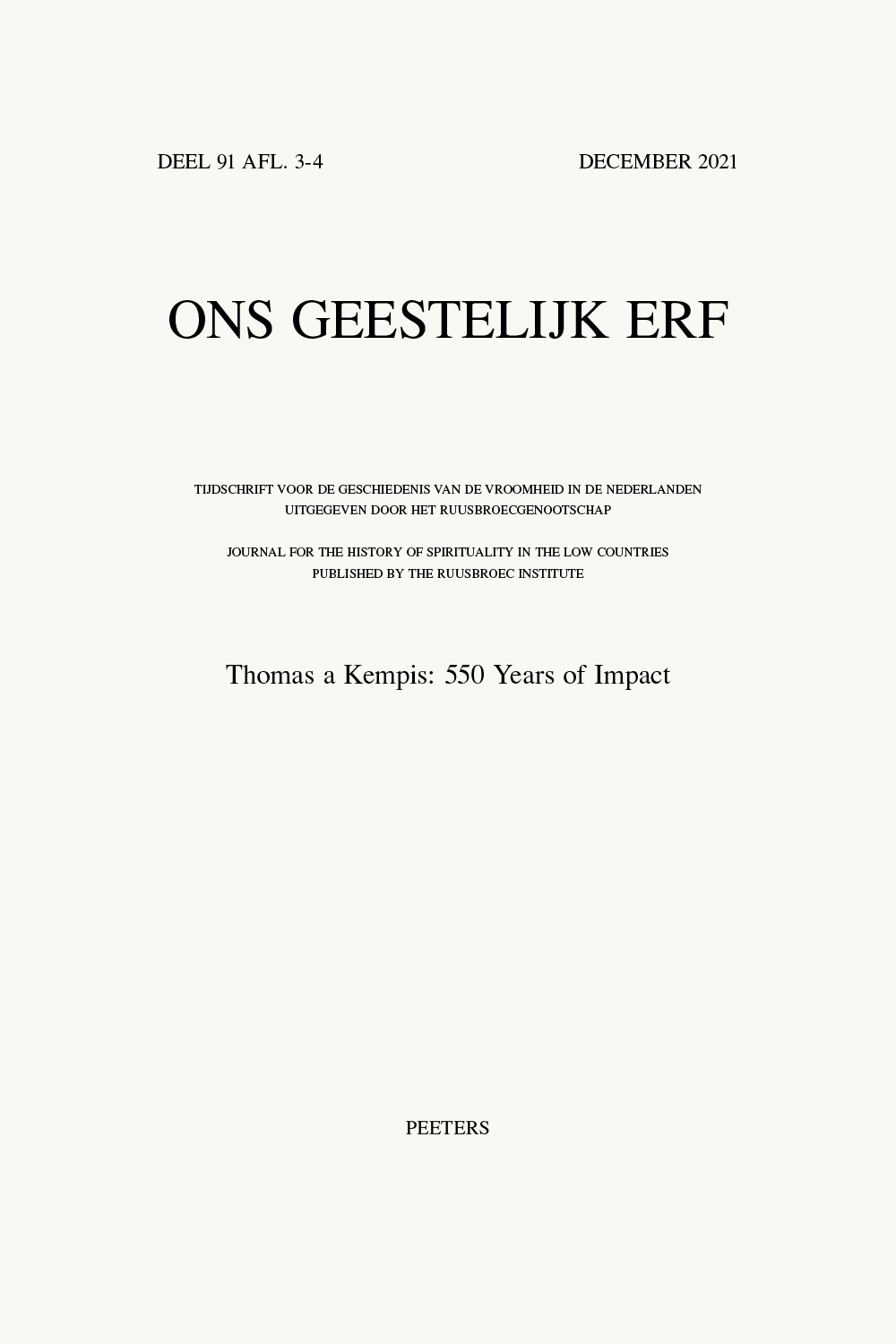 Document Details :

Title: Doce plus exemplo humili quam verbo subtili
Subtitle: Thomas von Kempen über Heilige und Heiligenleben im Dienst der devoten Persönlichkeitsformung
Author(s): JOSTES, Aloysia
Journal: Ons Geestelijk Erf
Volume: 83 Issue: 2 Date: Juni 2012
Pages: 122-183
DOI: 10.2143/OGE.83.2.2172257

Abstract :
By the influence of the Modern Devotion the hagiography underwent a new heyday. Following Geert Grote, the founder of the Modern Devotion, the members of this movement appreciated the books of the Bible, particularly the 'Vita Christi', and the passions of the martyrs as well as the 'vitae' of the saints, because these writings contributed to the improvement of the virtues of the modern devout. The different groups of saints offered various models of identification, from which the individual could choose examples of virtues corresponding his own situation. The lives of saints served as guidelines for the examination of one's conscience, they enabled the devout to control themselves, to render account for the own development and to constantly correct personal shortcomings still existing. Thomas a Kempis derives the great significance the modern devout attached to the lives of the martyrs and saints from the spirituality of the Devotio moderna. The striving for improvement of the virtues and personal sanctification based on the imitatio Christi stimulated a deep devotion of Jesus Christ. This devotion of Christ yielded the esteem of the lives of saints. Namely the martyrs, confessors and all the other saints bore witnesses with words, deeds and their own lives to Jesus Christ. They encouraged in faith and showed that, with the grace of God, every devout could overcome the own limitations and achieve the very imitatio Christi. Thomas a Kempis knew very well that failures in the process of personal improvement could bring the devout in deep trouble rather than stimulate them. Against this Thomas a Kempis sympathetically tried to work; thus, he recommended to the devout the lives of saints as living examples that touch the hearts and encourage to follow Christ. He considered the examples of the saints as a splendid evidence for a triumphant imitation, in which the devout can succeed, too. This way, Thomas a Kempis founded his appreciation of the lives of saints not alone on their exemplary function. He rather assigned the valued traditional forms of saintliness to the everyday life of his devout fellows. Those who meet the hardships and challenges of the devout community life, those who endure the wholehearted obedience and the implicit cessation of their own will may suffer a martyrium in mente. By this imitation of Christ, however, they become the like of the martyrs and confessors.


Download article