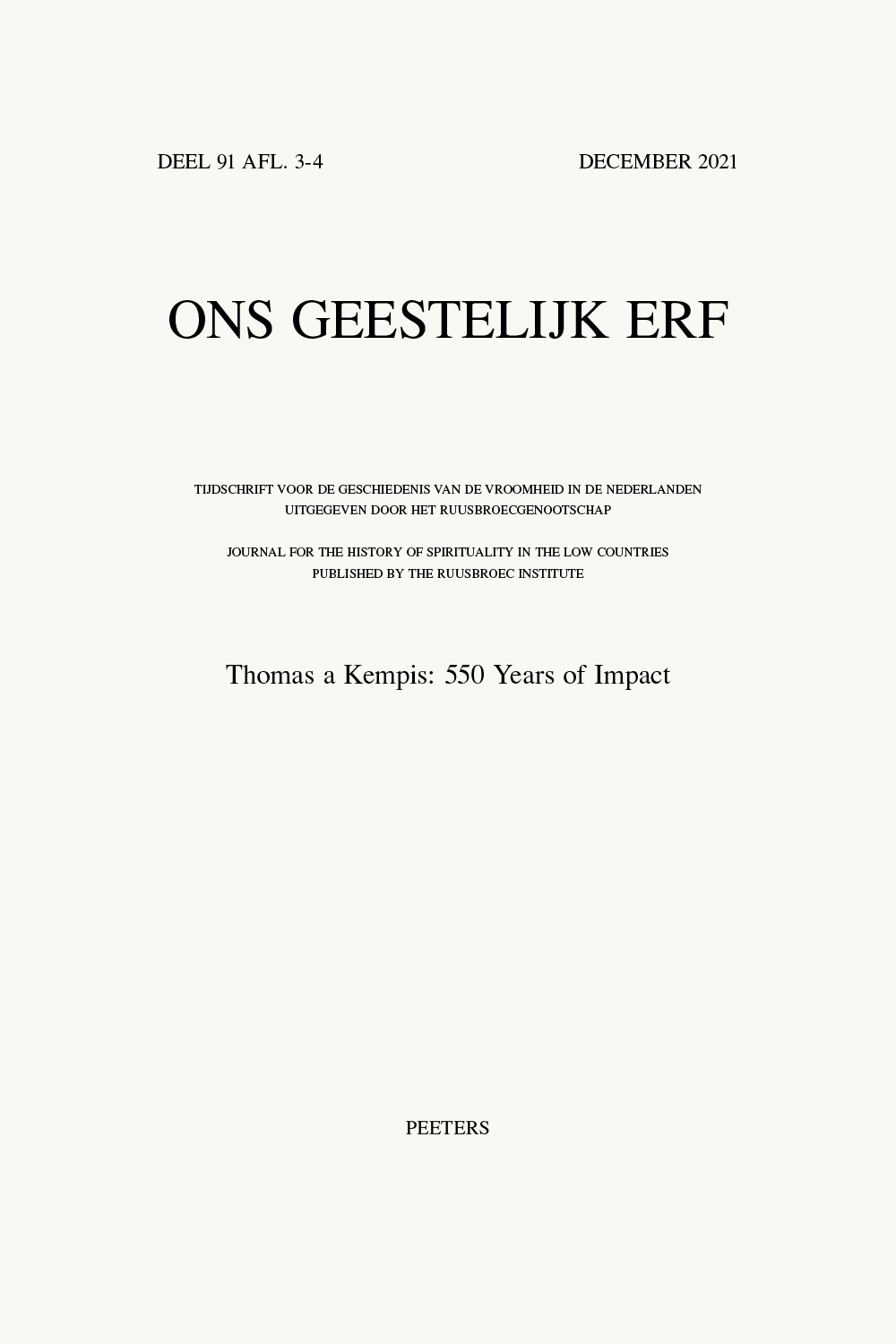 Document Details :

Title: Ruusbroec's Concept of gemeen (Common) Reconsidered
Author(s): KIKUCHI, Satoshi
Journal: Ons Geestelijk Erf
Volume: 83 Issue: 2 Date: Juni 2012
Pages: 97-121
DOI: 10.2143/OGE.83.2.2172256

Abstract :
Despite the common acknowledgement of the significance of Jan van Ruusbroec's gemene leven (common life) doctrine, it remains unclear in which sense the term gemeen (common) is used. There appear to be two essential problems that prevent accurate definition of the term gemeen in his thought. The first problem is the confusion between the concern of the semantics of the adjective gemeen and the mystical-theological interpretation of the gemene leven doctrine. The second problem is that the term gemeen is used not only in the context where Ruusbroec speaks about the gemene leven but also in various contexts, and we are not sure whether any connection exists among these contexts. It is remarkable how frequently and persistently Ruusbroec calls God, Christ and the Church gemeen. With these points in mind, this article intends to analyze proper meanings of the term gemeen in different contexts and reconsider the entire scope of Ruusbroec's gemeen doctrine. Given the limited length of this article, we analyzed a number of selected texts from the following four contexts in which the adjective gemeen refers to things which receive absolutely positive value judgment from the Christian as well as Ruusbroecian viewpoint: (1) the context where the term gemeen refers to God and His properties; (2) the context where the term gemeen refers to Christ and His properties; (3) the context where the term gemeen refers to the highest type of human person and his or her mode of life and (4) the context where the term gemeen refers to the Church. Our argument leads us to conclude that the uniqueness of Ruusbroec's concept of gemeen consists of not only the significant message regarding the mystical life that is often said to culminate in the gemene leven doctrine, but also, and perhaps primarily, his insight in employing this common term as a key to reconsider the fundamental value of the Christian faith in various aspects and bring them into harmony.


Download article