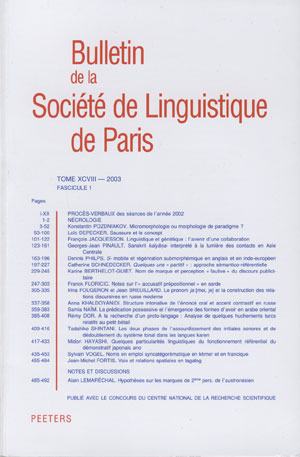 Document Details :

Title: L'analyse des particules énonciatives de fin de phrase en birman
Author(s): HININ TUN, San San
Journal: Bulletin de la Société de Linguistique de Paris
Volume: 105 Issue: 1 Date: 2010
Pages: 371-390
DOI: 10.2143/BSL.105.1.2062504

Abstract :
Les particules dites énonciatives sont souvent étudiées dans les langues à forte contrainte morpho-syntaxique, et il en résulte qu'elles paraissent sortir des cadres descriptifs qui ne mettent pas toujours en lumière les fonctions énonciatives. Le birman constitue un cas intéressant car on y trouve un emploi fréquent d'éléments qui s'attachent au groupe verbal, et qui sont traditionnellement décrites selon leurs fonctions syntaxiques, alors que certains de ces éléments servent d'autres fonctions langagières, telles que signaler à l'allocutaire des attitudes énonciatives, tours de paroles cédés ou refusés, reproche, etc. La présente étude examine l'emploi des deux particules TEEH et TAA qui occupent la position finale de la phrase affirmative, avec l'objectif d'identifier leurs fonctions énonciatives à l'aide d'un corpus de birman parlé contemporain.


---

Particles known as discourse particles are often studied in languages under strict morpho-syntactic constraints, and as a result they appear to fall outside descriptive frameworks which do not always highlight their discourse functions. Burmese makes an interesting case as we find a frequent use of elements which are attached to a verbal clause, and are described according to their syntactic functions. Yet many of these elements serve other linguistic functions, such as signaling to the interlocutor discourse attitudes, turns yielded or rejected, reproaches, etc. The present study examines, using a corpus of contemporary spoken Burmese, the use of two such particles TEEH and TAA which occupy the sentence-final position of affirmative sentences, with the objective of identifying their discourse functions.


Download article