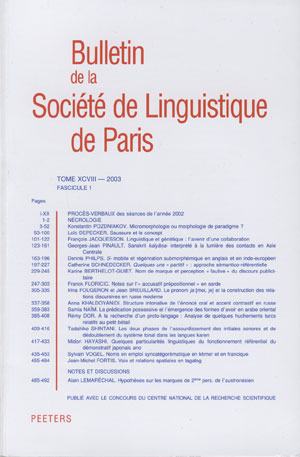 Document Details :

Title: Les parties du discours en vietnamien
Subtitle: Grammaticalisation et transcatégorialité
Author(s): DO-HURINVILLE, Danh Thành
Journal: Bulletin de la Société de Linguistique de Paris
Volume: 105 Issue: 1 Date: 2010
Pages: 327-370
DOI: 10.2143/BSL.105.1.2062503

Abstract :
Cet article est composé de trois parties: la première est consacrée, d'une part à une présentation des principales approches (européocentrique, syntaxique, structuraliste, sémantico-syntaxique et fonctionnaliste) relatives au classement des parties du discours en vietnamien depuis 1651 – date de parution du premier dictionnaire-grammaire du vietnamien de Alexandre de Rhodes – jusqu'à nos jours, d'autre part à un regard critique envers ces approches. La deuxième partie a pour objectif de souligner les principales caractéristiques des mots vietnamiens: la distinction des parties du discours dans cette langue isolante se fait plus pertinemment en discours qu'en langue, car le vietnamien est dépourvu de morphologie flexionnelle. Sont succinctement étudiés des mots vietnamiens pour illustrer d'une part la «transcatégorialité» ou «polyfonctionnalité» (cf. S. Robert), d'autre part la «conventionalisation» (cf. B. Heine). Dans cette langue, le phénomène de grammaticalisation peut être observé aussi bien en diachronie qu'en synchronie. La troisième partie propose un classement des parties du discours en vietnamien selon l'approche fonctionnaliste. Les mots vietnamiens sont scindés en mots lexicaux et en mots grammaticaux, sachant que de nombreux mots lexicaux peuvent fonctionner comme des mots grammaticaux. Les mots lexicaux sont divisés en verbes et en noms. La distinction verbo-nominale s'avère possible au moyen de mots témoins (cf. «syntaxe immédiate»). La catégorie «adjectif» est absente en vietnamien: ce sont des verbes de qualité qui remplissent les fonctions de modifieurs de noms et de verbes, correspondant ainsi à des adjectifs et à des adverbes de langues flexionnelles.


---

This article consists of three parts. The first part is devoted, in the one hand to a presentation of the main approaches (europeocentric, syntactic, structuralist, semantic-syntactic and functionalist) concerning the Vietnamese classification of parts of speech since 1651 – publication date of the first Vietnamese dictionary-grammar of Alexandre de Rhodes – until nowadays, on the other hand to a critical comment to these approaches. The aim of second part is to emphasize the primary characteristics of Vietnamese words: the distinction of parts of speech in this isolating language is more pertinently in discourse than in language, because Vietnamese lacks inflectional morphology. Some Vietnamese words are briefly studied to illustrate on the one hand the 'transcategoriality' or 'polyfunctionality', on the other hand the 'conventionalisation' (cf. Heine). In this language, the phenomenon of grammaticalisation can be observed as well as in diachrony than in synchrony. The third part proposes a classification of parts of speech in Vietnamese according to the functionalist approach. Vietnamese words are split into lexical words and grammatical words, knowing that a large amount of lexical words can work as grammatical words. Lexical words are divided into verbs and nouns. The verbo-nominal distinction turns out possible by means of 'mots témoins' (cf. 'immediate syntax'). The category 'adjective' is absent in Vietnamese: quality verbs fulfil the functions of nouns and verbs modifiers, corresponding to adjectives and adverbs in inflectional languages.


Download article