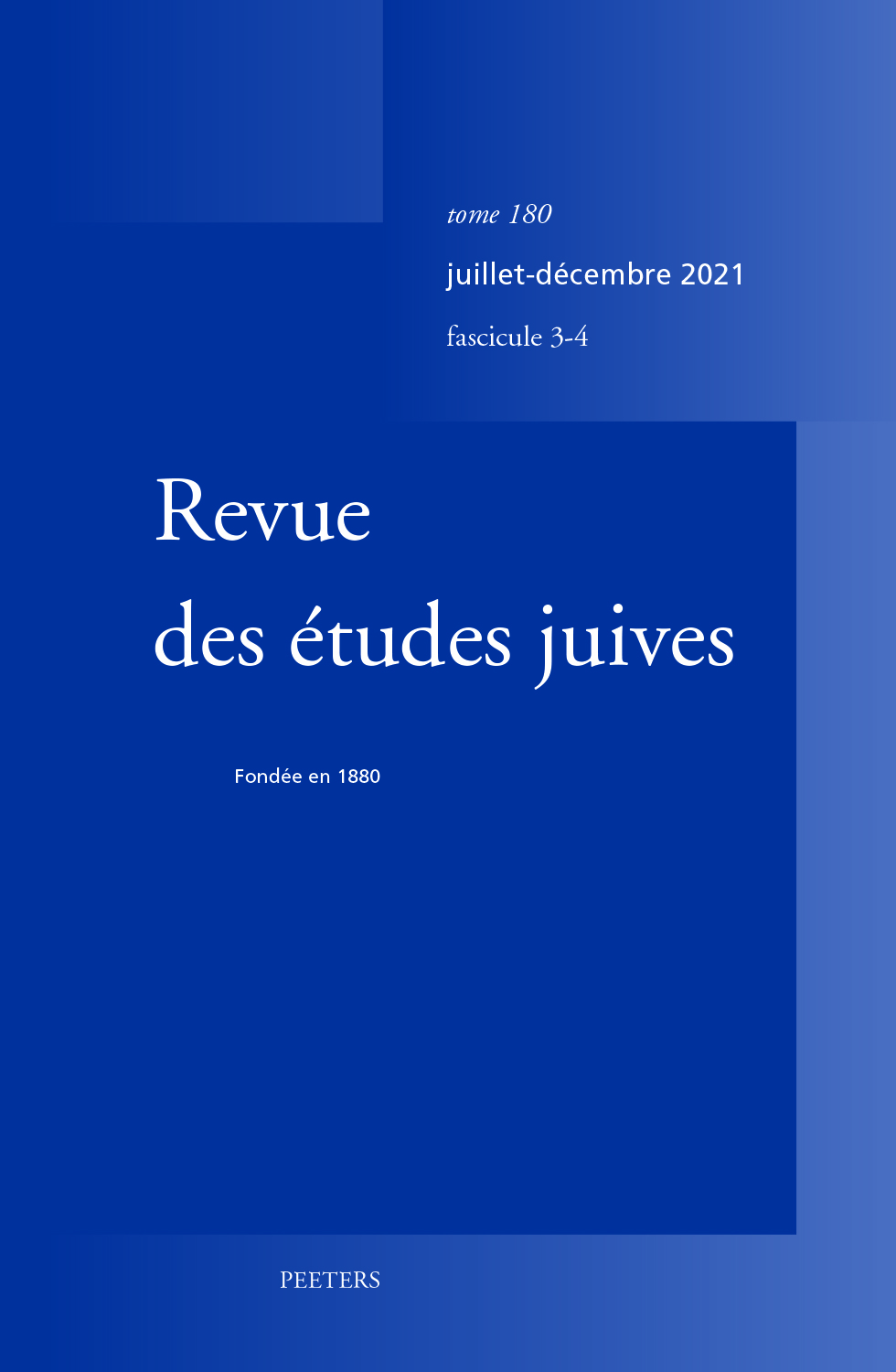 Document Details :

Title: La disputa religiosa de D. Pedro de Luna con el Judío de Tudela D. Shem Tob Ibn Shaprut en Pamplona (1379)
Author(s): NICLÓS ALBARRACIN, J.V.
Journal: Revue des Études Juives
Volume: 160 Issue: 3-4 Date: juillet-décembre 2001
Pages: 409-433
DOI: 10.2143/REJ.160.3.202

Abstract :
L'article a pour but de présenter le contexte de la disputatio entre le cardinal Pedro de Luna (le futur pape Benoît XIII) et le rabbin Shem Tob ibn Shaprut. La date de la disputatio fut l'année 1379 (et non 1375, comme il est parfois soutenu). Au cours des six premiers mois de cette année, le frère Vincent Ferrer a vécu au couvent dominicain de Barcelone. Pedro de Luna y est venu lui demander son aide afin de soumettre le royaume d'Aragon à l'autorité du pape d'Avignon. Pedro de Luna avait probablement l'intention de poursuivre sur-le-champ vers le royaume de Navarre, pour incliner le roi dans la même direction. Les contacts avec Vicente Ferrer ont pu lui suggérer une autre activité: la stratégie et les thèmes d'une controverse publique avec un représentant de la communauté juive de ce pays. Les principaux thèmes de la dispute et le style même ont des parallèles avec un sermon prêché par Vicente Ferrer, même s'il l'a été quelques dizaines d'années plus tard. Les similitudes entre les deux pourraient avoir leur source dans certains articles de la Summa contra gentes de Thomas d'Aquin. Le contenu de l'argumentation était enseigné dans le cadre des études de philosophie et de théologie des frères à cette époque dans la partie orientale de l'Espagne. Le texte de la controverse se lit dans l'Eben Bohan («La pierre de Touche»), livre II. Nous en donnons le texte hébreu à partir de deux bons manuscrits et une traduction en espagnol.

The purpose of this paper is to present the polemical disputation between Cardinal D. Pedro de Luna (future Pope Benedict XIII) and the Rabbi Shem Tob Ibn Shaprut. The date of the encounter was 1379 and not 1375 as it has sometimes been maintained. During the first half of this year (1379), Friar Vincent Ferrer was living at the Dominican convent of Barcelona, where Pedro Luna contacted him in order to win the kingdom of Aragon over to the Pope in Avignon. Probably Don Pedro de Luna planned to travel from there to Navarra with the purpose of moving the king to the same obedience. The contacts with Vicente Ferrer may have suggested Pedro de Luna to another activity: the strategy for the public disputation that took place in Pamplona that year (1379) and its topics. In fact, the main points of the disputation have parallels with one sermon preached by Vicente Ferrer, although some decades later. Between both pieces one may observe a similarity of contents and style, that ultimately might have its source in some articles from the Summa contra gentes by Thomas Aquinas. This manner of preaching and arguing could be learned in the academic cursus of any friar of the time in Eastern Spain. The text from the disputatio is contained in Shem Tob Ibn Shaprut's Eben Bohan ("The Touchstone"), Book II. The text is given in Hebrew, from two selected manuscripts, with a Spanish translation.



Download article