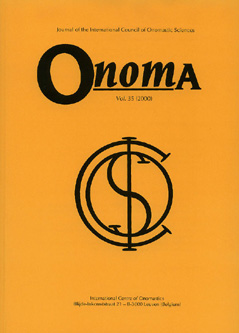 Document Details :

Title: The Change of Cultural Values as Reflected in Modern Name-giving in Catalonia
Author(s): KOHLHEIM, Rosa
Journal: Onoma
Volume: 34 Date: 1998-1999
Pages: 229-248
DOI: 10.2143/ONO.34.0.2003451

Abstract :
This article is based on the names of 8240 girls and 8849 boys born in Catalonia in 1996. Our material contains 499 girls' names and 413 boys' names. The analysis of both inventories shows a strong decline of traditional names, a high number of new names (including foreign names) and a low frequency of favourite first names. These traits indicate that - in contrast to former times - individualism has become a predominant value in contemporary Catalan society. The presence of names without a Christian motivation (e.g. Brian, Jennifer, Ariadna) and the decreasing popularity of Marian names (e.g. Carme/Carmen) suggest that religious belief has partly lost its outstanding position in the scale of human values. The revival of old Catalan name forms (e.g. Arnau, Laia) points to the great importance of national values in Catalonia nowadays. In spite of the existence of international trends (xenonyms, biblical names), Catalan name culture still shows many distinctive features of its own.


Download article