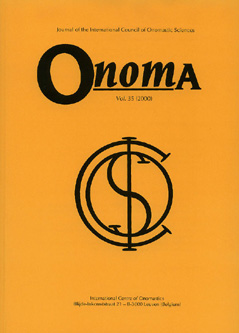 Document Details :

Title: Lithuanian 'Patriotic' Names, 1878-1991
Author(s): LAWSON, Edwin D. , BUTKUS, Alvydas
Journal: Onoma
Volume: 34 Date: 1998-1999
Pages: 249-263
DOI: 10.2143/ONO.34.0.2003452

Abstract :
To find out what effects the political, religious, social, and economic climate had on naming children, 91 families (involving 654 individuals) were interviewed to identify the patterns of giving first names over three generations. The sample of families includes people from different occupational backgrounds and from different parts of Lithuania. Most were Roman Catholic although there was a significant percentage who professed no religious affiliation. The data were analyzed in terms of time periods and their relationship to the origin, meaning, and significance of the name. Results show that during the Soviet occupation significantly more names defined as 'patriotic' were chosen. The statistical significance of this finding was far beyond that found in most investigations. Examples of patriotic names include Mindaugas, the first Lithuanian king (1236-1263) and Birutė, the wife of Kęstutis, Grand Duke of Lithuania (1345-1382). Most of the patriotic names are from Lithuanian history and lore. Many are from pre-Christian times. The high level of patriotic names is interpreted as a demonstration of Lithuanian nationalism and search for identity during the troubling period of Soviet occupation.


Download article