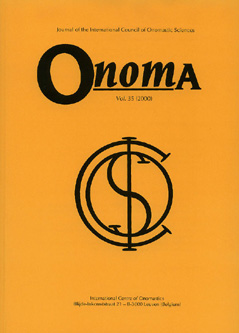 Document Details :

Title: Sprachliche, soziale und politische Aspekte der Personennamen des 3. bis 8. Jahrhunderts
Subtitle: Vorstellung des interdisziplinären Projekts 'Nomen et gens'
Author(s): GEUENICH, Dieter , HAUBRICHS, Wolfgang , JARNUT, Jörg
Journal: Onoma
Volume: 34 Date: 1998-1999
Pages: 91-99
DOI: 10.2143/ONO.34.0.2003442

Abstract :
A group of scholars from the fields of Medieval and Ancient History, German Philology and Romance Languages Philology have, for some years, been working on a project which promotes research into personal name-giving in Latin-Germanic Europe (3rd-8th century). The aims of this project are:
-constructing data bases which are philologically arranged, critical as to the accuracy of the sources and which comprise names and persons from the Germanic gentes and regna,
-linguistic and prosopographical evaluation of the data that can be precisely dated and located,
-investigating criteria in the linguistic structure of the names to serve as an indication of which ethnic groups their bearers belonged to,
-analysing the aspects of family and social grouping in name-giving in this area,
-contributing to research in the area of ethnogenesis in the Migration Era and the Early Middle Ages and, through this, contributing to research into the early history of medieval Europe as a whole.


Download article