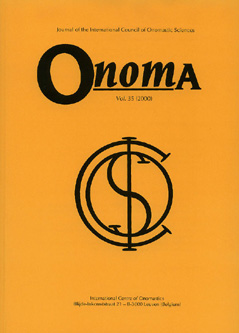 Document Details :

Title: An Analysis of the Forenames and Surnames of England and Wales Listed in the UK 1881 Census Data
Author(s): TUCKER, D. Kenneth
Journal: Onoma
Volume: 38 Date: 2003
Pages: 181-216
DOI: 10.2143/ONO.38.0.2002558

Abstract :
An Analysis of the Forenames and Surnames of England and Wales Listed in the UK 1881 Census Data
The results of the analysis are presented in the form of tables of the hundred most popular surnames, female forenames, and male forenames with graphical presentations of the complete data set for each. The graph types include: cumulative population against cumulative number of names, population against rank, population against frequency, and population against occupied frequency with the last recast in the manner of Manrubia and Zanette as number of families against family size. All results show larked power law relationships, although modified in some cases. Inadequacies in the data that are discussed and the lack of adequate census tools then and now are highlighted? An attempt is made to identify forenames used by both sexes.


---

Étude des prénoms et surnams d'Angleterre et du pays de Galles mentionnés sur les listes de recensement de 1881
Les résultats de cette étude sont présentés sous formes de tables des cent surnoms et prénoms féminins et masculins les plus populaires avec une réprésentation graphique des données complètes de chacun. La tyopologie graphique prend en compte les rapports entre la population totale et le nombre total des noms, la population et le rang, la population et la fréquence, la population et la fréquence observée à partir du dernier comptage selon la méthode de Manrubia et Zanette, à savoir enyre le nomdre de familles et la taille de la famille. Tous les résultats traduisent des relations marquantes, même si elles se trouvent modifiées dans certains cas. Les incohérences des données sont soumises à discussion et l'absence périodique d'outils de recensement adaptés est signalée avec force. On tente également d'identifier les prénoms usités pour les deux sexes.


---

Analyse der Vor- und Familiennamen aus England und Wales aus den Listen der Volkszählung von 1881
Die Ergebnisse der Analyse werden in Form von Tabellen mit den hundert populärsten Familiennamen sowie weiblichen und männlichen Vornamen mit graphischer Darstellung des kompletten Datensatzes für jeden Namen vorgelegt. Die diagrammen erfassen: Gesamtbevölkerung im Verhältnis zur Rangfolge, Bevölkerung im Verhältnis zur Häufigkeit und Bevölkerung im Verhältnis zur belegten Häufigkeit, die letzige neugestaltet in der Art von Manrubia und Zanette als Anzahl der Familien im Verhältnis zur Familiengröße. Alle Ergebnisse zeigen, obwoh in einigen Fällen modifiziert, deutliche Abhängigkeit. Unausgewogenheiten unter den Daten worden diskutiert, das Fehlen von adäquaten Möglichkeiten zur Volkszählung damals wie heute wird hervorgehoben. Ferner wird versucht, Vornamen anzudeuten, die für beide Geschlechter verwendet werden.


Download article