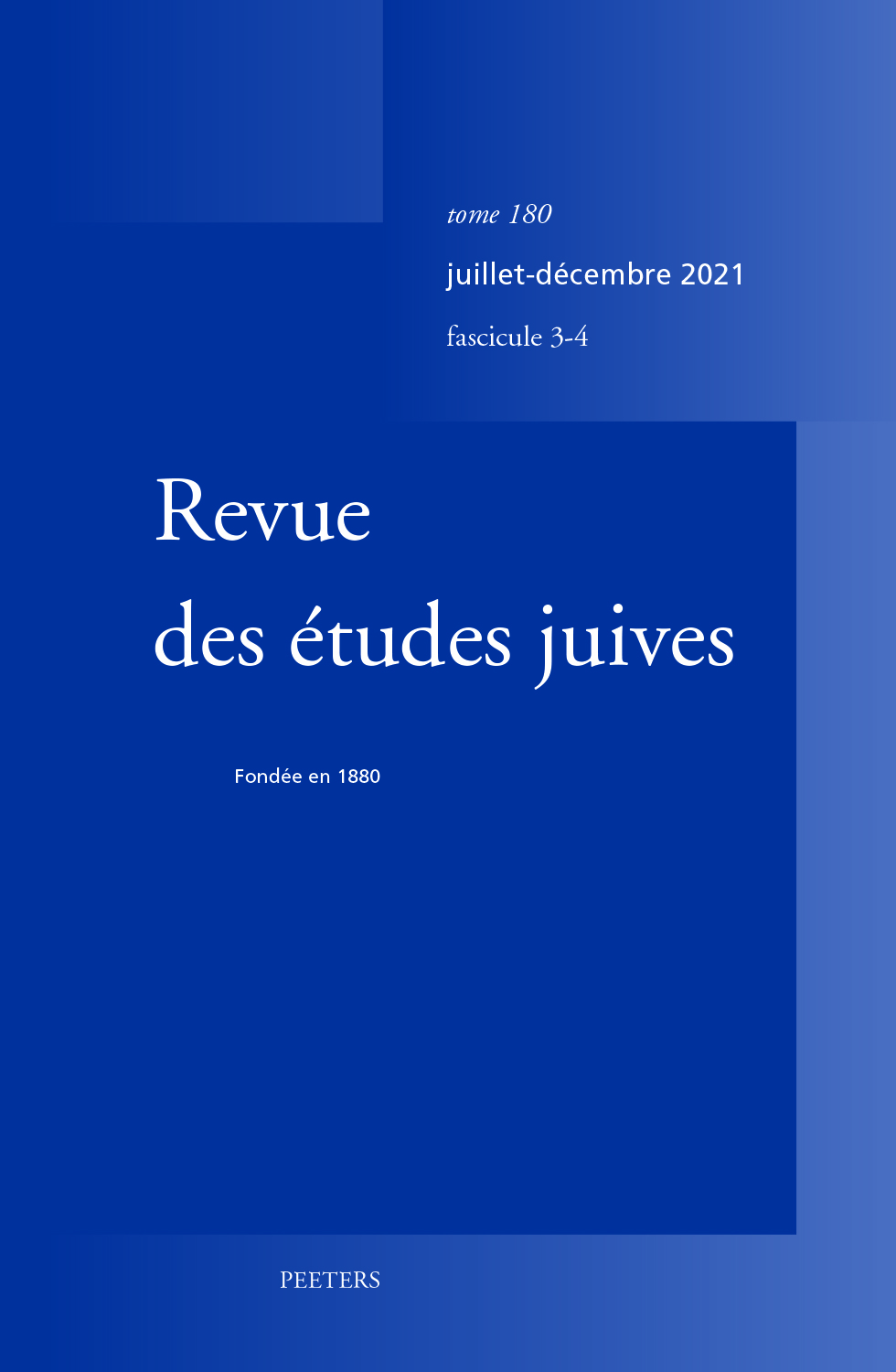 Document Details :

Title: La figure du mashal dans l'herméneutique de la cabale du XVIe au XVIIIe siècle
Author(s): HANSEL, Joëlle
Journal: Revue des Études Juives
Volume: 160 Issue: 1-2 Date: janvier-juin 2001
Pages: 135-154
DOI: 10.2143/REJ.160.1.188

Abstract :
Suivant une orientation propre aux sciences religieuses contemporaines, la question du langage et de l'herméneutique constitue, actuellement, l'un des thèmes de recherche les plus féconds et les plus prometteurs dans le domaine des études juives. L'objet de cet article est de contribuer à ces recherches en analysant la figure narrative et exégétique du mashal. Présent dans toutes les strates de la littérature hébraïque, le mashal est au centre des textes cabalistiques. En s'appuyant sur ces textes, particulièrement, sur ceux qui ont été rédigés à la Renaissance et aux Temps modernes, cette étude se propose de clarifier le sens du mashal, ainsi que les fonctions qu'il remplit au sein de l'herméneutique de la cabale. Enrichissant la nomenclature classique des équivalents du mashal — «proverbe», «allégorie», «parabole», «métaphore», «fable» ou «comparaison» — elle établit son identité avec la notion de «signe» (siman). Elle aborde également les problèmes que soulèvent la représentation du divin dans un langage figuratif et, plus spécifiquement, la matérialité du langage cabalistique. En remontant aux sources dont s'inspirent les cabalistes des XVIe-XVIIIe siècles, cette étude met en évidence les divergences fondamentales qui séparent leur démarche exégétique de celle de Maïmonide et des philosophes. La conclusion de l'article présente les perspectives ouvertes par l'analyse du mashal en la replaçant dans le contexte des débats relatifs aux thèmes de l'allégorie et du symbole ainsi qu'à la confrontation entre philosophie et cabale.

In line with a central orientation in contemporary religious thought, the problem of language and hermeneutics is today one of the most fecund and promising issues in the area of Jewish studies. This paper deals with mashal, a classical figure of language and hermeneutics in Hebrew literature in general, and in Kabbalah in particular. Focusing on Kabbalistic texts from the Renaissance and the Modern era, it clarifies the significance of mashal as well as of its functions within Kabbalistic hermeneutics. The term has no univocal translation. While traditionally considered as equivalent to such terms as "proverb," "allegory," "parabol," "metaphor," "fable" or "comparison," this study stresses the identity between mashal and "sign" (siman). It also deals with the problem of representating the divine in figurative language and, more specifically, with the materiality of Kabbalistic language. By tracing the sources that inspire the 16th-18th centuries Kabbalists, it shows the fundamental divergences between their exegetical approach and those of Maimonides and the philosophers. The conclusion presents certain new perspectives that are opened up by the analysis of mashal by having located it within the context of the debates on allegory and symbol, as well as of the encounter between philosophy and Kabbalah.



Download article