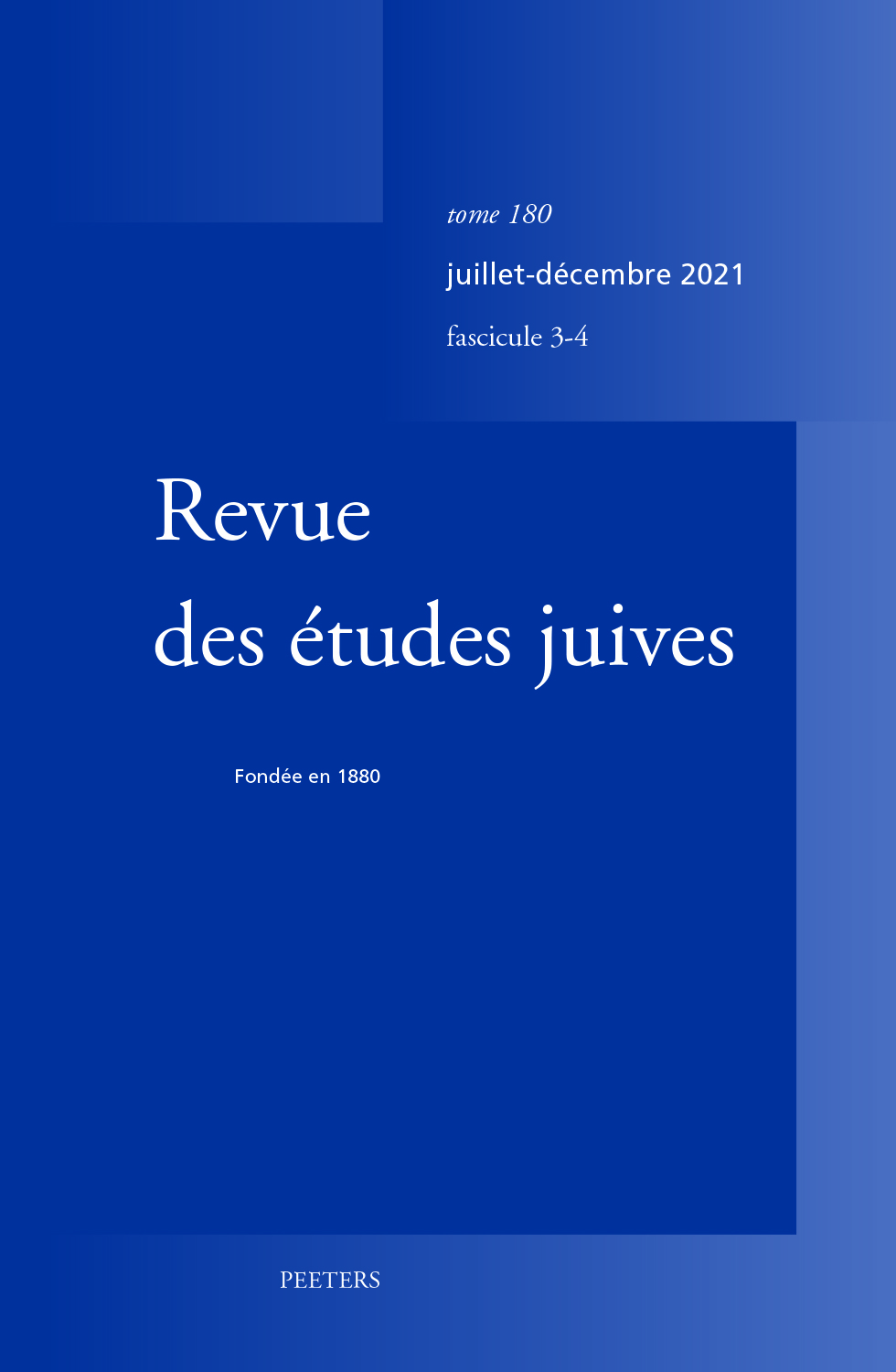 Document Details :

Title: Les jeux du temps dans la culture ashkénaze
Author(s): GOLDBERG, Sylvie Anne
Journal: Revue des Études Juives
Volume: 160 Issue: 1-2 Date: janvier-juin 2001
Pages: 155-168
DOI: 10.2143/REJ.160.1.189

Abstract :
Cet article discute principalement deux notions utilisées dans les travaux portant sur le temps: la distinction entre sacré et profane et les figures géométriques utilisées en tant qu'indice de la conscience historique des groupes sociaux. Dans le monde achkénaze, le caractère qualitatif du temps est lié au fait que le shabbat est perçu comme un émissaire de «l'autre monde». Le second point de cet article, le déplacement des échelles du temps, se sert de la Chronique rédigée par David Ganz en deux parties distinctes, l'une concernant l'histoire des «nations», l'autre celle des Juifs datées selon leurs deux systèmes, ainsi que la double datation que l'on trouve en Ézéchiel 1-2. La mesure du temps et le temps linéaire peuvent ainsi se rejoindre dans un ordre du temps où l'éternel et le cyclique s'écoulent sans s'opposer. Le mouvement permanent entre des éléments tels que le mondain et le céleste, les vivants et les morts, dessine l'image d'un monde ouvert qui contredit les séparations posées usuellement entre les temps sacré et profane, linéaire et circulaire.

From the vast literature that has been written on Time and Temporality, I discuss here two points: the distinction of sacred and profane for its social uses, and the geometrical figures that are used as landmarks of historical consciousness. In the Ashkenazi world, the qualitative character of Time is tied up with the fact that the Sabbath is perceived as an emissary of the "other world". The second point, that is the scales of time, takes the example of David Ganz's Chronicle separated in two distinct parties, using two systems of datation: one for the universal History, the second for the Jewish, and, also, the double dating from Ezekiel 1-2. Measured time and linear time can without any contradiction be encompassed in an order of Time where eternal and cyclical Time flow. The constant shift of elements like earthly and celestial, the living and the dead, delineate as so an image of an open universe, despite the strong separation between sacred and profane, linear and circular time.



Download article