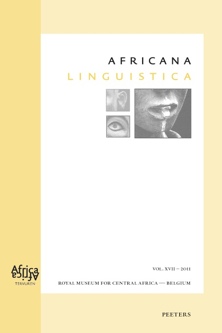 Document Details :

Title: Lower Fungom Linguistic Diversity and its Historical Development
Subtitle: Proposals from a Multidisciplinary Perspective
Author(s): DI CARLO, Pierpaolo
Journal: Africana Linguistica
Volume: 17 Date: 2011
Pages: 53-100
DOI: 10.2143/AL.17.0.2146551

Abstract :
Lower Fungom, in Northwest Cameroon, is one of the most linguistically diverse areas of the Cameroonian Grassfields. Seven languages or small language clusters are spoken in its thirteen villages and five of them are not obviously closely related to each other nor to any other language spoken outside of the region. This paper discusses the non-linguistic factors that may have resulted in this surprising linguistic scenario. The region's overall ecology is examined and found unable to fully explain the situation. Ethnographic data, collected during recent field work in the area, are considered in the perspective of assessing the degree of correlation between linguistic boundaries and cultural boundaries. The emerging patterns are reviewed in light of oral histories, early colonial documents, and archaeological evidence. The detailed historical framework thus obtained indicates not only that the area has been characterized by a number of immigration events but also that in different periods these events have had different linguistic repercussions. The paper concludes by reconstructing several phases of the linguistic prehistory of Lower Fungom that seem, on the whole, to shed light on the processes that have led to its present linguistic diversity.


---

Le Lower Fungom, au nord-ouest du Cameroun, compte parmi les zones présentant la plus grande diversité linguistique des Grassfields camerounais. Sept langues ou petits groupes de langues sont parlés dans ses treize villages, et cinq d'entre eux ne sont manifestement pas étroitement liés les uns aux autres, ni à aucune autre langue parlée en dehors de la région. Le présent article examine les facteurs non linguistiques qui ont pu être à l'origine de ce scénario linguistique surprenant. L'écologie de la région, examinée dans son ensemble, s'avère incapable d'expliquer pleinement la situation. Les données ethnographiques récoltées lors d'un travail de terrain effectué récemment dans la région servent à évaluer le degré de corrélation entre les frontières linguistiques et culturelles. Les modèles qui s'en dégagent sont ensuite revus à la lumière des histoires orales, de documents des débuts de la période coloniale et de données archéologiques. Le cadre historique détaillé ainsi obtenu indique non seulement que cette région a été caractérisée par un certain nombre d'événements migratoires, mais aussi qu'à différentes périodes, ces événements ont eu diverses répercussions linguistiques. L'article conclut en reconstruisant plusieurs phases de la préhistoire linguistique du Lower Fungom qui semble, globalement, jeter la lumière sur les processus ayant conduit à sa diversité linguistique actuelle.


Download article