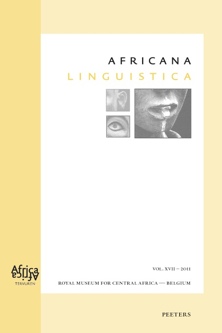 Document Details :

Title: Tswana Locatives and their Status in the Inversion Construction
Author(s): CREISSELS, Denis
Journal: Africana Linguistica
Volume: 17 Date: 2011
Pages: 33-52
DOI: 10.2143/AL.17.0.2146550

Abstract :
Several articles published in the last decade have demonstrated that, in several Sotho-Tswana (S30) and Nguni (S40) languages, locative marking has ceased to be integrated into the noun class system, and preverbal locatives in inversion constructions do not show evidence of being grammatical subjects. Part of the literature on Tswana suggests however that in both respects, Tswana might be different. The present article argues that the locative system of Tswana is in fact not particularly conservative (and is even more innovative than that of the other S30-40 languages), and the preverbal locatives in the inversion construction of Tswana do not show properties that could support analyzing them differently from the preverbal locatives in the other S30-40 languages.


---

Plusieurs articles publiés ces dix dernières années ont démontré que dans plusieurs langues Sotho-Tswana (S30) et Nguni (S40), le marquage locatif a cessé d'être intégré au système de classes nominales, et les locatifs préverbaux dans les constructions à inversion ne sont pas des sujets grammaticaux. Une partie de la littérature sur le tswana suggère toutefois que, de ces deux points de vue, cette langue pourrait être différente. Le présent article soutient que son système locatif n'est pas en fait particulièrement conservateur (et est même plus innovateur que celui des autres langues S30‑40), et que les locatifs préverbaux utilisés dans la construction à inversion du tswana ne présentent pas de propriétés qui justifieraient une analyse différente de celle des locatifs préverbaux des autres langues S30‑40.


Download article