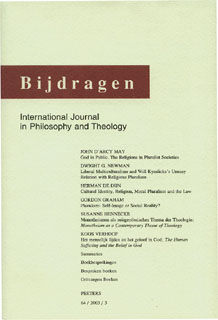 Document Details :

Title: Monotheismus als zeitgenösisches Thema der Theologie
Author(s): HENNECKE, Susanne
Journal: Bijdragen
Volume: 64 Issue: 3 Date: 2003
Pages: 311-336
DOI: 10.2143/BIJ.64.3.848

Abstract :
In her contribution, Susanne Hennecke investigates the possibility of a new perspective in the recent debate on monotheism. In this debate, a relation is often assumed between monotheism and western logocentrism. Here, her central theory is that it is also possible within the Christian tradition to speak of a critical reflection on western logocentrism. The author supports her theory, for example, with the investigation on the critical manner in which the concept of monotheism was introduced into the theology of Karl Barth. Consequently, the author shows, however, that Barth is also guilty of the, initially rejected, western logocentrism. That is why she induces his thinking on three points using the thoughts of the Berlin systematic theologian Friedrich-Wilhelm Marquardt. Her research culminates with the conclusion that in a contemporary (post-modern, intercultural and feminist) perspective, it is better to speak of an "eschatological relational reality" instead of monotheism. Furthermore, it is better to think theologically in terms of difference than in terms of dialectics. Also, a contemporary theological reflection should take into account more often the possibility of God's absence from creation and history.