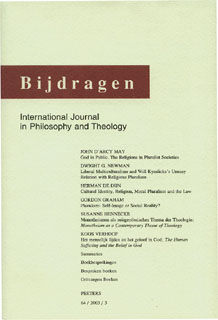 Document Details :

Title: God in Public
Subtitle: The Religions in Pluralist Societies
Author(s): D'ARCY MAY, John
Journal: Bijdragen
Volume: 64 Issue: 3 Date: 2003
Pages: 249-264
DOI: 10.2143/BIJ.64.3.844

Abstract :
Is religion becoming 'deregulated' in secular, pluralist societies? In the public sphere in which freedom of opinion laid the foundations of democracy, no single comprehensive worldview could be allowed to dominate. The warring Christian confessions of Europe discredited the public role of religion, which gave way to Enlightenment rationalism as the regulative norm of society and the newly emerging sciences. But religion is now assuming a new status as the public sphere becomes global. The religions themselves are part of the new global dynamic and the search for a global ethic. Human dignity, on which human rights must be based in global civil society, is nurtured by the narrative traditions of the religions. The God of the monotheistic faiths is thus regaining a public and political role, but there is a danger that this will turn out to be that of a legitimator of violence and a guarantor of exclusive truth claims. The mystics of these traditions teach us that God's absence can be a mode of God's presence. If God's presence in the public sphere does not take the form of dominance, it could also provide a basis for dialogue with non-theistic traditions. Neither the neutral public rationality of the Enlightenment nor a universal theology is an adequate response to the need for shared values in the emerging global public sphere. We must learn to negotiate meanings and values in an ongoing process of communicative interaction and intersubjective universality.