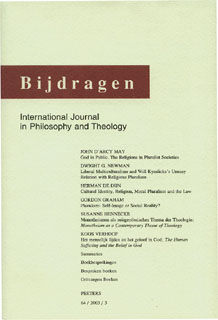 Document Details :

Title: God, Necessity, and Self-Explanation
Author(s): VAN HOLTEN, Wilko
Journal: Bijdragen
Volume: 64 Issue: 2 Date: 2003
Pages: 179-195
DOI: 10.2143/BIJ.64.2.839

Abstract :
In the traditional arguments for the existence of God it is argued from the world, or features of the world, to God as the ground or explanation of the world. Such arguments inevitably raise the question as to who or what explains God in turn. In response to this question some (philosophical) theologians have argued that God cannot be explained any further because God's exists necessarily. Sometimes God's necessary existence is taken to imply his self-explanation. In the present paper the author reviews three different interpretations of God's necessary existence (theological, ontological and logical) and investigates their success in establishing God's selfexplanation. After a detailed discussion of God's purported logical necessity, the author concludes that this interpretation, even if coherent, does not succeed in making God's existence selfexplanatory. The author concludes with a plea for the traditional view of God's ontological or factual necessity.