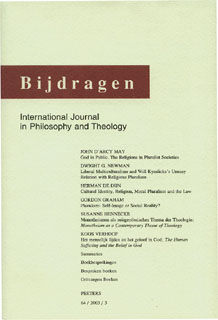 Document Details :

Title: Authentic Human Living in Catholic Social Teaching
Subtitle: A Feminist Perspective
Author(s): ELSBERND, Mary
Journal: Bijdragen
Volume: 64 Issue: 1 Date: 2003
Pages: 3-19
DOI: 10.2143/BIJ.64.1.828

Abstract :
The second half of the twentieth century inaugurated another historically contextualized shift in theological anthropology, which can be characterized by four interconnected turns to historical consciousness, to socially contextualized ethical norms and decisions, to human subjectivity, and to the inclusion of foundational faith convictions. Feminist ethicists have participated in and advanced this current re-formulation of theological anthropologies both by their critique and by their reconstruction of theological anthropologies inclusive of women's experience. In these feminist contributions, five recurring dimensions emerge: relationality, human embodiment, social location, difference, and subjectivity. Taken together these elements provide the building blocks toward an adequate anthropology. In part, this author's conviction is supported by the integral connection of these elements to the essential dimensions of the human person in the personalist anthropology of Louis Janssens. Consequently, this inquiry will use these five elements as a lens through which to examine the theological anthropologies present in the documents of Catholic Social Teachings for points of intersection with developing feminist anthropologies. This research into Catholic Social Teachings concludes that the anthropologies in the documents both provide: 1) a foundationally different approach to authentic human living and 2) some points of intersection with a feminist perspective of authentic human living inclusive of women. This reading of Catholic Social Teachings argues that what is said particularly about the constitutive dimensions of social bodies sheds light on the constitutive dimensions of authentic human living; as such it contains a dynamic potential for future development.