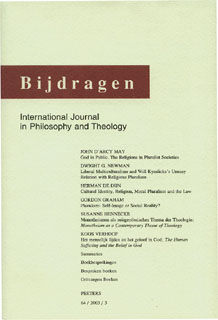 Document Details :

Title: Kuitert's God
Author(s): SCHREURS, Nico
Journal: Bijdragen
Volume: 63 Issue: 2 Date: 2002
Pages: 125-140
DOI: 10.2143/BIJ.63.2.802

Abstract :
This article reviews Kuitert's most recent book. Kuitert is a Reformed Dutch theologian, who has written a series of controversial books on faith, Christian doctrine and Jesus Christ. His last book is on religion. This article is interested in the image of God in Kuitert's book. Who is Kuitert's God? In the first place, Kuitert spends much time analysing the indispensable and inexhaustible capacity of human religious imagination. He distinguishes between the merely human image of God: God as an enlarged human being, and God as religious projection on the one hand and, on the other hand, the image of God which has its roots in "the other side" and which has priority over human imagination. In the second part of his book, Kuitert presents God as the power that can make and break. By this, he means God as the all invading creative power and God as fate. Apart from this image of God as Creator, Kuitert stresses the fact that God makes himself felt by his Word. This Word by which God appeals to the faithful is, according to Kuitert, not to be understood in a Barthian sense, nor in the sense which liberation theology understands, although God speaks his word and makes his appeal to the faithful through the needy people who cross their paths. The particularity of Kuitert's image of God is, finally, illustrated by the investigation of his doctrine of reconciliation. Human responsibility and guilt and the appeal by the needy corresponds to a God of forgiveness and reconciliation. The article concludes with some general remarks by which the author makes it clear that to him, notwithstanding his critical demythologisation, Kuitert remains true to his protestant heritage.