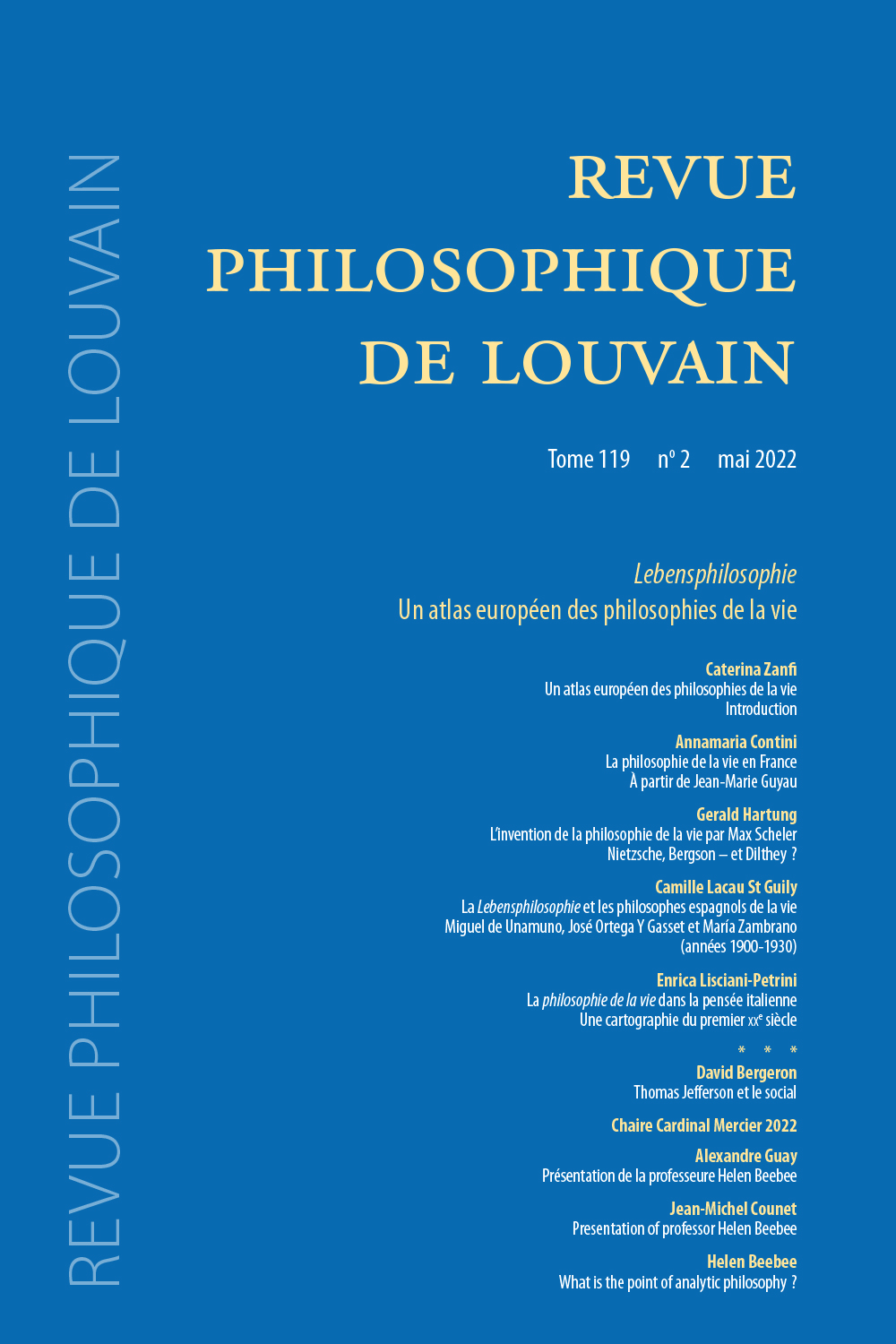 Document Details :

Title: La référence à Maître Eckhart dans la phénoménologie de Michel Henry
Subtitle: De «L'essence de la manifestation» à «C'est moi la vérité»
Author(s): LAOUREUX, Sébastien
Journal: Revue Philosophique de Louvain
Volume: 99 Issue: 2 Date: Mai 2001
Pages: 220-253
DOI: 10.2143/RPL.99.2.633

Abstract :
Rares sont les penseurs avec lesquels la phénoménologie de Michel Henry entretient un rapport entièrement positif. Maître Eckhart est l'une de ces figures d'exception. Dès son premier et fondamental ouvrage — L'essence de la manifestation —, Michel Henry semble trouver chez le maître rhénan une source d'inspiration considérable pour l'élaboration des concepts majeurs de sa propre pensée. Si la suite de son œuvre semble effacer cette référence à Eckhart, une analyse attentive permet pourtant d'en montrer la persistance. C'est à retracer cet itinéraire que l'A. s'emploie ici. Au demeurant, tout en insistant sur cette constante référence à l'œuvre eckhartienne, il s'agit de questionner la phénoménologie de Michel Henry, pour tenter in fine d'en pointer certaines difficultés. Celles-ci surgissent notamment une fois mise en évidence l'ambiguïté du concept d'auto-affection au niveau de L'essence de la manifestation, que cherche d'ailleurs à résorber l'œuvre tardive de Michel Henry. A travers ces difficultés, à travers les solutions que cherche tant bien que mal à leur apporter la pensée de Michel Henry, un nom, une référence semble revenir sans cesse: Maître Eckhart.

There are few thinkers with whom the phenomenology of Michel Henry has an entirely favourable relationship. Meister Eckart is one such exceptional thinker. Starting with his first and fundamental work — The essence of manifestation — Michel Henry seems to find in the Rhineland master a considerable source of inspiration for the elaboration of the major concepts in his own thought. Although M. Henry's subsequent works appear to do away with the reference to Eckart, careful analysis nonetheless makes it possible to show its persistent presence. The A. seeks here to retrace this itinerary. Furthermore, while insisting on this constant reference to Eckhart's work, the aim is to question the phenomenology of M. Henry in order to attempt in fine to point out certain difficulties. These arise particularly once the ambiguity of the concept of auto-affection in The essence of manifestation has been pointed out, which the later work of Michel Henry seeks to work away. Throughout these difficulties, throughout the solutions which the thought of M. Henry seeks to provide for better or for worse, one name, one reference appears to recur incessantly, namely that of Meister Eckhart.
(Transl. by J. Dudley).



Download article